Media Inquiries
Latest Stories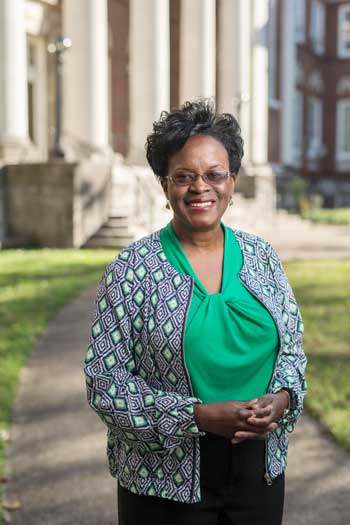 Vanderbilt University's Sandra L. Barnes is the 2019 recipient of the Cox-Johnson-Frazier Award from the American Sociological Association. The ASA presented the award to Barnes at its annual meeting in New York City Aug. 11.
Barnes is a professor of Human and Organizational Development at Vanderbilt Peabody College of education and human development, with a joint appointment at Vanderbilt Divinity School. She is an affiliate faculty member with the Department of Sociology as well as the African American and Diaspora Studies and Callie House Research Center. She also served as Vanderbilt's assistant vice chancellor for equity, diversity and inclusion  from 2016 to 2018.
As an urban sociologist, Barnes' research has historically focused on adaptability and resiliency of poor and working-class individuals, providing counter-narratives to pervasive negative stereotypes.
Her work is informed by a deep interest in the inequalities present in urban settings and the rich history of the Black Church. In addition to her teaching and research, Barnes produced a one-hour documentary, Gary, Indiana: A Tale of Two Cities (2018), which examines how faith-based communities in Gary educate and equip residents to navigate economic challenges.
In 2015, Barnes was awarded a $1.5 million five-year grant from the Department of Health and Human Services: Substance Abuse and Mental Health Services Administration for her HIV/hepatitis prevention study, "Capacity Building Innovations: Substance Abuse and HIV Prevention Services for African American Young Men Who Sleep with Men." She is principal investigator of this project that partners with Fisk University and other organizations in the greater Nashville community.
Barnes is the author of eight books, including "Black Church Culture and Community Action," "Subverting the Power of Prejudice: Resources for Individual and Social Change," and "Live Long and Prosper: How Black Megachurches Address HIV/AIDS and Poverty in the Age of Prosperity Theology."
Her academic record also includes editing three volumes, writing more than 50 peer-reviewed articles, and academic presentations in Beijing, China; Curitiba, Brazil, and Dublin, Ireland. She has also presented to the Congressional Black Caucus of the Congress of the United States, Washington, D.C.
Barnes is a sought-after scholar who can provide context on the role that religion and congregations play as agents of social change, particularly in light of cultural unrest, racism, inequities and acts of violence against schools, churches and marginalized groups. She also is an expert on the HIV and hepatitis epidemic occurring among young black men who have sex with men and how technology is being used to provide emotional support and reduce risky sexual behaviors.
More about the ASA and the Cox-Johnson-Frazier award
The American Sociological Association is a national organization composed of 12,000 sociologists. Awarded since 1971, the Cox-Johnson-Frazier Award is one of the annual honors given by the ASA to an individual for their work in the intellectual traditions of Oliver Cox, Charles S. Johnson and E. Franklin Frazier, three African American scholars. Cox, Johnson and Frazier engaged in scholarship in service to social justice that emphasized the advancement of the status of disadvantaged populations nationally and globally. Their work also helped expand the scholarly cannon about what is considered mainstream sociological research.