A former student government president and Posse Scholar continues to drum up enthusiasm for Vanderbilt nearly 30 years after arriving on campus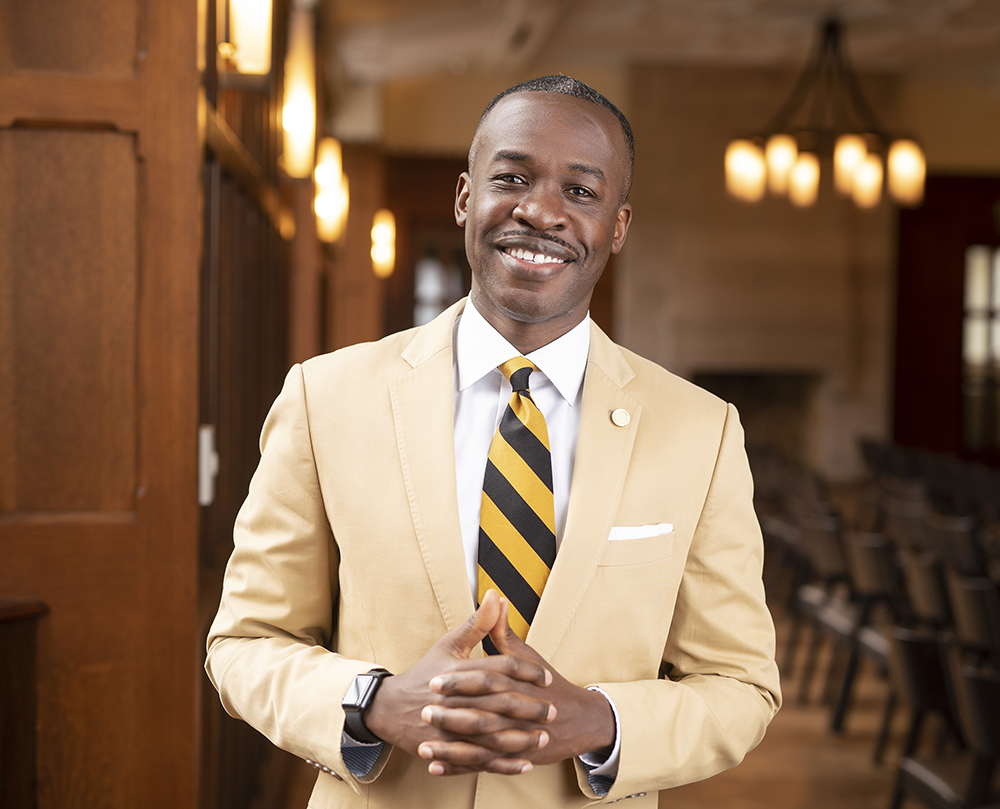 When Brooklyn, New York, native Kito Huggins, arrived on campus as part of the third class of Posse Foundation scholars, he hardly knew anything about Vanderbilt, and even less about Nashville. But he relished the adventure, making friends across campus and eventually serving as president of the Student Government Association.
Today, as a member of the Vanderbilt Board of Trust, Huggins is once again bringing people together from across the university community. "Being a connector, and drumming up enthusiasm for a cause, has always been a passion of mine," he says.
Huggins has also remained an ardent supporter of and advocate for the Posse program, which celebrates its 30th anniversary this year. The Posse Foundation is a national leader in identifying diverse students with extraordinary academic and leadership potential and providing them with opportunities at top colleges and universities. Vanderbilt Peabody College was the first school to partner with the Posse Foundation.
Huggins, based in New York, currently leads the global alumni program at the law firm Weil Gotshal and Manges LLP. Vanderbilt Magazine spoke with him recently about how he discovered the university, Posse's anniversary, and what's changed on campus since he arrived nearly 30 years ago.
---
How did you first learn about Vanderbilt and Posse?
In my junior year of high school, I attended an awards night where it was announced that one of the graduating seniors had received a four-year, full-tuition, room-and-board Posse scholarship to attend Vanderbilt. My mom worked in various administrative roles for Verizon and my dad was a corrections officer at Rikers Island. Neither of them attended college, so I knew early on that my parents could not afford to send me to a premier, elite university if I was accepted into one. As a native New Yorker, I was certainly familiar with the name Vanderbilt, but not the university.
With regard to Posse, back then, you couldn't just research the organization on the internet. After several competitive interview rounds, my family and I met with the president and founder, Debbie Bial—who at the time was 26 years old. She convinced us that we should put our eggs in the Vanderbilt and Posse baskets. Looking back, we were probably a bit naïve, but we are grateful for trusting her and the process.
What was your transition to Vanderbilt like and how did Posse shape your experience?
I think I embraced the experience. It was like getting on a rollercoaster. I was afraid, but thought, "It's going to be a thrilling ride." That doesn't mean I never had challenges.
When you move 14 hours away from home into a new environment, attending classes and living alongside students who often came from families of immense wealth, access and resources, it could be daunting. And it was at times. But I was able to hunker down and figure how to navigate the university's various micro-cultures.
When I first came to Vanderbilt, my cohort of Posse Scholars initially met about once a month. As we began to find our own networks and interests we met less often formally, but we were always tied to each other. I remember one of my closest Posse siblings—Jackie Lopardo, BS'96, who was homecoming queen—literally bringing me to her dorm room and feeding me dinner when I ran out of money on my Commodore Card.
We were also fortunate to have faculty and members of the administration who fiercely believed in the Posse program, and they made themselves available as mentors and as people we could talk to when we were feeling discouraged.
An early supporter and believer in Posse's promise was Michael Ainslie, BA'65, the foundation's chair emeritus and an emeritus member of the Vanderbilt Board of Trust. He was someone who always translated intentions into action. When I started to think about law school, he said, "Okay, I'm going to introduce you to a firm and you can learn what it's like to work on Park Avenue, how to dress, how to comport yourself." He has been a lifelong mentor for me and many others.
As you've watched Posse develop over the last 30 years, what do you think its impact has been?
Posse has provided thousands of first-generation students access to and awareness of the nation's best colleges and universities. It has also helped debunk the notion that we must rely solely upon traditional admissions factors such as standardized test scores, legacy or certain extracurricular activities as a predictor of success in college. There are people who attended Vanderbilt as Posse Scholars who didn't come from the conventional track and have gone on to excel in a wide array of pursuits.
How have you seen Vanderbilt change (or not) since your time as a student?
Ha! Well, for one, my freshman-year dorm, Reinke Hall, is gone. But it's great to still be able to walk across Alumni Lawn, hear the bells toll at Kirkland Hall and reminisce on great memories and fun times I had here almost three decades ago. Now I can see the new E. Bronson Ingram Hall and construction of residential colleges being built along West End Avenue, replacing the Towers.
The other thing that's changed at Vanderbilt is its national and international prominence. When I started at Vanderbilt in 1992, it was well-known as an elite school, but people would say, "Vanderbilt, that's in Texas, right?" Today, living in New York City, nothing brings me greater joy than to be in the gym or riding the subway and recognize a fellow Commodore wearing Vandy paraphernalia.
We are also forever indebted to Vice Chancellor David Williams for the work he and Chancellor Zeppos undertook to make the community aware of the contributions Perry Wallace made in breaking the SEC's color barrier. It is so important for that story to be told, for it's a reminder of where we've come from, and how much work we have to do as alumni and friends to help Vanderbilt climb higher and fulfill its greatest potential.
---
Kito Huggins was interviewed by Jalen Blue, MPP'18.
---