Broker-philanthropist named Peabody College distinguished alumna
May. 8, 2019, 7:00 AM
by Jane Sevier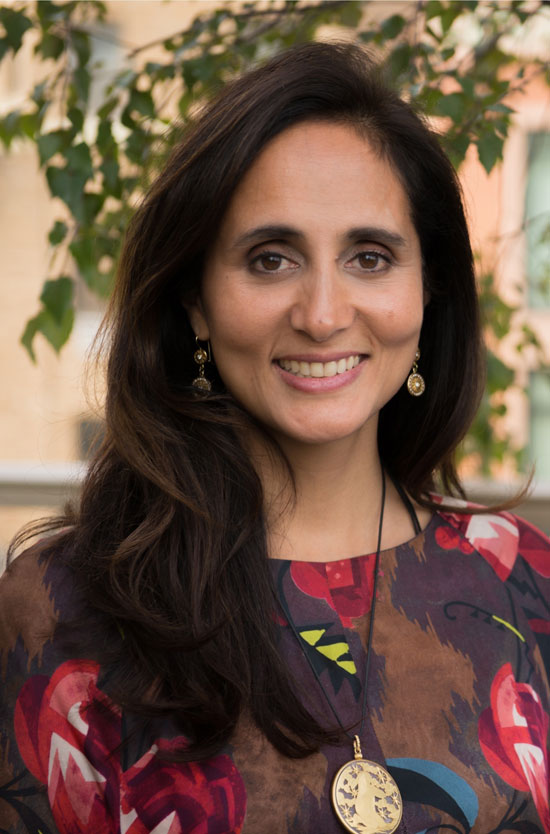 Shaiza Rizavi, a veteran money manager known for her commitment to social enterprise, will be honored by Vanderbilt's Peabody College of education and human development with the 2019 Distinguished Alumna Award during Commencement on May 10. She is a partner, managing member and money manager at Gilder, Gagnon, Howe & Co., a growth equity brokerage firm committed to helping small investors create wealth.
Rizavi graduated from Vanderbilt in 1991 with a bachelor of science in human and organizational development and English. She later earned an MBA from Columbia University.
Born in Karachi, Pakistan, Rizavi emigrated at the age of 7 with her family to the northern suburbs of Chicago. As a student at Vanderbilt, she demonstrated her commitment to helping those in need. She worked at public defender's offices in Nashville and Washington, D.C.
During Alternative Spring Breaks, Rizavi helped the homeless, raised awareness of best practices for sanitation in Mexico, and implemented services for people with family members in prison.
"So much of what I learned at Peabody, I've carried throughout my life," Rizavi says. "I came to understand the power of different perspectives, which solidified what is important to me now. Because of the opportunities afforded to me by incredibly dedicated and passionate professors, I found a path that led me to find true meaning in serving the community."
Thinking she might want to become a public defender, Rizavi took a job as a legal assistant at a New York law firm after graduation. Realizing it wasn't the right fit, she then moved to Southeast Asia, hoping to work in international aid and development. She spent two years evaluating programs designed to address child labor and prostitution in Thailand, Vietnam and throughout the region.
"Because of the opportunities afforded to me by incredibly dedicated and passionate professors, I found a path that led me to find true meaning in serving the community."
–Shaiza Rizavi
Long a supporter of Peabody and its programs, Rizavi and her husband, Jonathan Friedland, recently endowed the Rizavi–Friedland Chair at the college, one of 21 chairs created through the university-wide Chancellor's Chair Challenge last year, in which Vanderbilt pledged to match donor commitments of $1 million or more. These endowed chairs will allow the university to better recruit and retain faculty members engaged in transformational scholarship.
At Columbia Business School, Rizavi co-chairs the advisory board of the Tamer Center for Social Enterprise and sits on the Board of Overseers, the Investment Board of the Tamer Fund for Social Ventures, and board of managers of the Columbia Investment Management Company.
She is also a trustee of the American Museum of Natural History, the Gilder Lehrman Institute of American History, Seeds of Peace, and Acumen, where she learns about business strategies to address poverty in East and West Africa, India, Pakistan and the Americas. She is a member of the Economic Club of New York and NationSwell Council, a digital media company focused on American innovation and renewal.
"Peabody College seeks to instill in its students an ethic of service and altruism, and these are well embodied in the career and commitment of Shaiza Rizavi," said Camilla P. Benbow, Patricia and Rodes Hart Dean of Education and Human Development at Peabody. "We are proud to honor her as Distinguished Alumna."
Rizavi lives in New York City with her husband and their four children.