Media Inquiries
Latest Stories
By Irene McKirgan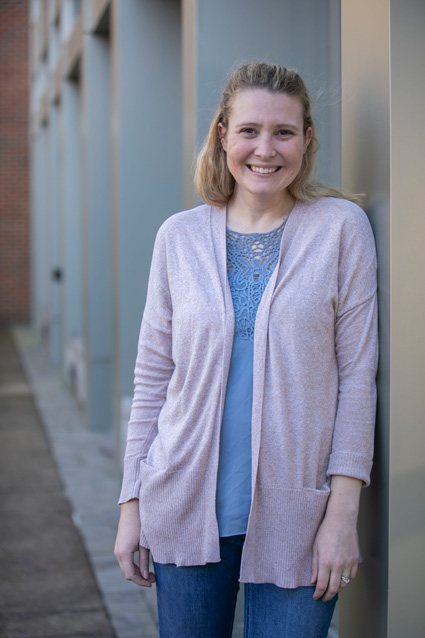 Postdoctoral scholar Samantha Yohn has been named Postdoc of the Year by the Office of Postdoctoral Affairs for her exceptional research scholarship. Since 2008, the Postdoc of the Year award has recognized excellence in research scholarship as evidenced by publications, presentations, honors, service and mentorship. Faculty mentors are invited to submit nominations that are chosen by the Office of Postdoctoral Affairs Postdoctoral Advisory Committee and the Graduate School.
The award was presented by Mark Wallace, dean of the Graduate School, at the 13th annual Vanderbilt Postdoctoral Association Symposium on April 9.
Yohn, a behavioral neuroscientist, studies psychiatric disorders and novel therapeutics to determine their potential relationship and implications for inducing or exacerbating motivational symptoms. Yohn has published an impressive 25 publications and is the recipient of several prestigious awards, including from the American College of Neuropsychopharmacology, the International Behavioral Neuroscience Society, Society of Biological Psychiatry, and Schizophrenia International Research Society.
"Samantha is an exceptional postdoc who understands the broader impact and dimensions of becoming a successful independent researcher. She has not only achieved remarkable scientific and scholarly accomplishments the past three years, including generating enough data in three months to be awarded a Ruth L. Kirschstein National Service Award, but her effective mentorship has resulted in mentees receiving grants and winning scientific presentations," said Yohn's mentor, Jeffrey Conn, professor of pharmacology and director of the Vanderbilt Center for Neuroscience Drug Discovery.
Yohn said she was "truly honored' to be named Postdoc of the Year for 2019. "I am greatly humbled to receive this recognition. It is so gratifying to have the acknowledgment of my mentors, whom I admire and respect. Their confirmation and support regarding my scientific work confirms I am on the right path to becoming an independent academic researcher. I am also grateful to the leadership of the VPA in hosting the Annual Postdoc Symposium. It is so important to have opportunities that bring Vanderbilt postdocs together as one collective community."
"I am grateful to the leadership of the VPA in hosting the Annual Postdoc Symposium. It is so important to have opportunities that bring Vanderbilt postdocs together as one collective community."
Tom Folland and Xing-Xing Shen were honorable mentions for the award.
Folland is a postdoctoral scholar in the Department of Mechanical Engineering under the mentorship of Professor Joshua Caldwell. His research focuses on controlling and manipulating long-wavelength infrared light at the nanoscale to even atomic-scale dimensions. These efforts promise novel, compact optics and on-chip photonics that can revolutionize the speed of computation, chemical spectroscopy and even enable free-space communications. Folland's publications include several high-profile publications in journals such as Nature Communications and Nano Letters.
Shen joined Vanderbilt as a postdoc in December 2014 in the Department of Biological Sciences under the mentorship of Antonis Rokas. His research focuses on utilizing computational approaches and genomic data in animals and fungi with a focus on phylogenetic incongruence and relationships as well as developing bioinformatics tools. During his time at Vanderbilt, his research has harnessed a wealth of genomic data to address fundamental questions in phylogenetic inference and the evolution of the subphylum of budding yeasts. Shen's scholarly accomplishments include 15 published manuscripts that have almost 250 citations.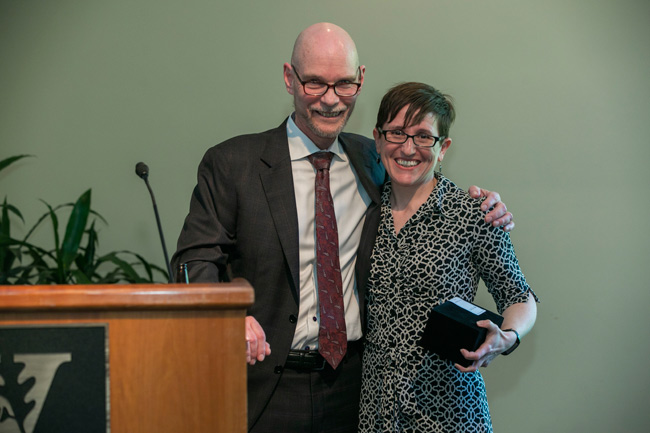 Rebecca Sappington, associate professor of ophthalmology and visual sciences, was honored as Mentor of the Year. This award recognizes faculty mentors who demonstrate a willingness to advise and support mentees' career goals and demonstrate a strong commitment to community service. Wallace, who presented the award said, "I have seen firsthand Rebecca's tireless commitment for years to both our postdocs and graduate students. Rebecca is passionate about fostering an environment that supports and engages mentees to reach their goals. It is an honor to present this award to her."
In addition, Anneke Sanders was the recipient of the inaugural Service of the Year award. Sanders, a postdoc in the School of Medicine, was selected for her significant contributions and service to others in her community.
"This year, the number of postdoc nominations submitted by faculty mentors nearly tripled. The level of scholarly activity by our postdocs is remarkable, and it's great to see the symposium growing each year," said Associate Dean of the Graduate School and Director of the Office of Postdoctoral Affairs Clare McCabe.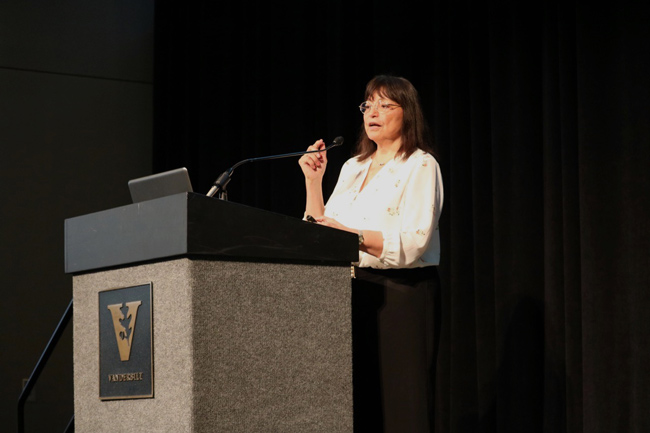 The Vanderbilt Postdoctoral Association Symposium is sponsored by the Graduate School. The all-day event features postdoc oral and poster presentations, breakout sessions, and networking opportunities. This year's keynote address was given by Lydia Villa-Komaroff, Founder of The Society for the Advancement of Chicanos/Hispanics and Native Americans in Science SACNAS.
For more information, visit the Office of Postdoctoral Affairs.