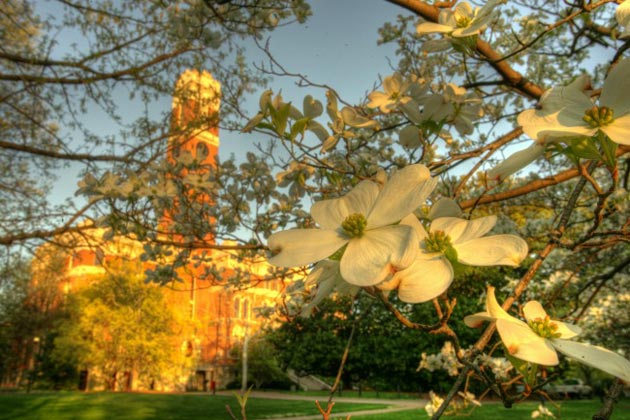 The Vanderbilt Board of Trust met on April 18 and elected Lawrence Epstein, BA'89 and JD'92, Suzanne Perot McGee, BS'86, and Corey E. Thomas, BE'98, to five-year terms.
In addition, Somto C. Dimobi, BE'19, was elected as a Young Alumni Leader for a two-year term to begin July 1, 2022, following her three-year term on the board of the Vanderbilt Alumni Association. Rebecca Chong, BA'16, will begin her two-year term on the board as a Young Alumni Leader on July 1.
Adolpho A. Birch III, Shirley M. Collado, Jay C. Hoag, John R. Ingram and Jeffrey J. Rothschild were re-elected to second five-year terms. Bruce R. Evans, who serves as board chair, was elected to a third four-year term to complete his term as chair in 2023. Lee M. Bass, who was elected to the board in 2009, was elected as an emeritus trustee to commence when his second term ends June 30.
Epstein, of Las Vegas, serves as senior executive vice president and chief operating officer for the Ultimate Fighting Championship. He is responsible for all worldwide operations, from managing global business strategies to establishing policies that drive company culture and evaluating overall performance and growth. Epstein is also the president of IKE Gaming Inc., a family enterprise that owns the El Cortez Hotel and Casino. Previously, he was a law partner at Beckley Singleton. Epstein is a trustee and former board chairman for the Meadows School in Las Vegas, Nevada. Epstein earned his bachelor's degree in political science in 1989 followed by his law degree in 1992, both from Vanderbilt. He serves on the Law School's Board of Advisors and as a member of the Law School Campaign Cabinet and the Tech Transfer Committee. He has been a Giving Day Ambassador and volunteer for the Commodore Recruitment Program and his Class Reunion. He established the Ike Lawrence Epstein Scholarship Fund for students at the Law School and supports scholarships in the College of Arts and Science.
McGee, of Dallas, serves as a director of the Perot Foundation and the Petrus Trust Company. She is also a founding donor of The Perot Museum of Nature and Science. McGee co-chaired the Comprehensive Campaign for the Episcopal School of Dallas and served as vice-chairman of the Board of Planned Parenthood of Greater Texas. She has been a strong supporter of numerous institutions in Dallas and beyond with a focus on education, women's health and the arts. McGee has deep family connections to Vanderbilt, earning her bachelor's degree in elementary education from Peabody College of education and human development in 1986. She and her husband, Patrick K. McGee, BS'85; her sister Nancy Perot, BA'82; and nephew Ross Mulford Jr., BA'12; established the Margot and Ross Perot Scholarship in honor of Suzanne McGee's and Nancy Perot's parents. The scholarship provides financial support based on need for deserving undergraduates whose parents are first responders or military personnel. McGee also established the Priscilla Call Craven Scholarship on the occasion of her 20th class reunion in honor of her friend and classmate. Additionally, the McGees support Athletics, the School of Engineering, Peabody College, Kissam Residential College and the Sigma Alpha Epsilon Building Fund at Vanderbilt. She is also a member of the Parents Leadership Committee.
Thomas, of Boston, serves as president, chief executive officer and director of Rapid7, a cybersecurity company that he took public in 2012. He has extensive experience leading technology companies to the next stage of growth and innovation. His previous positions include vice president of marketing at Parallels Inc., a virtualization technology company; group project manager of the Microsoft Server and Tools division; and a consultant at Deloitte Consulting. He is a co-founder of Pillar, a venture capital firm that invests in and supports entrepreneurs. In 2018, he was elected to the Cyber Threat Alliance Board of Directors and the Massachusetts Cybersecurity Strategy Council.  He also serves on the Blue Cross Blue Shield of Massachusetts Board of Directors.  Thomas earned his bachelor's degree in engineering and computer science from Vanderbilt and an MBA from Harvard Business School. As an alumnus, he has been engaged in efforts to help improve the success of all students, particularly underrepresented minority students. He provides support to the Engineering Dean's Discretionary Fund and the Bishop Joseph Johnson Black Cultural Center.
Chong, of Denver, grew up in Kingston, Jamaica, then moved to Orlando, Florida, before enrolling at Vanderbilt. She created her own interdisciplinary major, Multicultural and Diversity Studies, and minored in Human and Organizational Development. While on campus, Chong worked in the Office of Undergraduate Admissions. She was also involved in Vanderbilt Student Government, the Multicultural Leadership Council and Greek Life, and studied abroad in Morocco. She now works at the Google Boulder campus as a solutions consultant on the Global Customer Care team.
Dimobi, from Nigeria, will graduate in May from the School of Engineering with a major in chemical engineering and a minor in engineering management. She has been named consistently to the Dean's List. Since 2016, Dimobi has worked at the Searle Systems Biology and Bioengineering Undergraduate Research Experience, and received the "Ultimate Crusher" award as its most productive summer research student in 2016. She is  past regional international chairperson of the National Society of Black Engineers and chair emeritus of the International Students Office Advisory Board. Dimobi is the recipient of numerous honors, including the 2018 Thomas M. Weser Award, part of the Vanderbilt Awards for Leadership Excellence. She earned her Federal Emergency Management Agency certification in emergency planning. Following graduation in May, Dimobi will begin work with Bain & Company in Houston, Texas.