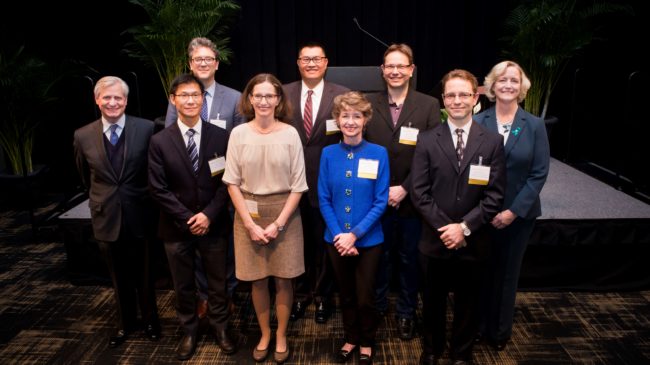 Vanderbilt University's eight newest endowed chair holders were celebrated for their path-breaking scholarship and research by family members, donors, colleagues and friends during a Feb. 25 ceremony at the Student Life Center.
Provost and Vice Chancellor for Academic Affairs Susan R. Wente noted in her opening remarks that Vanderbilt's commitment to excellence and philanthropic spirit began with the post-Civil War founding gift of Commodore Cornelius Vanderbilt. He sought to "strengthen the ties which should exist between all sections of our current country."
"Our 2019 vision of the Commodore's dream is carried forward today, thanks to the intellectual leadership by our faculty—who teach and train students to become powerful forces for progress, for innovation and for equity in our world," Wente said. "It's also carried forward by our partners, who support the university's education and research missions, and we're truly grateful for their guidance and investment."
Wente thanked all of the donors whose generosity has made possible Vanderbilt's endowed chairs, including Martha Ingram, Carolyn and Robert Rogers, and Anita and Antonio Gotto; all of whom attended the celebration.
Deans Jeff Balser, John Geer and Camilla Benbow described the accomplishments of the new chair holders in their respective schools: School of Medicine, College of Arts and Science, and Peabody College of education and human development. Since Deans Chris Guthrie and Philippe Fauchet were unable to be at the ceremony, Wente spoke about the achievements of honored faculty from the Law and Engineering schools, respectively.
The following faculty members were recognized:
Christopher Carpenter, E. Bronson Ingram Chair in Economics.
Gaelyn Garrett, Guy M. Maness Chair in Laryngology and Voice.
Jon E. Meacham, Carolyn T. and Robert M. Rogers Chair in American Presidency.
Jens Meiler, Stevenson Chair in Chemistry.
Bethany Rittle-Johnson, Anita S. and Antonio M. Gotto Chair in Child Development.
Christopher Serkin, Elisabeth H. and Granville S. Ridley Jr. Chair in Law.
Frank Tong, Centennial Chair.
Robert J. Webster III, Richard A. Schroeder Chair in Mechanical Engineering.
Wente concluded the ceremony by thanking family members, friends and colleagues of the honorees for supporting the faculty members' extraordinary achievements.
The celebration marked the 29th event to honor faculty members named to endowed chairs. A total of 285 chair holders have been honored since the initiative to recruit and retain outstanding scholars and teachers was announced by Chancellor Nicholas S. Zeppos in August 2010.