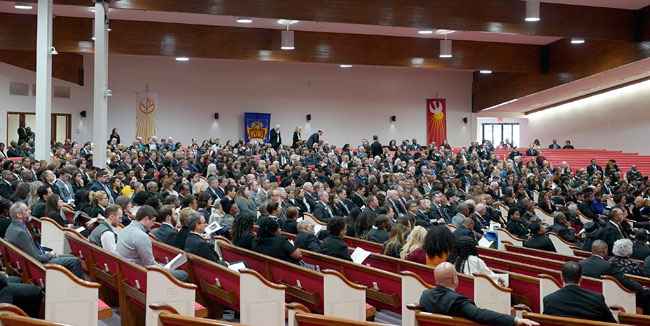 Student Recreation and Wellness Center named for David Williams II

David Williams II was remembered as a courageous Vanderbilt University vice chancellor, outstanding athletics director, brilliant law professor and devoted husband and father—whose steadfast values of education, humanity and community transformed many lives—during a celebration of life service Feb. 15.
More than 2,000 people, including elected officials, community leaders, student-athletes, alumni, coaches, university administrators, faculty, staff and athletics directors from across the Southeastern Conference gathered at The Temple Church to pay their respects to Williams, who died Feb. 8, just eight days after stepping down as vice chancellor for athletics and university affairs and athletics director. He had returned to Vanderbilt Law School as a full-time tenured law professor.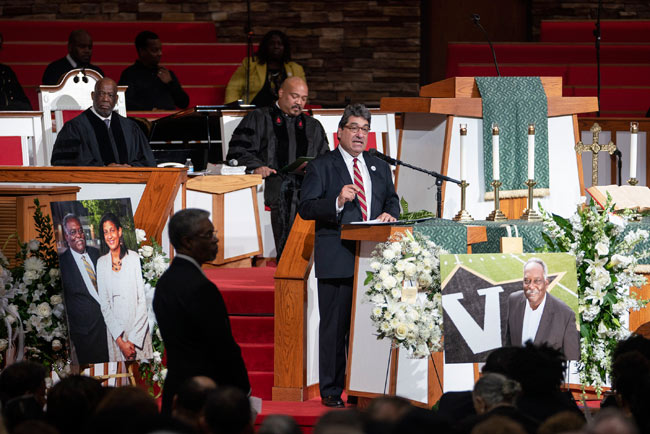 Chancellor Nicholas S. Zeppos was among those who spoke about Williams' life. "We worked on college athletics, in which David quietly defined 'the Williams Way,' 'the Vanderbilt Way,' where student-athletes achieve on and off the field," Zeppos said. "David was not only very involved in the core business of running the university, but he also redefined for me what that business was. He was always there for me as my friend, my booster, my counselor and my conscience."
Zeppos shared that the Student Recreation and Wellness Center is being named in honor of Williams. In addition, Vanderbilt has commissioned a portrait of Williams by African American artist Simmie Knox that will be part of the "Vanderbilt Trailblazers" portrait series. The portraits, which are displayed in Kirkland Hall, honor members of the Vanderbilt community who broke barriers at the university and in society at large.
The morning of Williams' unexpected death, Zeppos had presented a resolution on the building naming to the Board of Trust. "There was history and a sense of triumph—yes, triumph—to use the name of the documentary that David and I made about Perry Wallace, who broke the color barrier in SEC basketball," Zeppos said. "This naming in recognition of David is less than three years after the board had approved a resolution to remove the name of the odious Confederate Memorial Hall. Some may say that 'winners write history,' but this victory was won by David—not by the sword or the rifle—but by the justness of this cause.
"When David and I had earlier discussed the portrait [by Simmie Knox], he demurred and told me 'you don't have to do it, I don't need that kind of attention.' I replied, 'It is important to recognize what you have done, what nobody else has accomplished, and to make visible and eternal those, like you, who have truly made the university better.' He just gave me that smile."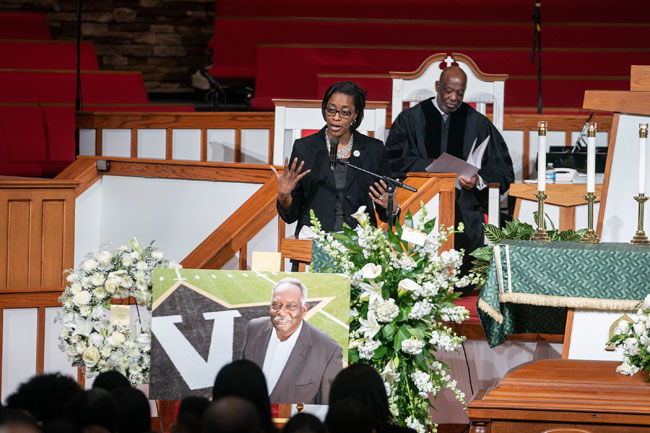 Also sharing fond memories about Williams was Associate Vice Chancellor for University Affairs and Deputy Athletics Director Candice Storey Lee, who worked with him for nearly two decades. She first met him when he was her professor for a class on law and higher education, two topics Williams was passionate about. "David was in his element in the classroom, but he didn't need that setting to teach," Lee said. "He taught us to be proud of who you are and where you came from. Also, sometimes the most important thing you can do for someone is to show up."
In her job, Lee often prepared "updates" about athletics issues for Williams so he could anticipate potential problems that might need his attention. She prepared a final "update" for her boss that she read at the service. It included the following:
"Your authenticity inspired us and we are better for it. You refused to give in to the whims of the day, which can be hard in this business; you remained steadfastly committed to what mattered the most."
"Your authenticity inspired us and we are better for it. You refused to give in to the whims of the day, which can be hard in this business; you remained steadfastly committed to what mattered the most."
Lee urged all those who knew Williams to use his support for equity and inclusion as a call to action. "This is not about black versus white," Lee said. "This is about the fact that everyone is valued; that's what David was about. Let us leave here stronger, together, and uphold his legacy and put it into action."
Gordon Gee, who served as chancellor from 2000 to 2007, recruited Williams from The Ohio State University to Vanderbilt, where he became the university's first African American vice chancellor. Gee's remarks included a reflection on the lengthy legal battle to rename Confederate Memorial Hall.
"David said as long as there was a building on campus with the name 'Confederate' on it, we would never truly be able to make our minorities feel comfortable on campus," Gee said.
Greg Sankey, commissioner of the Southeastern Conference, spoke about the tremendous success Vanderbilt experienced in athletics under Williams' leadership—four national championships, six bowl games and much more—while continuing to lead in the education and graduation of student-athletes and refusing to compromise on principles.
Sankey said he will always remember the words of Randy Cockrell, whom he met at a memorial service for Cockrell's son, Turner, a Vanderbilt football player who lost a battle with melanoma in November 2018. "Randy said that the support provided to his family by Vanderbilt had been incredible and David had been with them every step of the way … support and care every step of the way."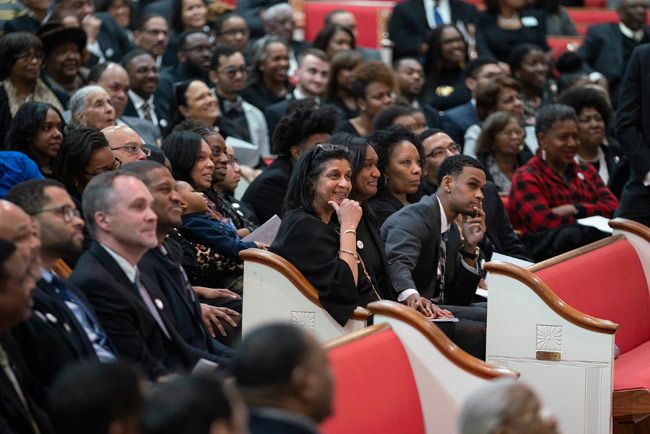 Williams' children spoke from the heart at the service about their special memories of growing up with their father and urged attendees to care for one another as their father had for them. His eldest son, David III, spoke about his father's pride in each of the Williams children following him into careers in either education or law. Son Nicholas encouraged all in attendance to provide words of affirmation, pride and love to their children, just as David had powerfully done for him.
"'I love you. I'm proud of you.' My dad said those words to me all of the time," Nicholas said. "To all the parents here today, say those words to your children. Children, love your parents and let them know that you appreciate them."
Daughter Samantha noted that all of his children had committed to continuing their father's legacy in pursuing education and equity, hoping that those who did not have the chance to meet him would know him through his children.
Delivering the moving eulogy was the Rev. Dr. Forrest Harris, MDiv'83 and DMin'90, associate professor of the practice of ministry and director of the Kelly Miller Smith Institute on the African American Church at the Vanderbilt University Divinity School.
Williams is survived by his wife, Gail, who is associate director of Community, Neighborhood and Government Relations; four children, Erika, David III, Samantha and Nicholas; six grandchildren and one great-grandson.
Williams will be interred at Woodlawn Cemetery in Detroit, Michigan.
In lieu of flowers, the family has requested donations be made to the Perry E. Wallace Jr. Basketball Scholarship at Vanderbilt University. Donations can be sent to the Perry E. Wallace Jr. Basketball Scholarship, Vanderbilt University Gift and Donor Services, PMB 407727, 2301 Vanderbilt Place, Nashville, Tennessee 37240-7727, online at vu.edu/wallacescholarship or by calling 615-322-4114.
Melanie Moran and Kate Derrick contributed to this story.