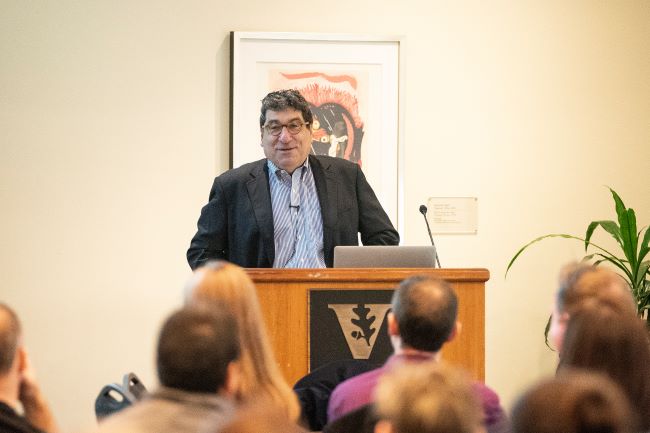 Vanderbilt staff members are playing key roles on university priorities that include increasing campus diversity, protecting environmental resources and providing more leadership opportunities for women, Chancellor Nicholas S. Zeppos told the University Staff Advisory Council.
Zeppos, who was the featured speaker for the Feb. 12 USAC meeting at the Student Life Center, thanked the staff for all they do to move the university forward. "You're always working and serving others," he said. "The staff does so many extraordinary things to make Vanderbilt better."
He provided a broad overview of the state of the university, spotlighting several of Vanderbilt's achievements the past year.
Vanderbilt was named No. 14 in the U.S. News & World Report rankings for the second year in a row.
The university maintained its placement as the 10th most innovative university in the world by Reuters.
Vanderbilt now ranks #1 in the nation by Princeton Review for "Great Financial Aid."
More than $400 million has been raised for Opportunity Vanderbilt, and two thirds of the Class of 2022 are recipients of financial aid.
The entering class tied for the highest percentage of Pell Grant recipients, who are students with exceptional financial need.
Zeppos noted the recent hire of Vice Chancellor for Equity, Diversity and Inclusion and Chief Diversity Officer James E. Page Jr. "With his phenomenal background in academic medicine and the corporate world, James Page brings a set of ideas, perspectives and temperament that will continue to transform our university," Zeppos said. "One of the important ideas that emerged from the recent town halls on equity, diversity and inclusion is the need to focus more attention on our staff."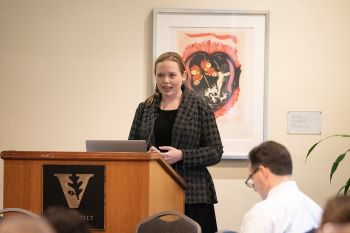 Page is working with Vice Chancellor for Administration Eric Kopstain on a new initiative to establish an integrated and collaborative approach to study and address key issues facing women staff at Vanderbilt. Jenny Mandeville, strategic projects manager for the Division of Communications and president of USAC, is co-chairing the committee with Cara Tuttle Bell, director of the Project Safe Center for Sexual Misconduct Prevention and Response, and Shunta Curry, director of operations for the Office of the Chancellor.
He also encouraged everyone to view the new Vanderbilt Trailblazers portrait series in Kirkland Hall. The current ones on display depict Vanderbilt alumni Perry Wallace, the Rev. Walter R. Murray Jr., the Rev. James Lawson and Bishop Joseph Johnson.
Zeppos also devoted significant time in his remarks to the importance Vanderbilt is placing on the stewardship of its grounds and land-use planning through its FutureVU initiative. "I challenge all of us to have a sense of commitment—but also humility—about our own place, embracing and preserving the beauty that is around us," he said. "For example, how can we improve the attractiveness of the walkways to increase pedestrian traffic? I think this is a great project that our staff will take the lead on with the students."
Zeppos noted that FutureVU also encompasses a remarkable collection of places, like E. Bronson Ingram College. In our residential colleges, we're committed to educating the whole person," he said. "Connecting with others during meals, programs and informal conversations is critically important."
Erasing the stigma of mental illness on our campus and across society continues to be a major priority for the chancellor. He pointed out that treatment for mental illness is one of the areas with the fewest advances in recent decades. "We need to provide access to appropriate care that not only supports those in need, but also gives them the promise of future and better treatments," he said.
Zeppos recommended members of the campus community tour the School of Nursing, where health and well-being inform every part of its new building expansion. The building is expected to be the first complete ground-up structure to carry the WELL designation. "How do the stairways, open areas, lighting and other design factors affect your overall wellness and happiness? I expect more of these projects to come," he said.
He cited Peabody College of education and human development as a leader on campus in its plans to preserve the beauty of older buildings such as the historic Home Economics and Frank W. Mayborn buildings—each more than 100 years old—while increasing their usefulness for 21st century learners.
At the conclusion of Zeppos' remarks, he was asked to comment on recent initiatives to elevate the university's international profile. "Our strategy must include both projecting Vanderbilt to the world and also attracting more people with global experiences and backgrounds to campus," he said. "Our plans include an iconic 20-story tower in a new residential college that will provide visiting apartments for distinguished scholars and visitors."
Zeppos concluded his talk by expressing gratitude to staff for their incredible service and caring and concern for others, all of which continues to make Vanderbilt a better workplace.