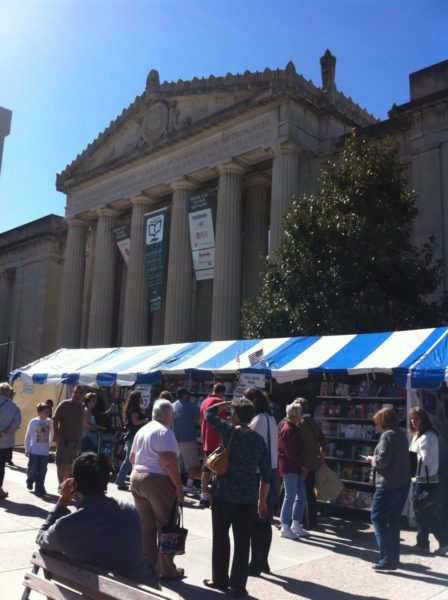 The 30th annual Southern Festival of Books: A Celebration of the Written Word takes place Oct. 12-14 at War Memorial Plaza and the downtown Nashville Public Library.
The free event brings together acclaimed writers, book lovers, and other interested persons for three days of free readings, panel discussions and book signings. Among the participating Vanderbilt faculty are:
Beth Bachmann, writer-in-residence in creative writing, author of Cease;
Tracy Barrett, senior lecturer in Italian, emerita, author of Freefall Summer;
Richard Blackett, Andrew Jackson Professor of History, author of The Captive's Quest for Freedom: Fugitive Slaves, the 1850 Fugitive Slave Law, and the Politics of Slavery;
Lisa Dordal, lecturer in English, alumna, author of Mosaic of the Dark;
Joel Harrington, Centennial Professor of History, author of Dangerous Mystic: Meister Eckhart's Path to the God Within;
James Hudnut-Beumler, Anne Potter Wilson Distinguished Professor of American Religious History, author of Strangers and Friends at the Welcome Table: Contemporary Christianities in the American South;
Lorrie Moore, Gertrude Conaway Vanderbilt Professor of English, author of See What Can Be Done: Essays, Criticism, and Commentary;
Kelly Oliver, W. Alton Jones Professor of Philosophy, author of Jackal, A Jessica James Mystery;
David Weintraub, professor of astronomy, author of Life on Mars: What to Know Before We Go.
The Robert Penn Warren Center for the Humanities is continuing its partnership with Humanities Tennessee for a themed track of sessions on "Democracy and the Informed Citizen." Participating scholars and authors include John Geer, dean of the College of Arts and Science, Gertrude Conaway Vanderbilt Professor of Political Science and co-director of the Vanderbilt Poll; and Alan Wiseman, Cornelius Vanderbilt Professor of Political Economy and Joe B. Wyatt Distinguished Professor; who will discuss "The Art and Science of Polling."
Also, Wiseman and Dana Nelson, Gertrude Conaway Vanderbilt Professor of English, will address "The Power of We the People: Practicing Democracy and Balancing Power."
Participating alumni at the festival include: Tiana Clark, author of I Can't Talk About the Trees Without the Blood, Lee Conell, author of Subcortical, Frye Gaillard, author of A Hard Rain: America in the 1960s, Our Decade of Hope, Possibility, and Innocence Lost; Tony Turnbow, author of Hardened To Hickory; Cal Turner Jr., author of My Father's Business: The Small-Town Values That Built Dollar General into a Billion-Dollar Company; and Kevin Wilson, author of Baby, You're Gonna Be Mine.
In addition, Steve Haruch, editor of People Only Die of Love in Movies: Film Writing by Jim Ridley, will discuss this book published by Vanderbilt University Press.
All sessions are open to the public from noon to 5 p.m. Friday, 10 a.m. to 6 p.m. Saturday, and noon to 5 p.m. Sunday.
Visit the Southern Festival of Books schedule for more information.