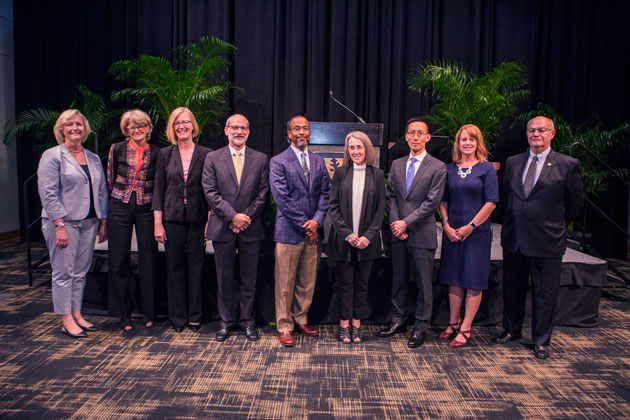 Eight Vanderbilt professors who are the university's newest endowed chair holders were celebrated Sept. 17 during a ceremony at the Student Life Center attended by their colleagues, family members and donors.
"At Vanderbilt, we make every effort to retain and to recruit the best and the brightest faculty," said Susan R. Wente, provost and vice chancellor for academic affairs. "The endowed chairs provide the crucial support needed to secure and insure excellence in our learning and discovery missions by our faculty."
Wente noted in her opening remarks that Vanderbilt has enjoyed a long and illustrious history of chair endowment. For example, one of the chairs that was being celebrated was established in honor of Edwin Mims, a former faculty member and alumnus from the Class of 1892.
Wente also expressed her gratitude for all those whose philanthropic support makes the endowed chairs possible, including members of the Buchanan family, who attended the celebration.
Deans John Geer, Chris Guthrie, Jeff Balser and Eric Johnson described the accomplishments of the new chair holders in their respective schools: College of Arts and Science, Law School, School of Medicine and Owen Graduate School of Management.
The following faculty members were recognized:
Wente concluded the ceremony by thanking family members and friends of the honorees for supporting these distinguished faculty members' achievements.
The celebration marked the 27th event to honor faculty members named to endowed chairs. A total of 267 chair holders have been honored since the initiative to recruit and retain outstanding scholars and teachers was announced by Chancellor Nicholas S. Zeppos in August 2010.