Vanderbilt University officially broke ground Sept. 5 on the first phase of a $41.5 million multibuilding construction and renovation plan at Peabody College of education and human development.
The historic Home Economics Building and Frank W. Mayborn Building—each more than 100 years old—are being renovated, and a new 15,000-square-foot building will be constructed to connect them. When completed in January 2020, the Home Economics-Mayborn complex will reflect higher sustainability standards and reduced energy usage through new flexible, active learning spaces, advanced technology for modernized instruction, a digital observation space for teacher training, flexible research space, a café and administrative offices.
Chancellor Nicholas S. Zeppos addressed a gathering of about 150 faculty, staff, students and friends at the groundbreaking ceremony.
"Peabody is known for its commitment to making learning accessible to everyone and has long sought to model inclusivity and meet the needs of learners of all ability levels," Zeppos said. "These learning spaces will make full use of technology, will be welcoming to all, and will be capable of adapting as teaching and learning practices evolve."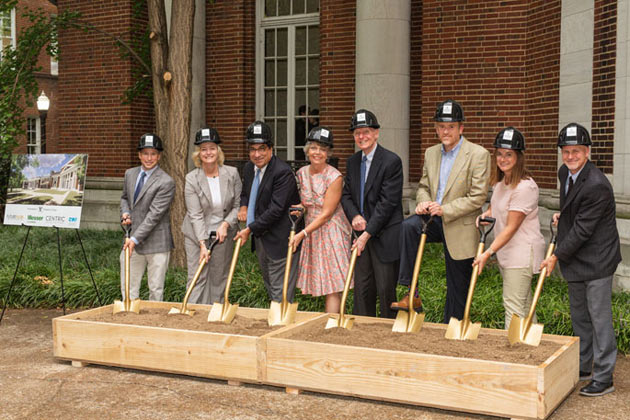 Home Economics and Mayborn (formerly called the Industrial Arts Building) were the first two buildings to open in 1916 at the then-named George Peabody College for Teachers. The twin structures boasted marble floors and impressive columns, but Mayborn was the more elaborate of the two, with its limestone facings, smokestack and ornate staircase.
In those days, the buildings served as a hub for instruction on nutrition, food preservation, agriculture, construction and other community-based issues of the period. Peabody College's identity and educational offerings evolved with the times, particularly when it merged with Vanderbilt University in 1979 and rose to its current status of one of the top-ranked education schools in the nation.
"In 1916, these buildings represented what was then a progressive view of education, especially for our region," said Camilla P. Benbow, Patricia and Rodes Hart Dean of Education and Human Development, in her remarks. "But just as the subjects have changed, so too have many educational techniques. The renovations we are starting today, and the brand-new building that will connect them, are designed to meet the educational needs of the 21st century."
Provost and Vice Chancellor for Academic Affairs Susan R. Wente added that the project aligns with the guiding principles of Vanderbilt's Academic Strategic Plan and land use initiative FutureVU. The facility will be fully accessible and will encourage collaboration, scholarship, accessibility and community.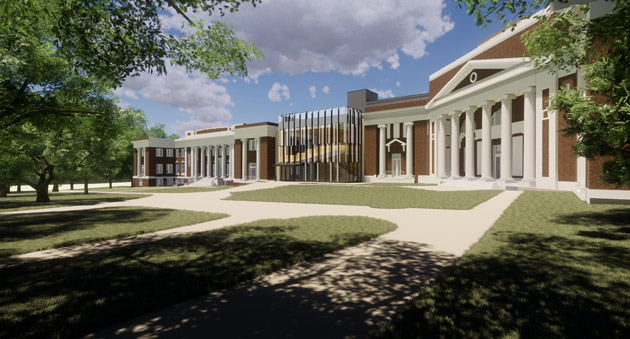 "Most of you know that Peabody is already a model for our academic goal of creating immersive and engaging experiences for every Vanderbilt student," Wente said. "These new and reinvigorated buildings will support the kinds of deep learning experiences that are hallmarks of a Vanderbilt education. In multiple ways, they will facilitate learning outside the lecture hall and turn classroom experiences into practice opportunities."
The complex will be home to Peabody's largest undergraduate major, Human and Organizational Development, which is also the second-largest major at Vanderbilt.
A champagne reception in the Mayborn lobby followed the ceremony. Associate Dean Sharon Shields, who has been at Peabody for 44 years, shared an inspirational poem before the toast.
On hand for the festivities were longtime Peabody benefactor and trustee emeritus H. Rodes Hart; Vice Chancellor for Administration Eric Kopstain; University Architect Keith Loiseau; and representatives from Messer Construction, Centric Architecture and SGA Architecture.
"We are thrilled to partner with the historic Peabody College to create a beautiful place where people want to work, learn and socialize," said Mike Schneider, Messer project executive. "The design and construction team has partnered together with Peabody and Vanderbilt University Facilities in an integrated approach to minimize impacts on campus life and deliver a memorable experience to students and faculty into the future."
A second phase of work is being considered for Payne Hall, Hobbs Laboratory, the Jessup Psychology Building and the Peabody Library.
Peabody College is consistently ranked as a top graduate school of education in the country by U.S. News & World Report, with top five-ranked programs in educational administration and supervision, special education, curriculum and instruction, education policy, and educational psychology.