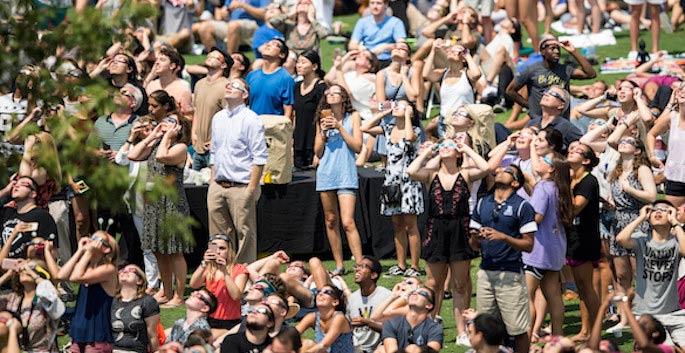 A coordinated social media campaign by Vanderbilt's Division of Communications to promote activities surrounding last August's historic solar eclipse and inform the public about Vanderbilt's experts in the field has won a national Bronze award from the Council for Advancement and Support of Education.
The Aug. 21, 2017, total solar eclipse—the first total eclipse visible in the Nashville area in 538 years and the first coast-to-coast total eclipse on U.S. soil in 99 years—provided a unique opportunity for a social media campaign by Vanderbilt. As Nashville was the largest U.S. city in the path of totality, the university's social media team had a once-in-a-lifetime chance not only to promote the event's activities to the university and local community at the beginning of the school year, but also to showcase Vanderbilt's academic experts and educate the public about the history, science, research, safety issues and more surrounding the astronomical occurrence.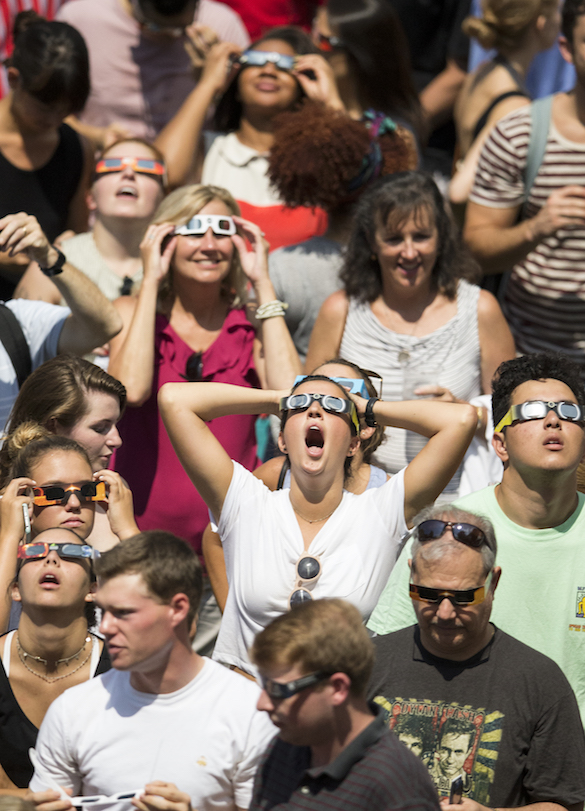 Via Facebook, Twitter, Instagram and YouTube, the team shared 51 posts in the weeks leading up to the eclipse, with a reach of more than half a million people. Nearly 50,000 people commented, clicked and shared the posts, and members of the community used hashtag #VUEclipse. Thousands joined the eclipse viewing party on campus, creating a sense of community as a shared experience. Prospective students, parents and alumni were invited to follow along from their hometowns via Vanderbilt's social media channels.
The division-wide campaign was led by Social Media Director Beth Fox and Public Affairs Officer Liz Entman.
"The overall goal of our communications efforts was to showcase Vanderbilt as a top-tier research institution, with a tight-knit residential college experience, in a vibrant 'It' city," says Fox. "Our social media campaign showcased our experts and research, our community that takes learning beyond the classroom, and our hometown of Nashville."
CASE's annual Circle of Excellence awards program recognizes outstanding work in advancement services, alumni relations, communications, fundraising and marketing at CASE member institutions worldwide. They are judged by peer professionals at schools, colleges and universities as well as by professionals from outside education. CASE has 3,700 member institutions in more than 80 countries.
This year's awards program received 3,204 entries for consideration in nearly 100 categories from 676 higher education institutions, independent schools and affiliated organizations worldwide.
Relive the eclipse experience on campus through videos here >>