Media Inquiries
Latest Stories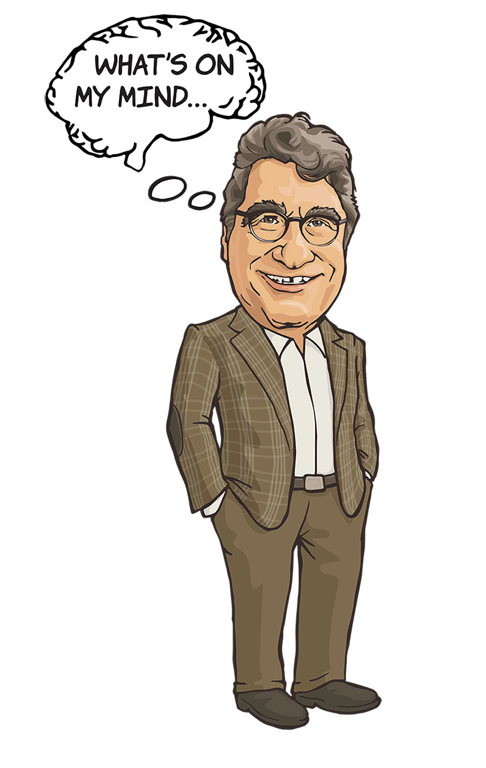 I'm seeing everything through gold-colored glasses this week, caught up in memories of Commencement under sunny skies, chairs filled with proud loved ones, and celebrations with strawberries and champagne.
I was honored to welcome international human rights advocate Amal Clooney as our Senior Day speaker, and I consider it a privilege every year to deliver our Commencement remarks.
Clooney spoke at length about courage, a word that seems inadequate to describe how she has wielded the international legal system to stand up to horrific injustices. She is also a perfect example of the good each of us can accomplish by standing up for what we believe, a message that resonates with our mission here at Vanderbilt.
Lessons like these are part of Vanderbilt's history. Clooney spoke of the courage of the Rev. James Lawson, who was a Vanderbilt Divinity student in the early 1960s and a leader in the civil rights movement. He brought the gospel of nonviolent resistance to the black college students who led the Nashville lunch counter sit-ins. For nearly three months, those courageous students were physically and verbally attacked, and police arrested more than 150 of them. But the students held fast, and the mayor finally agreed that the counters should be open to all customers.
Their protest was a turning point in the civil rights movement—one we honored May 12 with a powerful panel discussion led by Vice Chancellor David Williams at the site of those sit-ins, Woolworth on 5th.
In addition to their youth, those students had something else in common with some of the world's greatest social justice leaders—they were all equipped with myriad superpowers ignited by higher education. Gandhi was 24 and had earned his law degree when he committed his first act of civil disobedience. By 26, when he founded the A.N.C. Youth League, Nelson Mandela held his undergraduate and law degrees and was working as a lawyer. Also by 26, Martin Luther King Jr. had earned his doctorate in theology and was leading the Montgomery bus boycott. Clooney's Oxford education provided the foundation for her humanitarian career as an attorney.
Today, high school and college students standing up to gun violence, like our own 19-year-old Abby Brafman, a Marjory Stoneman Douglas High School alumna, have stepped onto the path. In leading the national March for Our Lives movement, these young people are saying, to paraphrase Clooney, "This is our world now, and there are going to be some changes."
We all have a job to do. Clooney's remarks encouraged each of us to take on the mantle of justice and equality, fighting for the foundational rights we all share. I spoke to the same theme in my Commencement remarks—giving our graduating seniors a top-five list of things they can do to change the world. Let me expand that charge to all of us, not just the graduating class.
On its face, the list seems simple: service to country; civil discourse; a deliberate, thoughtful approach to life; education; and optimism. But the impact of living these values is powerful. In this cynical, naysaying miasma that's clouding our nation, it takes courage to stand up. We must look for big and bold ways to speak up against injustice and fight inequality, regardless of religion, background, political beliefs, sexuality or gender. Never stop learning, never stop teaching, and never for one moment doubt that one person can change the world.
As campus moves into its summer rhythm and pace, I hope you can take time for renewal, reflection on these ideas and plans for the year ahead. Each of you is an element of our success, and together, we are much more than the sum of our parts. Thank you for your tireless efforts to drive Vanderbilt forward every day.
"What's On My Mind" is a regular column from Vanderbilt University Chancellor Nicholas S. Zeppos on the life, people and mission of Vanderbilt University and issues affecting higher education today. Share your thoughts at chancellor@vanderbilt.edu.