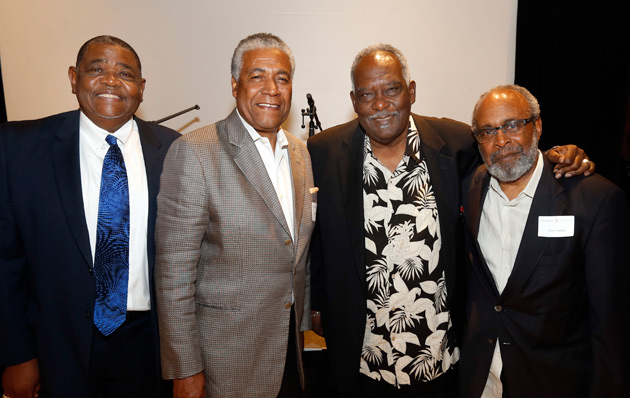 Vanderbilt celebrated the inclusion of Triumph: The Untold Story of Perry Wallace in this year's Nashville Film Festival at an event May 12 at the historic Woolworth on 5th restaurant—a key site in Nashville's and the nation's civil rights history.
The documentary film about the challenges Wallace faced as one of Vanderbilt University's first African American students and as a pioneer in Southeastern Conference basketball was featured May 11 and 12 at the festival.
Guests at the Woolworth event had the opportunity to more fully immerse themselves in the history of the period through a panel discussion featuring Dennis C. Dickerson, James M. Lawson Jr. Professor of History at Vanderbilt; Attorney Godfrey Dillard, who along with Wallace integrated Vanderbilt basketball and the SEC; and Lucius Outlaw, Vanderbilt professor of philosophy. David Williams, Vanderbilt vice chancellor for athletics and university affairs and athletics director, led and moderated the discussion.