Acknowledging that their Vanderbilt University degrees will grant 2018 graduates a wide range of options, Chancellor Nicholas S. Zeppos offered up five specific ways to use their education for good.
He addressed about 1,740 undergraduates and 2,160 graduate and professional students on Friday morning at a sunny ceremony that drew thousands more friends and relatives.
"Whether your plan is to plumb the mysteries of the universe or lead a Fortune 500 company, your education equips you to do mighty things," Zeppos said. "And in the words of that immortal philosopher Stan Lee, 'With great power comes great responsibility.'"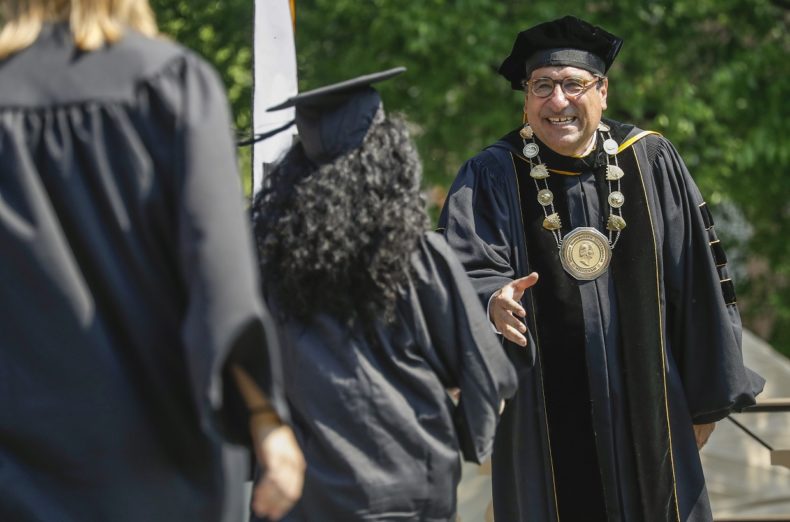 His five suggestions were:
Serve your country: "Pick your challenge: Poverty. American competitiveness. Climate change. Infrastructure. Education. Democracy. Anyone looking to lend a hand need not look far."
Bring back civil discourse: "As educated people, you not only know how to make a fact-based argument, you also know how to listen. You have experience living and working with people different from yourselves."
Stand up for slow: "You can make time to think. To reflect. To have actual conversations and to read actual books. At Vanderbilt, you've been asked to be deliberate, intentional and thoughtful. You can build that same breathing room into your lives moving forward."
Advocate for higher education: "There are many of you who will move up economically thanks to your education, as I did. Please don't pull the ladder up behind you. Instead, extend a hand to others hungry for the same opportunity."
Choose optimism: "Whatever fate has in store for you, you can choose to face it with a positive attitude. What you have learned at Vanderbilt equips you to start always from a position of optimism — to have a bias toward being a problem-solver."
Prior to Zeppos' farewell remarks, Provost Susan R. Wente recognized faculty emeriti and Founders Medalists.
At Thursday's Senior Day lecture, graduates and their families heard from international human rights lawyer Amal Clooney on the subject of courage.
Watch the full Commencement ceremony »