MyVU has profiled 14 members of the Class of 2018. We're featuring their stories in the lead up to Commencement on May 11.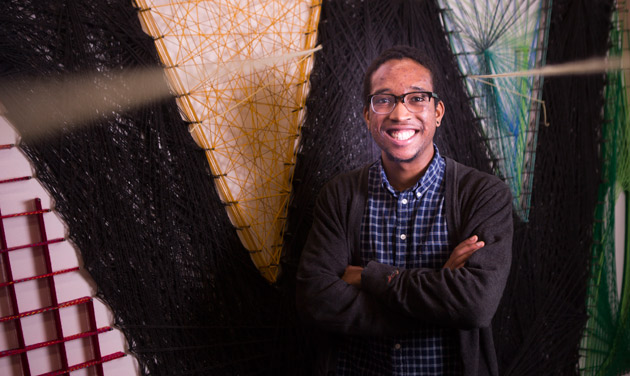 Joshua Forges has been inspired to make art ever since his second-grade teacher complimented his drawing of an alligator. She recommended that Forges attend art-focused magnet schools in his native Miami, and by high school, he was taking college-level classes and drawing, painting and sculpting up to four hours each day.
When it came time for college, Forges knew he would major in art. A Cornelius Vanderbilt Scholarship brought him to the university, where he found a "fantastic" Department of Art faculty. "They're such a close-knit group of people, and they're really invested in their students," he said.
Early in his Vanderbilt career, Forges served as president of the Kefi Collective, a student organization dedicated to the creation of public art on campus. Looking for more opportunities to collaborate across disciplines, he got involved with Innovation Garage—a partnership between the Wond'ry, Vanderbilt's center for innovation and entrepreneurship, and Accenture PLC, a global management consulting firm. The goal of Innovation Garage is to give cross-disciplinary teams of students experience solving real-world problems with the help of Vanderbilt professors and top Accenture executives.
Not only did the program allow Forges to be creative outside the art studio, it also led to an internship with Accenture and a collaboration with Jay Cavenaugh, an industrial design and engineering management student. The two created "Wknot," a one-of-a-kind string art installation at the Wond'ry. They used conceptual math and nearly two miles of yarn to construct the piece's intricate design.
Forges usually works in found materials to create abstract sculpture, as he did for his senior thesis exhibition, "The Color Orange: Mock Marks." The floor-to-ceiling "self-portrait" installed at the E. Bronson Ingram Studio Arts Center features mostly orange objects—traffic cones, construction tools, carved wood elements—to reflect his relationships with his siblings, father and grandfather. Forges said the orange pill bottles and the "up and down" nature of the piece reflect his struggle with mental illness. "I don't know if being bipolar makes me a better artist, but it makes me a more genuine one," he said. "It definitely helps me be more open and vulnerable, which is often hard to do."
Forges' sculpture won the prestigious Margaret Stonewall Wooldridge Hamblet Award, given annually by the Department of Art for the top senior project. The award funds postgraduate travel and art activity. Forges plans to travel this summer to his parents' native Haiti and other cities of the Haitian diaspora to explore blackness. "I want to go during carnival season, when people dress up, to see what objects they use to construct their identities," he said. "I hope to collect some of these objects and then make new ones."
This fall, Forges will apply his artist's training to a full-time management consultant position with Accenture. "A lot of the processes that I'll be using for that job are similar to the way I make art," he said, "which is collecting data, materials and information to draw my own conclusions about subjective and objective reality."