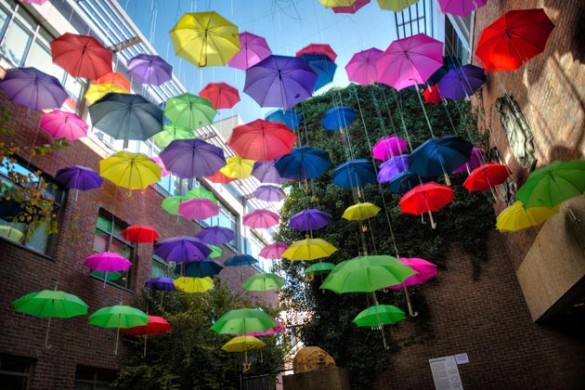 Can art help define our public spaces? Who gets to make this art, and does it have value beyond its aesthetic appeal?
These are questions senior Kion Sawney wanted to explore when he won a 2013 Creative Campus Innovation Grant to start a public art initiative at Vanderbilt. The result is the student-led Kefi Project, whose mission is to bring together creative individuals and challenge members of the university community to reconsider how they interact with their environment.
In Greek, the word "kefi" roughly translates to passion, spirit or joy. "We simply think it means the joy of life," according to the group's website.
"I've always been interested in altering space," said Sawney, an economics and urban planning major from Massapequa, N.Y. "An important part of creating the organization was figuring out what 'public' means at Vanderbilt. Who comprises this public? How do we go about creating art that represents this public?"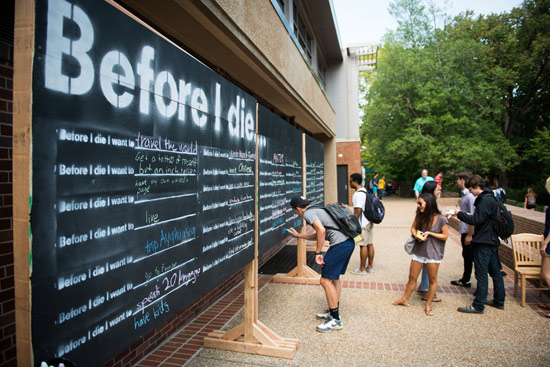 Sawney and a handful of classmates launched the Kefi Project last August with "Before I Die," a large chalkboard installation on the Rand Terrace. The piece was inspired by a similar work that appeared in New Orleans following Hurricane Katrina. "Before I Die" invited passersby to write in a task, goal or dream they hoped to accomplish in their lifetimes.
The installation was intended to serve as the group's calling card. In addition to encouraging students and others to interact with each work, a goal of the project is to foster interdisciplinary and interdepartmental partnerships. "Before I Die" was done in partnership with Vanderbilt's Interfaith Council and featured a panel discussion during its run called "Living Before Dying," moderated by University Chaplain Mark Forrester.
Sophomore Katherine Sowa was so intrigued by the first installation that she attended the Kefi Project's next planning session.
"Each meeting we discuss public art in the country, around the world, and how we can bring aspects of that to campus," said Sowa, an English major who now serves as the group's publicity chair. "We also discuss who we need to contact to make things happen—which building coordinators, which faculty. [rquote]For Kefi members, this is a really cool part of any project: seeing the multidimensional process of creating art, beyond the initial idea."[/rquote]
The group enlisted the help of Jeremy Jones, a shop tech in the Department of Art, to pull off its eye-catching second installation, "pairAsouls." The colorful, multilayered roof of umbrellas suspended above the courtyard between Sarratt Gallery and Last Drop Coffee Shop explored the theme of shelter. Each umbrella was offered for sponsorship, with proceeds benefiting Safe Haven, a shelter-to-housing program for homeless families in Middle Tennessee. The 135 umbrellas were later donated to vendors of The Contributor, a local newspaper whose sales benefit Nashville's homeless community.
Not every Kefi installation is bold and large-scale; some demonstrate that art can happen in smaller, everyday moments. "Trails," done in partnership with the Vanderbilt English Majors' Association and the Senior Class Fund, featured signposts that displayed poetry by English professor Mark Jarman or words of advice from seniors to freshmen along well-traveled campus walkways. "Let's See What Develops" gave cameras to 25 community members at The Martha Rivers Ingram Commons and asked them to document their lives for a week. "Pop-up Poetry" transferred verse appearing in The Vanderbilt Review to unexpected places, such as elevators and restroom walls. And "Dancers Among Us" captured student dancers striking poses in familiar campus locations.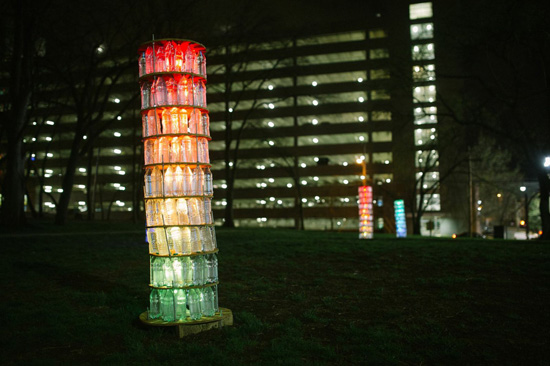 For World Water Day, the Kefi Project teamed with Students Promoting Environmental Awareness and Responsibility to install three conscience-raising works. Using more than 2,300 plastic bottles collected by the Campus Recycling Program as the medium, they created a multicolored mural in the chain-link fence surrounding the Vanderbilt power plant, constructed plastic bottle towers on Olin Lawn, and hung a chandelier made of plastic bottles in Sarratt Student Center. Each piece featured information about water conservation and recycling.
The group's final work of the year had members collaborating with electrical engineering students to construct a large-scale, playable keyboard at Sarratt Student Center.
The Kefi Project's ranks have grown through the academic year, with a core group of about a dozen undergraduates comprising its executive board. These students come from all schools and majors and say it takes the expertise of a diverse community to produce each work. The group regularly consults with adviser David Heustess, director of Sarratt Art Studios; faculty in the Studio Art and History of Art departments; and staff in Campus Planning and Construction, among others.
Sawney, who will pursue a graduate degree in architecture, said there's infrastructure in place for Kefi to continue after he leaves. He hopes the project has another legacy as well.
"(Deputy Vice Chancellor for Facilities) Judson Newbern once told us, 'This campus is yours. How you determine it should look is how it will be,'" Sawney said. "We hope the Kefi Project says, 'This is how we want the campus to look. These are the values of this university. This is what we want to show the world.'"