Media Inquiries
Latest Stories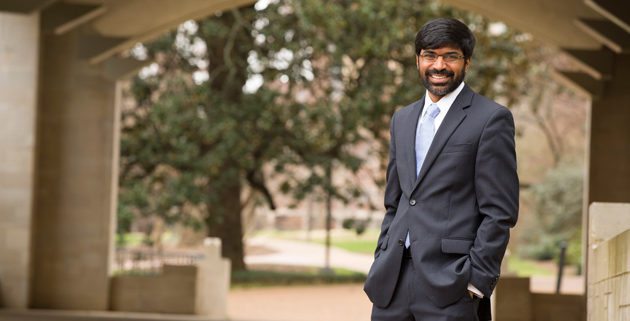 Vanderbilt law professor Ganesh Sitaraman was named on April 25 as an Andrew Carnegie Fellow—the university's third in four years—and awarded $200,000 to support his research.
Sitaraman was one of 31 fellows announced by the Carnegie Corporation of New York, which awarded a total of $6.2 million. The prestigious fellows award was created to invest in scholars researching major current issues in the social sciences and humanities and to lead to the publication of a book or study. The winning proposals focus on a broad variety of complex political, economic, technological, humanistic and sociological matters.
"Professor Sitaraman has emerged as one of the leading intellectuals of his generation writing in public law—an exceptional accomplishment during his short scholarly career," said Chancellor Nicholas S. Zeppos, who nominated the law professor. "His current projects only continue this steep trajectory, developing and advancing a compelling vision for the future of American democracy and its policy agenda."
Sitaraman's 2017 book, The Crisis of the Middle Class Constitution: Why Economic Inequality Threatens Our Republic, sparked discussion among scholars and policy makers alike and was named one of the New York Times' 100 Notable Books of 2017. His Carnegie project focuses on public options—services provided by the government such as public schools, public libraries and public swimming pools, that operate alongside private options—and how they can advance public policy goals.
"Professor Sitaraman's record of success shows that he consistently delivers cutting-edge scholarship that will shape the thinking and actions of both the academy and policy makers, joining our earlier Carnegie winners," said Provost and Vice Chancellor for Academic Affairs Susan R. Wente. "This award demonstrates the caliber of our world-class faculty and the impact they have on the world around them."
Sitaraman is Vanderbilt's third Carnegie Fellow in four years. Assistant Professor of Political Science Kristin Michelitch was named a fellow in 2017 to support her research on politicians and democracy in Uganda. Larry Bartels, the May Werthan Shayne Professor of Public Policy and Social Science, was named to the first class of fellows in 2015 for his work in how politicians respond to the wishes of citizens from differing economic classes.
"Ganesh is among the legal academy's deepest thinkers on democracy," said Chris Guthrie, dean of Vanderbilt Law School and John Wade-Kent Syverud Professor of Law. "His work, which draws from legal scholarship, political theory, philosophy and history, promises to reshape our understanding of the constitutional constraints on inequality in the United States."
Sitaraman is already at work on the new book that will be supported by the Carnegie award and plans to finish it later this year. He then plans to host a conference bringing together faculty from economics, law, political theory, comparative politics and public policy to explore public options in greater detail and produce published research.
"The book will generate fresh and important insights about this regulatory tool, its promises and its limits," Sitaraman said. "With the conference, my hope is to spark additional work on public options in a variety of disciplines."
About Ganesh Sitaraman
Sitaraman joined Vanderbilt in 2011 and was on leave through 2013 to serve as policy director to Elizabeth Warren during her successful Senate campaign and then as her senior counsel in the U.S. Senate. He was selected in 2018 as a Chancellor's Faculty Fellow.
Sitaraman is a graduate of Harvard College, the University of Cambridge and Harvard Law School, where he was an editor on the Harvard Law Review. Following law school, he was the inaugural public law fellow at Harvard Law School and clerked for Judge Stephen F. Williams on the U.S. Court of Appeals for the District of Columbia Circuit.
Sitaraman is also the author of The Counterinsurgent's Constitution: Law in the Age of Small Wars, which received the Palmer Prize for Civil Liberties in 2013. His academic writings have been published in the Harvard Law Review, Columbia Law Review, NYU Law Review and Cornell Law Review, among other places. Sitaraman has commented on domestic and foreign policy issues in the New York Times, Politico and The New Republic, and he is a columnist at The Guardian.
Carnegie Corporation
Carnegie Corporation of New York was established in 1911 by Andrew Carnegie to promote the advancement and diffusion of knowledge and understanding. In keeping with this mandate, the corporation's work focuses on the issues that Andrew Carnegie considered of paramount importance: international peace, education and knowledge, and a strong democracy.
Each year as part of the fellows program, the corporation seeks nominations from more than 600 leaders representing a range of universities, think tanks, publishers, independent scholars and nonprofit organizations nationwide. For the class of 2018, the corporation received 270 nominations whose proposals were reviewed and rated by one or more of the 17 prominent scholars, educators and intellectuals who serve as anonymous evaluators.
"We were reassured by the immense talent and breadth of experience reflected in the proposals from this year's nominees for the Andrew Carnegie Fellows Program," said Vartan Gregorian, president of Carnegie Corporation of New York and president emeritus of Brown University. "Since its founding in 1911, the corporation has provided strong support to individual scholars, as well as a wide variety of institutions, causes and organizations. The response to the fellows program gives me great hope for the future of the study of the humanities and the social sciences as a way for this country to learn from the past, understand the present, and devise paths to progress and peace."