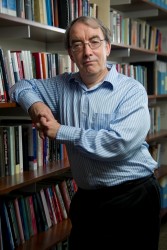 Larry Bartels of Vanderbilt University was named an Andrew Carnegie Fellow, a new program launched by the Carnegie Corporation of New York April 22. He will use the new resources to broaden his research on how politicians respond to the wishes of citizens from differing economic classes.
Bartels, the May Werthan Shayne Chair of Public Policy and Social Science at Vanderbilt University, was one of 32 fellows in the program's inaugural class. Each recipient is eligible for up to $200,000, designed to enable them to devote between one and two years to research and writing.
"I have begun to explore the prevalence and extent of biases in political responsiveness beyond the United States," Bartels said. "I proposed as a Carnegie Fellow to spend the next few years continuing that work."
Bartels joined the Vanderbilt faculty in 2011. His scholarly work focuses on public opinion, electoral politics, public policy and political representation. His 2008 book Unequal Democracy appeared on a New York Times list of "economics books of the year" and won the Gladys M. Kammerer Award for the year's best book on U.S. national policy. He is also the author of Presidential Primaries and the Dynamics of Public Choice (1988), which won the Woodrow Wilson Foundation Award for the year's best book on government, politics or international affairs.
"It is my hope that the work of the Andrew Carnegie Fellows will help inform the American public as well as policy makers," said Vartan Gregorian, president of the Carnegie Corporation.
More than 300 projects and researchers were nominated for Carnegie Fellowships.
"Each proposal was reviewed and rated by at least one of the 25 prominent scholars, educators and intellectuals who served as anonymous evaluators," Gregorian said. Jurors were asked to consider the merits of each proposal based on originality, promise and potential impact on a field of scholarship. The anticipated result of each fellowship is a book or major study.
Bartels plans to use the fellowship to spend the 2016-17 academic year on leave, in hopes of producing a book manuscript by early 2018.