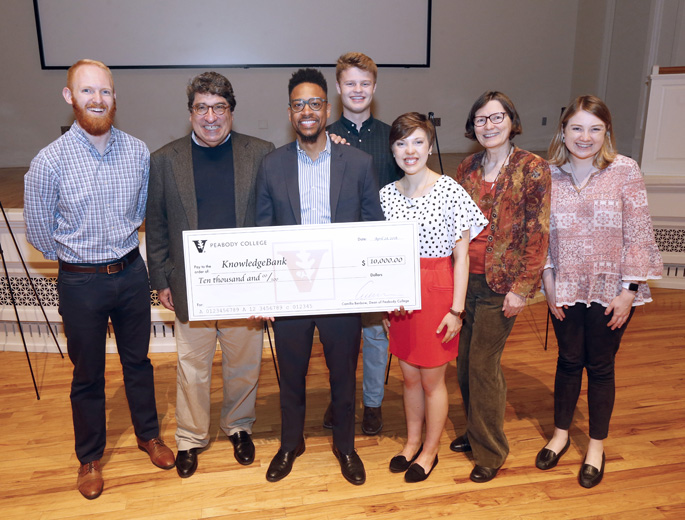 Vanderbilt Chancellor Nicholas S. Zeppos helped undergraduates distribute donation checks totaling $59,000 to four Nashville charities as part of a unique class that teaches undergraduates the importance and value of philanthropy.
"Philanthropy and Social Problem Solving" is offered by the Department of Human and Organizational Development at Vanderbilt's Peabody College of education and human development. The class is a partnership with The Philanthropy Lab of Fort Worth, Texas, which entrusts classes with funds, in this case $50,000, to distribute to area nonprofits as their final project.
"This event reflects the very best of Vanderbilt and Peabody and our deep and lasting connections with our community," Zeppos said. "The heart of Human and Organizational Development, and what Professor Shinn does as an extraordinary scholar, is to develop students' knowledge—not by sitting in an ivory tower but by allowing students to experiment in the real world and make a difference for the organizations serving the citizens of Nashville and Tennessee. The heart of great education is putting theory into practice, and that is what HOD is all about."
Taught by Professor Marybeth Shinn, the students were divided into four groups. After selecting a social issue, they spent a semester learning about the power of philanthropy, debating approaches to change and researching the outcomes of area charities that work to resolve the selected social issue. Each group then chose a nonprofit to receive a donation. The 2018 awardees were:
Girls Inc.—$15,000
Social Issue: Women's Empowerment
Girls Inc. is a YWCA program that provides hands-on, research-based programs, including a summer camp, that provide girls with the skills and knowledge to set goals, overcome obstacles and improve academic performance.
Knowledge Bank—$10,000
Social Issue: Financial Empowerment
Knowledge Bank is a multifaceted workshop series with mentorship and knowledge-building experiences for youth to prepare them for financial success in adulthood.
Nashville Drug Court Support Foundation—$19,000
Social Issue: Criminal Justice
The Nashville Drug Court Support Foundation is a model long-term recovery program that serves as an alternative to incarceration for people with substance abuse and/or mental illness.
tnAchieves—$15,000
Social Issue: Education Achievement
tnAchieves builds on the TN Promise program to provide wraparound supports, including mentorship, to increase Tennessee's post-secondary attainment rate.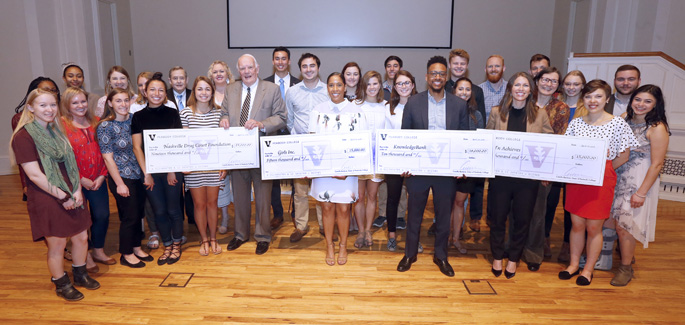 Because Zeppos was on hand for the check ceremony, The Philanthropy Lab donated an additional $10,000 to support the class at Vanderbilt next year. Over the past three years Vanderbilt classes supported by The Philanthropy Lab have donated $191,000 to 11 nonprofit organizations. One organization received funds twice. Future funding will depend on finding local donors to support this work.