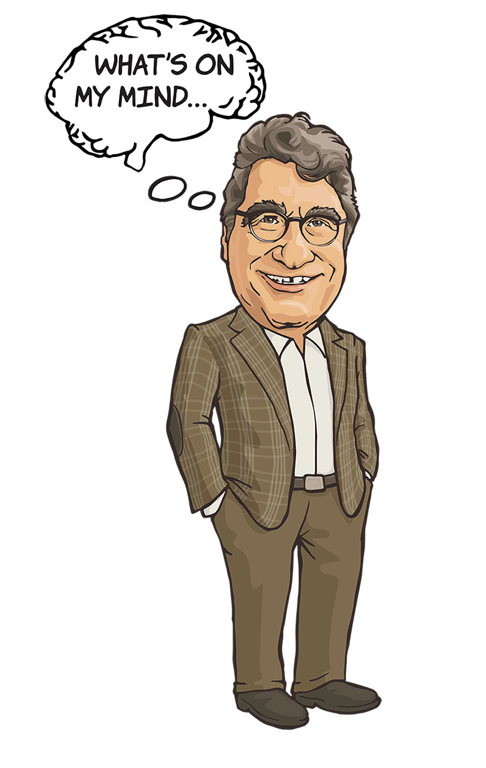 This regular column is aimed at opening another channel of conversation with you about the opportunities and challenges we face, together as the faculty, students, staff and leaders of our great university.
I believe that America's universities are the best investment in our nation's future. We nurture and prepare young citizens who will nourish democracy and improve the world.
Here at Vanderbilt, our Residential College model immerses students in communities where they learn, study and live with people completely different from themselves. That's intentional. We're preparing them to be the conveners of tomorrow, bringing together great minds from many disciplines to tackle some of the world's biggest challenges.
But into what kind of society are we sending these young citizens? Right now, the political climate in our country concerns me. It seems that we've forgotten that what joins us together in this fascinating 241-year-old experiment in democracy are our founding principles and the embracement of diverse perspectives and opinions.
I had the privilege of hosting Vice President Joe Biden last Tuesday during a standing-room-only Chancellor's Lecture Series event. He shares these concerns about the divisions in our nation today. I asked him if he believes there is a path back to American values of cooperation.
"There's an invisible moral fabric that holds up democracy and society," the vice president told the crowd. "We have to remember who we are. You can't define America as a tribe, a religion, a creed. America is an idea unique in human history."
The ideals upon which the United States was founded—a democracy where we are equal, where we all have a voice and where opportunity is open to all—seem to be forgotten in today's rhetoric.
"When did we start looking at the other side as the enemy, and not the opposition?" Biden asked the audience. "We need to get to know the other side. Talk to them, listen to them, get to know their families, understand their motivations. It's hard to dislike a man when you know what he's been through. Let's get to know each other again."
In other words, re-engaging in community and civility—approaching one another with mutual respect and avoiding hostility, antagonism or persuasion. Never diminishing or questioning another's morality or motives and focusing instead on understanding, shared values and goals of compromise. Civil discourse paired with public service are cornerstones of democracy.
The vice president used Plato to urge the audience, largely made up of Vanderbilt students, to get involved in their communities, saying, "If you won't get involved, the penalty is to be governed by people worse than you."
I agree with him. We all have the power to change our society, but that requires us to not just be informed, but to be engaged.
That same message was front and center with U.S. Supreme Court Justice Sonia Sotomayor, who came to campus April 3 to deliver the Sims Lecture at the law school. Instead of a presentation on the nuances of high court cases, she spoke passionately about the need for all of us to be involved in our communities, live with integrity and leave the world a slightly better place than we found it.
She's doing that not just on the bench, but also through iCivics.org, which seeks to reimagine civics education through free lesson plans and games—a modern-day Schoolhouse Rock. Justice Sandra Day O'Connor, the first woman justice on the Supreme Court, founded iCivics and considers it to be her legacy, saying, "The practice of democracy is not passed down through the gene pool. It must be taught and learned anew by each generation of citizens."
It's hard to engage in discussion with people whose views are 180 degrees from our own. We may believe their arguments are factually wrong or morally wrong, but we must still embrace them as our fellow citizens, listening with respect and sharing our opinions in a civil manner. We must come together. We must collaborate and compromise.
Martin Luther King Jr. noted that human progress doesn't just happen. "Human progress is neither automatic nor inevitable," he said. "Even a superficial look at history reveals that no social advance rolls in on the wheels of inevitability. Every step requires the tireless exertions and passionate concern of dedicated individuals."
Let us be those dedicated individuals, knowing there is value in dialogue. There is opportunity in community. Let us work together for the betterment of us all.
"What's On My Mind" is a regular column from Vanderbilt University Chancellor Nicholas S. Zeppos on the life, people and mission of Vanderbilt University and issues affecting higher education today. Share your thoughts at chancellor@vanderbilt.edu.