Vanderbilt's Humphrey Fellows to visit Dollywood, Vol State-Livingston
by
Joan Brasher
Mar. 28, 2018, 9:39 AM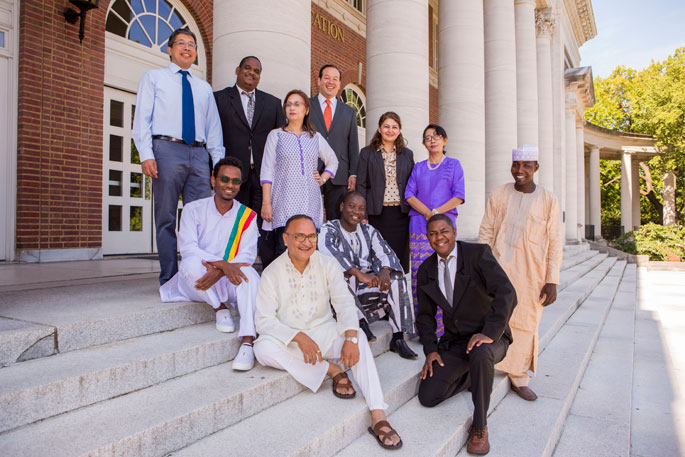 Vanderbilt's ninth cohort of Hubert H. Humphrey Fellows will travel to east Tennessee's Great Smoky Mountains April 6–8. The fellows will attend Dollywood's annual festival of Nations, a tradition of cultural immersion for each year's cohort of Humphrey Fellows at Vanderbilt.
The 10 international scholars are educational leaders in their local schools, universities, government and non-profit organizations from around the world. They were selected for 10-month-long professional and leadership development and cultural exchange at Vanderbilt's Peabody College of education and human development. This year they come from Azerbaijan, Belize, Burkina Faso, Cape Verde, El Salvador, Ethiopia, India, Myanmar, Pakistan and Uzbekistan.
In addition to visiting Dollywood, the fellows will use this opportunity to visit associate campus partnership institution, Volunteer State Community College at their Livingston campus, approximately 100 miles east of Nashville. This experience will provide insight into the role of satellite campuses in promoting the mission of community colleges throughout the state, particularly in supporting education in rural areas.
While on this trip, the Fellows will spend time evaluating what they have learned over the course of their time at Vanderbilt and formulate plans to enact positive change in their home countries when they return in May.
"We are looking forward to our visit to the Smoky Mountains and Dollywood as this is a perfect time and location for reflection and preparation," said Nancy Dickson, director of the Hubert H. Humphrey program at Vanderbilt. "It is important for the Humphrey Fellows, as change agents, to reflect on what they have learned this year while making preparation to make a lasting impact on the future."
For program information, call (615) 390-0812.