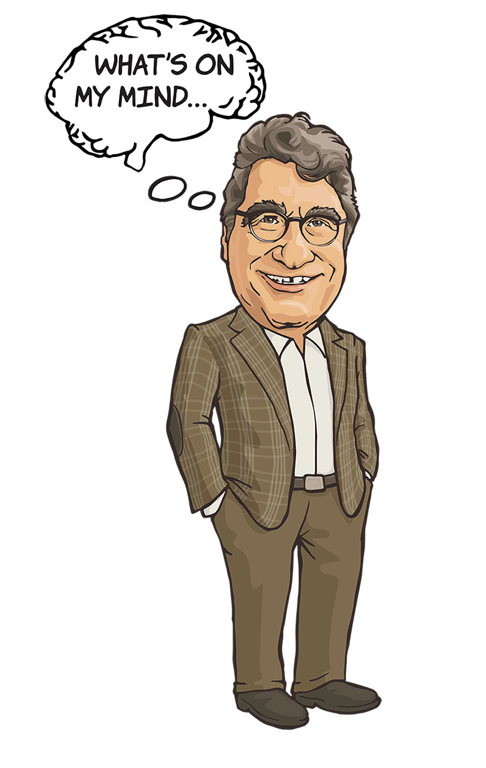 This regular column is aimed at opening another channel of conversation with you about the opportunities and challenges we face, together as the faculty, students, staff and leaders of our great university.
When a colleague or classmate is in a car accident or fighting cancer, we rally together to help them as they heal. One of us takes over a project, another one organizes dinners while those closest provide a listening ear and moral support. We also help them chart a course back to work or classes.
But when the struggle is with a mental illness, too often a curtain of silence is pulled. The colleague or classmate may not feel that it's safe to talk. What will people think? Will they lose their job? Will they have to drop out? The stigma that surrounds mental health often makes others uncomfortable to ask what's wrong, and unsure how to help. So our colleagues, our classmates—our friends—suffer in silence. Sometimes, the results are tragic.
Former U.S. Congressman Patrick Kennedy was here last week for a Chancellor's Lecture Series discussion on making mental health essential health. He has long advocated for better treatment for mental illness and addiction, sponsoring legislation and even writing a New York Times best-selling biography detailing his struggle with bipolar disease and addiction, which was amplified by his family's denial. He told the audience that since the book was published, his only brother has cut off contact. Kennedy said he still finds it difficult to talk about his illness.
He's like many of us. While the brain is part of the body just like the heart and lungs, we have a hard time talking about diseases affecting the brain. How do you encourage people to get help when the personal cost can be so high?
We're working to change that at Vanderbilt. I formed the Chancellor's Strategic Planning Committee on Mental Health and Wellbeing in 2016, asking them to give a special focus on reducing stigma for those who seek help. In its report released today, the committee points out how we, as a university community, can come together to maximize the full human development and potential of our students, faculty and staff.
We are already moving forward on several fronts, bringing the strength of Vanderbilt's trans-institutional expertise to build a multidisciplinary response to the issues of mental health and wellness.
As we've developed a diverse intellectual community that welcomes and values each member, we've worked to transform thinking about mental health and wellbeing. Our GO THERE campaign, in its second year, is a big, bold effort to encourage people to break the silence—and the stigma—surrounding mental health. Groups like Active Minds, LEAPS and Vanderbilt Recovery Support work with students to change perceptions and reduce stigma.
Informed by numerous listening sessions with students, we will launch a new student care network this summer. The new Office of Student Care Coordination will guide students to the right resources, offered by the University Counseling Center, the Center for Student Wellbeing and the Student Health Center, which bring together medical providers, psychologists, social workers, counselors and other professionals to provide a spectrum of services.
Looking at the issue from the treatment angle, our incredible research and discovery enterprise has made groundbreaking progress in developing new drugs for depression, schizophrenia, and other brain disorders. Just this week, new Vanderbilt research by graduate student Noah Robinson, under the direction of Professor Steven Hollon, on the use of virtual reality to help combat opioid addiction made national headlines, reaching millions of people. We promoted this story with national media and on other platforms to further inform the national conversation on this critical issue and highlight the important role university research can play in addressing these societal challenges.
Last week we announced Lisa Monteggia as the new director for the Vanderbilt Brain Institute. She's a pathbreaking neuroscientist, a highly collaborative colleague and a dedicated mentor. The institute leads our neuroscience research and education efforts to unite a network of centers and programs on campus studying topics affecting mental health. For example, the Vanderbilt Center for Neurological Drug Discovery blends academic research in the basic sciences with state-of-the-art drug discovery resources. Led by co-directors Jeffrey Conn and Craig Lindsley, researchers have made huge discoveries in new treatments for schizophrenia, Parkinson's and Alzheimer's diseases, and other brain disorders.
Groundbreaking work at the Vanderbilt Center for Addiction Research, led by Danny Winder, is helping to crack the code to addiction by defining molecular triggers that drive behavior and developing long-term treatments. The Vanderbilt Genetics Institute, directed by Nancy Cox, is probing the human genome with the goal of developing precision medicine, treatments tailored to each patient based on unique genetic predictors.
Much of this work also intersects with our Vanderbilt Kennedy Center, which is directed by Jeff Neul and was created through legislation signed in 1963 by Patrick's uncle, President John F. Kennedy. Researchers there collaborate with colleagues across campus on developmental disabilities and human development to make breakthroughs in prevention and treatment.
We believe the continued synergy of these and other cross-disciplinary efforts will drive better understanding of dynamic interactions between brain and body, between physical and mental health, and between neurological processes and environmental inputs.
Only through honest, brave dialogue and self-examination can we maintain the highest standards in research and resources, and also grow our culture of openness that fosters success for all at Vanderbilt. We can all be a part of the discussion, and I invite you to join in.
Visit Vanderbilt's Mental Health and Wellbeing website >>
"What's On My Mind" is a regular column from Vanderbilt University Chancellor Nicholas S. Zeppos on the life, people and mission of Vanderbilt University and issues affecting higher education today. Share your thoughts at chancellor@vanderbilt.edu.