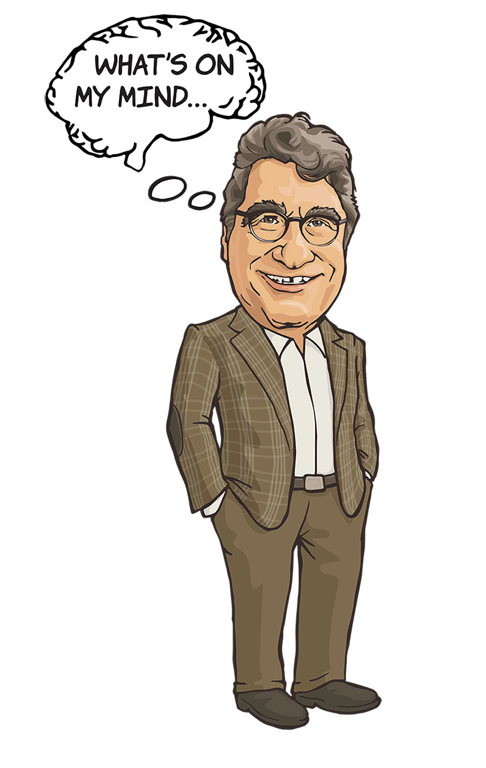 This regular column is aimed at opening another channel of conversation with you about the opportunities and challenges we face, together as the faculty, staff and leaders of our great university.
We celebrate Black History Month today because a century ago, a young black historian believed something had to change.
In 1915, while attending a national celebration marking the 50th anniversary of emancipation, Carter G. Woodson realized that African American history and heritage were being lost. He began what became his life's work—promoting the teaching of black history in the nation's schools and communities. The first Negro History Week was in 1924, and President Gerald Ford declared the nation's first Black History Month in 1975. It has been celebrated during February ever since.
Stories of change, courage and determination define black history in America and are integral to our understanding of our nation's past and the possibilities for our future. It's no different on the Vanderbilt campus, where pioneers who believed that something had to change stepped across thresholds and changed the country's and our university's course.
Recently, we honored the courage of Perry Wallace and Godfrey Dillard, who made history as Vanderbilt's and the Southeastern Conference's first African American basketball players. Other names and stories that all of us should know include Joseph Johnson, who in 1954 was Vanderbilt's first African American graduate; the Bishop Joseph Johnson Black Cultural Center is named for him. There's Dorothy Phillips, who in 1967 was one of the first two African American students to graduate from Vanderbilt after the university was integrated. Vanderbilt has named an endowed faculty chair and two fellowships to support leaders in STEM in her honor.
Murray House and Smith Hall are named after two African American groundbreakers. The Rev. Walter R. Murray was vice president of the Student Government Association as an undergraduate, a founder of the Afro-American Student Association, and the first African American to serve on the Board of Trust. Kelly Miller Smith, a pioneering Nashville civil rights leader who helped organize and support the Nashville lunch counter sit-ins, was the university's first African American administrator.
These are just a few of the remarkable African American leaders who have moved Vanderbilt forward, and it's their legacy upon which we continue to build our beloved community. I encourage you to learn more about them and other courageous, determined figures on our Celebrating Change website.
Vanderbilt has come a long way, but we have a long way to go. We recognize that excellence in our teaching and research mission demands inclusiveness and diversity. So, we launched Opportunity Vanderbilt almost 10 years ago to ensure that every talented student, regardless of their ability to pay, could attend Vanderbilt without taking on the burden of student loans. Our entering freshman class this year is the most diverse—and most talented and qualified—in our history, largely due to this program.
It is because of the lessons we've learned from our history, from the difficult experience of students like Perry Wallace, that we are building and investing in residential colleges. We know that bringing diverse students to campus isn't enough—we must create caring and inclusive communities so every student finds a true home here.
It is because of the brutal lessons we learned and are still learning from the scourge of slavery and the Civil War that we removed the name "Confederate" from Memorial Hall, ensuring that what we choose to carve in stone on this campus reflects our shared values. We'll come together as an academic community to further delve into the continuing legacy of the Civil War with the "Wrestling With the Past: Vanderbilt, Race, and the Confederate Legacy" conference March 22-23.
It's because of the scholarship of African American faculty at Vanderbilt and beyond that we are broadening our curriculum through the University Courses program, which this semester includes Race, Place and Power and Rhythm of Change: African Music and African Politics, and building a pipeline to train and graduate diverse Ph.D.s who will go on to leadership roles in academia and beyond.
It's because we believe in exploring all avenues of knowledge that we just last month launched the Center for Sports and Society to support research, teaching and scholarship in conjunction with the university's focus on trans-institutional initiatives, including an initial emphasis on activism. Our goal is that the center will serve as a catalyst and a resource to make a more just and fair society, using sports as a vehicle for change.
It is because of the examples of the many people who have served Vanderbilt over our nearly 150-year history that we know a diverse staff community makes us better, smarter and stronger—and that's why we created the leadership roles of vice chancellor of Diversity, Equity and Inclusion and vice provost for Inclusive Excellence.
Our choices and investments reflect our values, and we have chosen time and again to invest in diversity because of the lessons we have learned from the African American pioneers who shaped, and continue to shape, our campus and our country today.
I encourage you to take advantage of the wide range of activities— from art exhibits to workshops to lectures and presentations—offered on campus every day in this month to celebrate Black History Month.
Reach out. Read. Listen. Learn. Each story contributes another thread to the rich tapestry of American history, and each story brings us closer to understanding the full, complex history of our country. Carter Woodson's dream lives on.
What's On My Mind is a regular column from Vanderbilt University Chancellor Nicholas S. Zeppos on the life, people and mission of Vanderbilt University and issues affecting higher education today. Share your thoughts at chancellor@vanderbilt.edu.