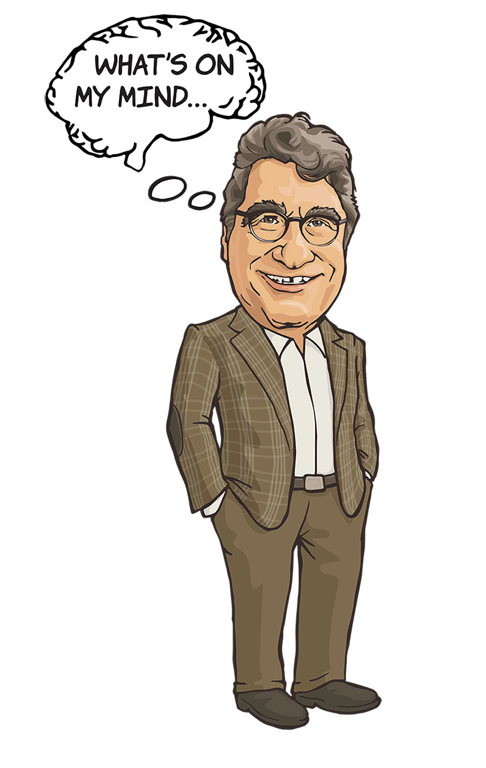 This regular column is aimed at opening another channel of conversation with you about the opportunities and challenges we face, together as the faculty, staff and leaders of our great university.
We announced this week the launch of our largest-ever capital project—investing $600 million to build four new residential colleges that will transform our streetscape along West End Avenue and support our vision to shape the leaders of tomorrow.
The construction itself isn't news here on campus. We've been watching the new E. Bronson Ingram College rise up since 2016, and in December, we broke ground on the next residential college on the site of the Tarpley Building. It's what the construction represents that is exciting, because the residential colleges are a star player in our big and bold commitment to deliver a liberal arts education immersed in research and discovery.
This bold commitment complements other major capital investments on campus, including expansions and renovations at the Eskind Biomedical Library, the Divinity School, Nursing, Owen and Peabody along with studies exploring new facilities for Arts and Science, the humanities and engineering.
Our vision for residential colleges started with The Martha Rivers Ingram Commons and grew to the Warren and Moore Colleges. The success of these initiatives pushed us forward, and we have all come together to pursue Vanderbilt's goal of delivering an immersive campus experience for our talented, inclusive, innovative community—an education that changes lives.
How are we doing that? Architects and planners ensure these residential colleges and the overall redevelopment of Vanderbilt's West End Neighborhood further the vision of FutureVU. Our fundraising team has done incredible work, spreading the word and working with major donors who have given transformative philanthropic gifts to support the residential colleges. Faculty heads of house provide leadership and mentorship. Staff develop thought-provoking programming to help students uncover their passions.
The programming piece is especially exciting, because we plan to bring to campus thought leaders, including national and international scholars, doers and makers, so that the Vanderbilt community can engage on the most important and fascinating issues of our time.
The next residential college features a 20-story tower that will not only transform Vanderbilt's skyline but also provide space for these visiting luminaries to stay for short residencies, allowing for profound exchanges of ideas. Through their visits, both in the tower and in the colleges and schools, these leaders will act as a catalyst for listening and interaction among all faculty and students.
I hope you feel as proud as I do about the progress we've made, and the extraordinary possibilities on the horizon.
The new residential colleges are beautiful, to be sure. Built by local craftspeople from Crab Orchard stone, which is found only on the Cumberland Plateau, these buildings have a distinct look and sense of place. The interior spaces, both public and private, have been designed to build community and encourage deep learning. Our goal is to provide one of the most innovative undergraduate experiences in the world.
It's not just the buildings that allow us to accomplish that. It starts with ensuring a Vanderbilt education is accessible to every talented student who has earned admission. Our admissions have long been need-blind, and through Opportunity Vanderbilt, we commit to meeting 100 percent of a student's demonstrated need with scholarships and grants, making it more likely that students will graduate free of debt. We are one of just a handful of universities with this comprehensive approach.
We also believe that diversity is a competitive advantage. By building a community made up of the best qualified students, regardless of background, we create the opportunity for rich and deep educational experiences. These broad thinkers and experienced collaborators will be ready to tackle the great problems facing our society.
Add to that the invigorating, collaborative faculty atmosphere fostered by the Trans-Institutional Programs initiative, Chancellor Faculty Fellows and our expanded endowed chair program, among others, which allow us to retain these amazing scholars and recruit rising stars to our faculty.
All the parts of this—access, affordability, diversity, world-class faculty and community—come together to move us forward in our mission.
For Vanderbilt to adopt a residential college system today that was first established centuries ago at Cambridge and Oxford may seem a contradiction. Are we moving forward or backward? Isn't faster and newer better? With the residential colleges, we go beyond books and lectures to deliver an education that is full, rich and insightful and sends out our graduates as both citizens and leaders.
No matter what side of the political fence you are on, we can agree that our country is in a difficult place. Civility and reason seem to be displaced all too often with rudeness and ignorance. But we believe that America's great universities make a difference by immersing our students in communities with people from different walks of life, different religions and different cultures. As faculty and staff, we model that behavior every day through our culture of collegiality and civility. Through observation and experience, students develop not only their knowledge, but also their compassion and understanding.
Our investment in residential colleges—and the intentional learning this system fosters—is strengthened by our belief that our students will graduate as well-educated, compassionate leaders ready to keep our country, and our global society, moving forward. It's an investment in the future for all of us.
What's On My Mind is a regular column from Vanderbilt University Chancellor Nicholas S. Zeppos on the life, people and mission of Vanderbilt University and issues affecting higher education today. Share your thoughts at chancellor@vanderbilt.edu.