Vanderbilt faculty ranked among top influencers in education
Jan. 12, 2018, 7:32 PM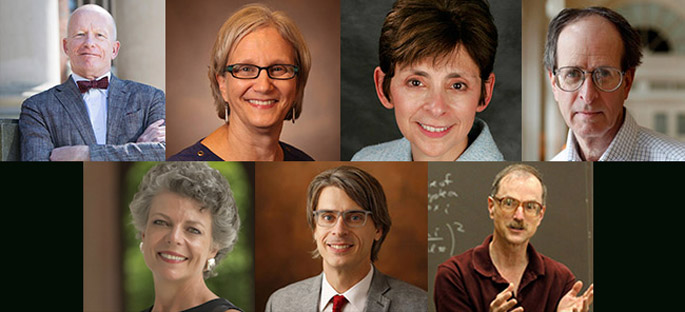 Seven professors on the faculty at Vanderbilt University's Peabody College of education and human development are once again included in an annual listing of the most influential public scholars in education.
The Edu-Scholar Public Influence Rankings are compiled each year by Frederick M. Hess, director of education policy for the American Enterprise Institute. Hess's listing, published on his blog at Education Week, includes 200 scholars nationwide.
"With more than 50 universities represented, we are proud to have multiple experts from Vanderbilt recognized each year for their contributions to public discussion of important educational issues," said Camilla P. Benbow, Patricia and Rodes Hart Dean of Education and Human Development at Peabody. Benbow is among the scholars included.
The ranking uses nine measures to determine a ranking for each scholar, including metrics like their Google Scholar score, number of books published, inclusion in the Congressional Record, mentions in newspapers and the education press and social media presence.
The seven faculty members, who were also included in last year's listing, are:
Dale Ballou, associate professor of leadership, policy and organizations. Ballou has authored numerous journal publications on regulations and incentives in the training, recruitment and retention of effective teachers and the impact of sanctions and rewards on teacher effectiveness.
Camilla P. Benbow, Patricia and Rodes Hart Dean of Education and Human Development and professor of psychology. As co-director of the Study of Mathematically Precocious Youth, the foremost longitudinal study on gifted individuals, Benbow has pioneered research on talent identification and talent development that is frequently cited by scholars and referenced in newspapers and magazines and on the web.
Lynn Fuchs, Dunn Family Professor of Psychoeducational Assessment. Fuchs is prolific in publishing and presenting her findings on instructional methods for improving mathematics and reading outcomes for students with learning disabilities and their responsiveness to intervention.
Ellen B. Goldring, Patricia and Rodes Hart Professor of Educational Leadership and Policy and chair of the Department of Leadership, Policy and Organizations. Goldring contributes regularly to the national discourse on the intersection of education policy and school improvement, and has authored numerous books on leadership effectiveness in school administration.
Jason Grissom, associate professor of public policy and education and faculty director of the Tennessee Education Research Alliance. Grissom has shined a spotlight on the importance of school leadership and district governance to school improvement and on the economics of the education labor market, through a robust social media presence and ongoing discourse with education reporters.
Gary T. Henry, Patricia and Rodes Hart Professor of Public Policy and Education. Henry is a leading expert on school turnaround and state takeovers of failing schools, and is often cited by education reporters on the subject of Tennessee's Achievement School District and turnaround efforts in other states.
Joseph F. Murphy, Frank W. Mayborn Professor of Education and associate dean for special projects. Murphy is a former school administrator at the school, district and state levels. A leading expert on school improvement, he has published 25 books on school leadership and policy, including most recently, Professional Standards for Educational Leaders: The Empirical, Moral, and Experiential Foundations (Corwin Press).
See the 2018 Edu-Scholar Public Influence rankings.
This story originally appeared on Vanderbilt News.