Smetana named to Human Resources role
Dec. 18, 2017, 8:00 AM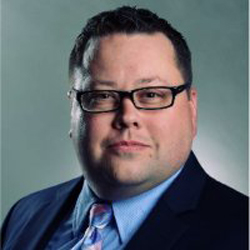 Erik Smetana has been named executive director for compensation and talent for Vanderbilt University Human Resources. Smetana, most recently associate vice president and deputy chief HR officer for the University of Missouri system, will join Vanderbilt Human Resources on Jan. 3 and will help lead strategic and operating initiatives that seamlessly integrate HR's consulting functions involving job design, classification, compensation, candidate sourcing, and hiring to help ensure that hiring units across campus can recruit and retain great employees.
"We're excited to have Erik join us. We think the skills and experience he brings will be an excellent fit for the strategic approaches we've been undertaking within HR," said Barb Carroll, associate vice chancellor and chief human resource officer. "Erik really understands and embraces the concept that HR's role is to help campus leaders and teams be successful and satisfied in their work as they accomplish Vanderbilt's mission."
In his former role with the University of Missouri system, Smetana led and managed a portfolio that included compensation programs and practices, HR service delivery, HR analytics, talent acquisition and executive search, talent management and organizational development, and HR communications. Before joining the UM system in 2013, he served as the associate director for human resources for the University of Missouri-St. Louis campus. Smetana also has served as an adjunct faculty member at several institutions on topics including human resource management, business ethics, communications and management. His prior HR career includes experience with Charter Communications, Tyco Healthcare and Boys Hope/Girls Hope.
"I am humbled and honored to join Vanderbilt University and to be a part of the outstanding work Human Resources is engaged in and moving toward in the future," Smetana said. "It is an exciting time, and I am thankful for the opportunity to collaborate and partner with colleagues in and outside of HR at such an outstanding institution."
Smetana is a member of the Society for Human Resource Management (SHRM) as well as the College and University Professional Association for Human Resources (CUPA-HR), and he sits on the research advisory committee of the national board of CUPA-HR. He has made conference presentations on a wide range of HR, compliance and analytics topics.