By Bonnie Arant Ertelt, BS'81
When George Peabody College for Teachers merged with Vanderbilt University in 1979, the agreement came with a little-known perk: The school had acquired a sizable collection of art stored in a basement vault at Cohen Memorial Hall. With more than 1,000 works, the Peabody College Collection includes items ranging from antiquities to Renaissance paintings to influential mid-20th-century sculptures and other pieces. The collection has provided many works for study and exhibition across the Vanderbilt campus in recent years, as well as loans to museums around the world.
To explain the presence of such an important and broad art collection housed at a small teacher's college in the South, look no further than the progressive forces at work in education reform and philanthropic trends at the dawn of the 20th century. When Peabody College moved to its present location across 21st Avenue South from Vanderbilt in 1911, a confluence of theories, practices and educators set art quietly at the center of a campus dedicated to instructing future teachers.
"The Arts and Crafts movement was alive and well at the time," says Joseph Mella, director of the Vanderbilt Fine Arts Gallery, who oversees the Peabody Collection as part of the university's overall 7,000 catalogued works. "There was a lot of interest in the value of a more personal experience with original works of art, and it was thought that these could be very useful in education, as opposed to the study of reproductions."
With its roots in 19th-century England, the Arts and Crafts movement began as a response to the breakdown of artistry brought about by the Industrial Revolution. More than just an aesthetic undertaking, the Arts and Crafts movement sought to improve the lives of workers by advocating for the types of skills they would have learned in earlier guild systems.
The United States at the turn of the 20th century saw parallel theories based on these same principles. Not only would the public gain an understanding of beauty by handling well-crafted objects, but artists and craftsmen also would profit from a demand for well-made goods and fine art.
Among those who adopted the educational aspects of the Arts and Crafts movement was the pragmatist John Dewey. He believed hands-on learning would provide essential skills to students. In learning by doing, the thinking went, education and everyday life were tied together.
George Peabody College for Teachers in Nashville was established by the Peabody Education Fund, originally endowed in 1867 by American–British financier and philanthropist George Peabody to promote education in the South after the Civil War. A prime focus of the college's mission was to prepare teachers for struggling Southern schools. Peabody College's first president, Bruce Ryburn Payne, appointed in 1911, had studied with Dewey and other progressive educators at Teachers College, Columbia University. It seemed inevitable that Dewey's pragmatist philosophies would travel south to Peabody College in one form or another.
THE SULLIVAN COLLECTION
Around the same time, in 1913, George Herbert Sullivan, son of noted philanthropist Algernon Sidney Sullivan, made his first gifts to Peabody College along with his mother, Mildred Hammond Sullivan. The Sullivans were a prominent New York family actively interested in promoting education in the South. They began donating their collection of fine art, prints and decorative art items to Peabody to use as educational tools to prepare teachers.
Currently, 86 works are catalogued in the Sullivan Collection alone, but "I'm sure there are more that are still uncatalogued," Mella says. "They gave a lot of material containing everything from prints and drawings to paintings, oils, and a fair amount of religious art." A large portion of the Sullivans' art donations consisted of prints, considered at the time to be secondary works. Many of the Sullivan Collection prints are of late 19th and early 20th-century vintage that reproduce old master works of art.
"I think the Sullivan family realized that, for teaching purposes, a lot of these are very useful," Mella says.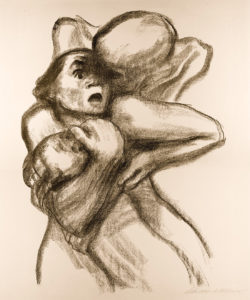 Indeed, prints make up a large portion of the Peabody Collection. These include 17th-century genre scenes by Adriaen van Ostade, a Haarlem, Netherlands, printmaker who was a contemporary of Rembrandt; prints by 19th-century French satirist Honoré Daumier; German artists George Grosz and Käthe Kollwitz; and French prints from the 1950s and 1960s by Georges Braque, Fernand Léger and Spain's Joan Miró.
According to a history of Cohen Memorial Hall written by Mella after its renovation and reopening in 2009, the Sullivan Collection was originally exhibited campuswide. "But the donor and the college considered the building of formal galleries to exhibit this growing collection to be central to the project" of creating a comprehensive art education curriculum, he wrote.
"The Sullivans were concerned that the collection was not being professionally handled and was just being distributed across campus, possibly not in the most careful manner," Mella adds.
The Sullivan Collection itself played a key role in attracting other donors, including George Etta Brinkley Cohen, for whom Cohen Memorial Hall is named. Her 1926 gift was instrumental in building a campus gallery to enrich "the educational experience of future art teachers through firsthand access to art" and to foster "visual literacy in taste and art appreciation," according to Mella's history of the building.
An additional gift by George Sullivan in 1937, brokered by George S. Dutch, chair of Peabody's Department of Art, resulted in the construction of painting storage racks that are still in use today.
POSTERS 'FOR THE MANY'
Dutch had joined Peabody's art department as a faculty member around 1919, extending the Dewey mindset in his philosophy of art education. "Art for everyday life is the justifiable objective for all arts education. … The arts are not for the few but for the many," Dutch wrote in a 1936 article for the Peabody Journal of Education, echoing Dewey's theories of egalitarianism and democracy in education.
During the course of his career, Dutch, who retired from Peabody in 1956, added to the school's collection by accumulating numerous posters. These included recruiting and propaganda material from World War I, as well as items like local ads for the circus and YMCA messages about healthy living. The Vanderbilt Fine Arts Gallery presented an exhibit of Peabody's World War I posters in its 2015 show Forging Identity—Imagining the Enemy: American Propaganda and the Great War.
"The World War I posters are certainly a great archive within the Peabody Collection, as well as the travel and circus posters," Mella says. "We even found a stack of posters dealing with tuberculosis, which were featured in our show Memento Mori."
THE KRESS COLLECTION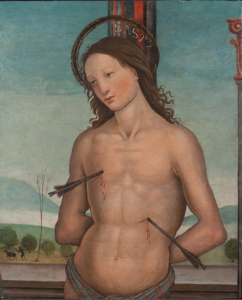 In the 1920s, five-and-dime store magnate Samuel H. Kress began collecting works by old masters, many of them Italian Renaissance paintings. Having made substantial gifts of these works to the National Gallery of Art, Metropolitan Museum of Art, and other major cultural institutions, the Kress Foundation in the 1950s and '60s began one of the largest programs of cultural philanthropy ever instituted by offering works to 23 colleges and universities around the country. Peabody was one of those lucky few, having just renovated Cohen Memorial Hall in 1960.
"The Kress Collection is one of the most important elements of the Peabody Collection as a whole," Mella says. "My understanding is that it was initially offered to Vanderbilt around 1960—just before the time Vanderbilt had a fine arts gallery as we know it. Because of that," he says, "Vanderbilt turned it down. We didn't have a facility to store or show it, so it went to Peabody."
The paintings, primarily 14th- to 16th-century Renaissance works from Italy, are among the most in-demand items in the Vanderbilt Fine Arts Collection as a whole.
"Sheri Shaneyfelt [MA'95, principal senior lecturer in history of art] uses the Kress Collection continually. And as far as exhibits, they're loaned a lot, too," Mella says. "We're loaning one to the Norman Rockwell Museum in 2018 for an exhibit titled Wyeth, Parrish and Rockwell in the European Narrative Tradition."
CHAMBERLAIN'S 'MAZ'
Contemporary paintings and sculptures from the 1960s and '70s that are housed in the Peabody Collection are used in classrooms and loaned to museums almost as much as the Kress works.
"One of the most important pieces has to be the John Chamberlain," Mella says. "In so many ways it's interesting. And the very fact that it is here and was acquired by Peabody is amazing."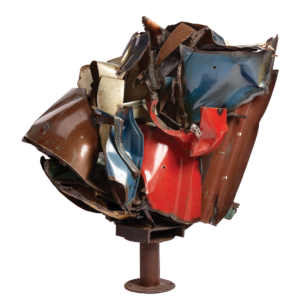 John Chamberlain's Maz was included in the groundbreaking exhibit The Art of Assemblage at the Museum of Modern Art in 1961. Al Pounders, a painter who taught at Peabody from 1959 to 1966, recounts how the school acquired the Chamberlain sculpture.
"I helped organize a contemporary sculpture show that toured the Southeast in the early 1960s," Pounders says. "I went to New York to scout several galleries and artists' lofts to identify pieces for the show."
One was the Leo Castelli Gallery, among New York's most influential galleries for modern artists at the time. Pounders says he selected the work Maz to be included in the exhibit, which ended its tour in the Cohen building's art gallery. The Peabody art faculty then voted on which piece to buy from the show.
"We had to convince a couple of them that this was an important piece," Pounders recalls. "In the end, we finally decided on it."
Pounders went back to renowned art dealer Ivan Karp, informing him the school wanted to purchase the Maz sculpture but didn't have much money for the piece. "He said John really needed the money, [though], so we worked it out," Pounders says. The school ultimately paid $1,500 for it. "That was a lot of money back then."
The piece, one of the most important post-World War II works in the Vanderbilt collection, was loaned in 2012 to the Guggenheim Museum in New York for a retrospective on the work of John Chamberlain. (Aside from the Guggenheim, Chamberlain's works are represented in the Whitney Museum of American Art, Philadelphia Museum of Art, the Hirschhorn Museum and Sculpture Garden, and the Tate Modern in London, among others.)
FOUND OBJECTS
The Peabody Collection currently includes 1,035 paintings, sculptures and other art objects, including antiquities. But Mella estimates there are probably "several hundred" additional, uncatalogued prints on campus. "When we encounter items that were not initially catalogued and feel they are of museum quality, we add them to our database," he says. "The World War I posters are a good example."
Given the constant use of the Peabody Collection from its inception to the present day, there seems little doubt that the original donors and faculty would believe that their "treasures of art and culture to advance the interest of education"—as the collection was described in 1926 in the Peabody Alumni News—have created a lasting legacy that will continue well into the future.
---
SAVING OUR ART:
The Millspaugh Fund for Art Conservation
With the establishment in 2012 of the Kathryn and Margaret Millspaugh Fund for Art Conservation, taking care of Vanderbilt's fine arts collection is now an ongoing activity that has opened up use of the collection to better serve students and art lovers on campus and beyond.
"The fund has enabled us to ramp up our conservation activities in a meaningful way," says Joseph Mella, director of the Vanderbilt Fine Arts Gallery. "As a result, we will always have works being conserved at all times, which is really exciting."
Not only has the fund allowed for previously damaged works to be exhibited, but it also allows the collection to be used more extensively for classes and seminars.
"Our No. 1 goal is to support the academic mission while engaging the students," Mella says. "There's a huge benefit to using collections in education. When students in a Renaissance seminar have four Renaissance paintings 4 feet from them in an interactive, secure and climate-controlled space, it gives them an experience that cannot be replicated, especially when they're so used to getting information electronically. There's no substitute for being with an actual object."
Each piece conserved for Vanderbilt is provided a history by the conservator documenting the treatment and includes pre- and postconservation images.
"It's almost like getting new works of art," Mella says. "Some pieces couldn't be used for teaching purposes before [conservation], and couldn't be in exhibitions, so having funds for conservation through the Millspaugh endowment has strengthened and broadened the depth of our collections in such a way that it has made a huge impact on our program."
---