Vanderbilt University has established a research collaboration with the Scientific Police Department of the Italian State Police (SPS — Servizio Polizia Scientifica) to take forensic science to the nanoscale.
On Oct. 24, the university signed an official memorandum of understanding to collaborate with Italian forensic scientists in the SPS (the Italian version of the FBI) in the areas of "physics and mathematical models for quantitative forensic science."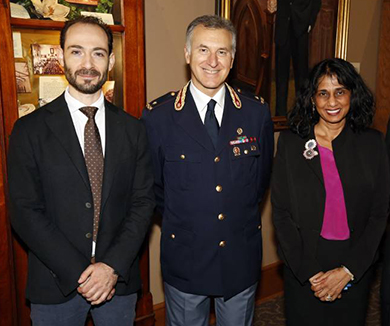 "Last year we had the pleasure to host in Rome a meeting of all the forensic science institutes in Europe. At this meeting, everyone agreed that there is much more to do with respect to firearm identification and a number of other related areas," said SPS Director General Luigi Carnevale, who signed the agreement. "We believe this collaboration can transform the world of firearms identification and can move us in the direction of the quantitative side of forensic science, which is something we really need to make the results of our investigations more reliable in court."
"This is an exciting new area of research for the university," commented Vice Provost for Research Padma Raghavan. "We are delighted to have this opportunity to work with one of the world leaders in forensic science. Through this collaboration, we expect first-of-their-kind breakthroughs, such as demonstrably superior techniques for identifying firearms by examining nanoscale imprints on the bullets they discharge."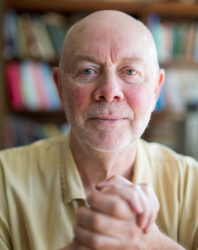 Founded more than a century ago, the Italian Scientific Police was the first forensic service established in Europe. With training provided by the Italian Scientific Police School—the world's first school of forensic science—the department introduced the first strict protocol for crime scene operations at the beginning of the last century, a practice that was widely appreciated and imported around the world. Initially focused on collecting data for fingerprint identification, over the years the activities of the Italian Scientific Police have expanded to provide a range of different types of forensic analysis. The office has similar collaborative agreements with a number of universities in Italy, but this is the first it has signed with a university in the United States.
"The Italian Scientific Police have been on the cutting edge of forensics for a hundred years and more. So, we're latecomers to the game but we want to participate in advancing the state of the art," said Vanderbilt Professor of Physics Thomas Kephart.
The agreement is the outcome of a collaboration that began in 2015 between Kephart and Pasquale L. Iafelice, director of forensic investigation at SPS. Kephart and Anthony Hmelo, research associate professor of materials science and engineering, are working with Iafelice on a research project to develop new scientific approaches to ballistic comparative analysis, whose foundations have changed very little since the 1920s. The physicists have been exploring the potential benefits of comparing the markings on ballistic specimens at the nanoscale: examining features a thousand times smaller than the current state of the art.
"Our goal is to develop innovative scientific techniques that can improve the ability of police departments around the world to solve crimes that are committed with firearms," Iafelice said. "In Italy alone, we estimate there are thousands of police investigations that could be more efficiently assisted with new methods for firearm identification."
"We believe that with a new scientific approach we can significantly reduce the uncertainty involved in current methods of ballistic analysis," Kephart added. "As far as we know, nobody else is investigating phenomena at the nanoscale for forensic firearm identification with the methods we are developing."