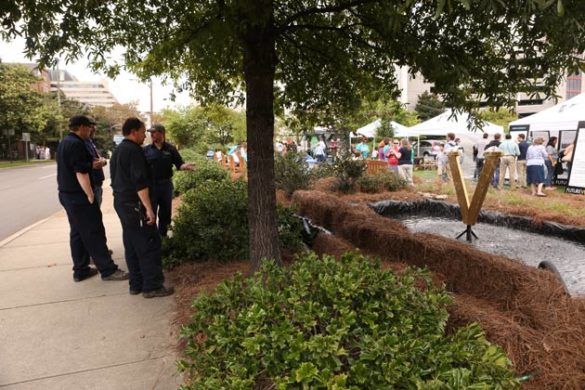 While events like the Kensington pop-up park or the Maker Faire at the Wond'ry seem to take form overnight, there is a formal process for faculty, students and staff who wish to alter the campus through an external display, special event or related activity.
The Facilities Review Committee (FRC), comprised of departmental representatives, meets weekly to review proposed modifications to the campus environment to ensure they are consistent with the land use plan. The FRC approves many of the modifications and forwards unique proposals to the appropriate office, with FRC recommendation, for final approval.
"[rquote]We welcome the creativity that our faculty, students and staff exude through various displays and events across the campus,"[/rquote] said Mike Perez, associate vice chancellor and chief facilities officer. "This committee addresses questions of project implementation while considering the impact in terms of safety, design, accessibility and overall fit to the campus land use plan."
The FRC consists of representatives from Vanderbilt Facilities and other key campus stakeholders. Examples of proposals include, but are not limited to, external displays, special events, temporary structures, large signage or banners, temporary and permanent exterior art and student projects that are funded through grants of department initiatives.
To be placed on the agenda, contact Connie Bishop with a short description of the project to be discussed at the next available meeting.
The FRC meets every Thursday from 8 to 9:30 a.m.