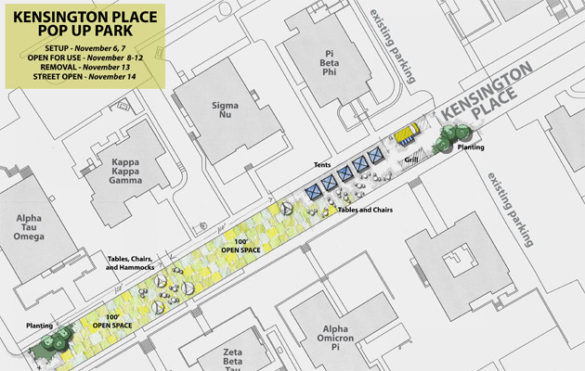 Vanderbilt's West End neighborhood will be transformed Nov. 6–12 with the creation of a pop-up park on Kensington Place.
The park, an initiative of FutureVU, will open in advance of the start of a utility project and beautification efforts in the area that are set to begin in mid-December. The transformed space will provide an opportunity to see how the neighborhood will look in the future.
Setup for the park is scheduled for Nov. 6–7, and the park will be open for use Nov. 8–12. Kensington Place will reopen to traffic on Nov. 14.
The park will feature landscaping and various types of seating as well as open space for activities. In addition to "open park" time when students, staff and faculty can use the space however they want, several events have been planned:
On Thursday, Nov. 9, the Grilled Cheeserie food truck will be at the park from 11 a.m. to 1:30 p.m.
On Nov. 9, the Vanderbilt Recreation and Wellness Center will host a yoga class beginning at 4 p.m. Yoga mats will be provided. A punt-pass-kick event will begin at 5:30 p.m.
On Friday, Nov. 10, free hot cocoa, cider and assorted cookies will be served from noon to 2 p.m.
On Saturday, Nov. 11, Vandy Fanatics will host a tailgate to coincide with the Commodores' home football game against the University of Kentucky.
On Sunday, Nov. 12, Panhellenic Preview Day will be held in the West End neighborhood, and students can use the park space during the event.
The park on Kensington is the second in a series of pop-up events aimed at turning outdoor campus spaces into green spaces for the Vanderbilt community to use. The pop-up parks allow community members to visualize space activation while promoting sustainability, experimentation and community engagement and feedback.
An earlier FutureVU event held on Park(ing) Day, Sept. 15, turned 17 parking spaces adjacent to 21st Avenue South into a park for a day and generated discussion on how urban space, such as that used for parking, is allocated. Future pop-up events will continue to illustrate how outdoor spaces can be transformed for the enjoyment of all.
Planning for the pop-up park on Kensington has been a collaborative effort among Vanderbilt's FutureVU team, led by the Division of Administration, and representatives from the Dean of Students Office, Vanderbilt Student Government, undergraduate student representatives, Community, Neighborhood and Government Relations and the Division of Communications.
The park will be open rain or shine, though individual events may be cancelled due to inclement weather.