Media Inquiries
Latest Stories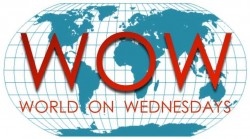 International Student and Scholar Services invites you to World on Wednesdays, where the Vanderbilt community engages in presentations, informal conversations and topical lectures on global issues.
Topic: "Explore Azerbaijan, the Land of Fire"
Explore Azerbaijan and discover the crossroads of ancient and modern cultures, the bridge between East and West. Join us to hear stories that will take you back in time to the original "Land of Fire," home of rich carpets, endless cups of tea and mysterious, winding streets. Come and experience the famous Azerbaijan hospitality.
When: noon–1 p.m., Wednesday, Nov. 15
Where: Student Life Center, meeting rooms 1 and 2
All students, scholars, faculty and community members are welcome. Lunch will be provided.
Questions: Contact Harrison Yan at (314) 717-3728 or harrison.yan@vanderbilt.edu.