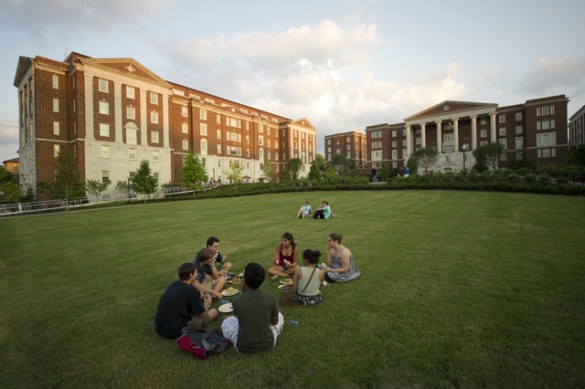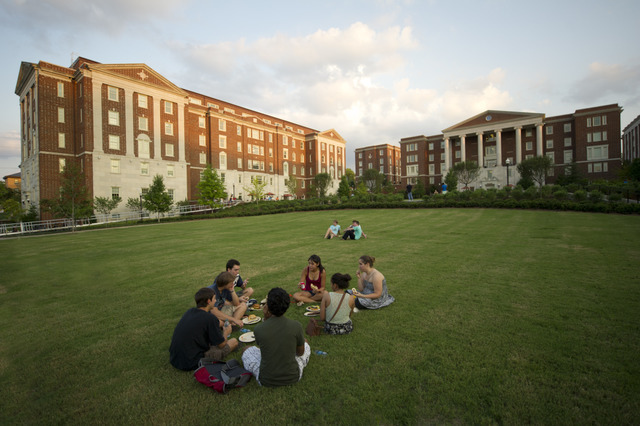 Resilience—the ability to adjust to change, recover from setbacks or overcome life's challenges—is a key theme being explored by first-year students on The Martha Rivers Ingram Commons during 2017-18.
The resilience theme is being addressed in multiple ways, including through the Commons Reading and Vanderbilt Visions discussions, programming sponsored by the faculty heads of house, and messaging from Dean of The Ingram Commons Vanessa Beasley.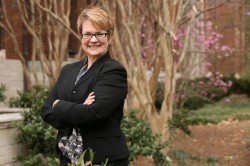 "Students who come to Vanderbilt are high achievers, and it's inevitable that each first-year student will encounter obstacles along their educational journey," Beasley said. "Examining resilience will help them to recognize that these hurdles are a valuable part of the learning process. It can also help all of us realize that sometimes being resilient means creating a new strategy to address challenges, or taking some time to regroup."
Developing resilience is an important part of cultivating one's well-being.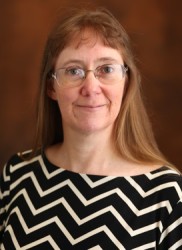 "It's easy to feel overwhelmed by academic and personal setbacks and unsure of how to move forward," Vice Provost for Learning and Residential Affairs Cynthia Cyrus said. "Students should know that they are not alone. We encourage them to lean on their friends and classmates, who are likely experiencing similar challenges, and to reach out to their RAs, faculty heads of house and professors. There are many resources available on campus, including the Center for Student Wellbeing, and there's no stigma in seeking help, advice or encouragement."
The transition to college can be difficult, said Elly Shin, a first-year student.
"Forming a new identity within the chaos of a new lifestyle, new people and new classes is overwhelming, if not impossible, to process," she said. "Exploring resilience has helped me to delve further into this transition and the challenges that come along with it."
Commons Reading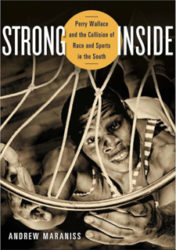 Strong Inside: Perry Wallace and the Collision of Race and Sports in the South by Andrew Maraniss is serving as the Commons Reading for a second year in 2017-18. An annual tradition, the Commons Reading is a book presented to all first-year students upon their arrival on campus. The reading is discussed on The Ingram Commons and across campus during the students' Vanderbilt Visions groups and in other contexts.
Wallace, a Vanderbilt alumnus, was the first African American to play basketball in the Southeastern Conference beginning in the 1966 fall semester. Strong Inside details the often-brutal physical and verbal abuse he endured at the hands of bigots during road games as well as the social isolation he felt on campus.
"For 2017-18, we've invited students to consider the 'minor' characters in the book as we ask ourselves 'Who am I in someone else's story? Am I a good listener? Do I encourage others?' Such questions may help students to talk about resilience in new ways—for example, by talking about how the simple act of listening without judgment can help someone who is going through a difficult time," Beasley said.
Vanderbilt Visions
Vanderbilt Visions, facilitated through weekly meetings of small discussion groups, is exploring resilience as one of the essential themes of its 12-week curriculum.
While Wallace's story might exhibit the very essence of being "strong inside," discussion surrounding the Commons Reading is delving deeper into the meaning and complexity of resilience: Where does resilience come from? Is it always good? Are there times or situations in which "adapting well" may not be healthy or appropriate? Students are invited to consider situations in which difficult experiences are more common for one group of people than for others due to systemic forms of discrimination, such as racism, sexism, homophobia or ableism.
Resilience is a concept that cannot be fully explained through words alone, because for every person it carries a different meaning.
"Resilience is a concept that cannot be fully explained through words alone, because for every person it carries a different meaning," noted first-year student Tommy Oswalt. "To some, resilience is searching for what is right in an unjust world and fighting for it. To others, it's simply finding the strength to get out of bed in the morning. To me, to be resilient is to be loving—not just of others but of myself as well.
"It is a personal pursuit, whether it be for righteousness, for inner strength, or for love. It is being able to say, 'I am someone of intrinsic value, and I not just can, but will, make a difference. Through my actions, I will not be afraid to be empathetic, to be understanding, to be human so that others, too, can see the intrinsic value in their own lives,'" he said.
Lawson Lecture
All first-year students, along with faculty and student VUceptors, attended the 11th Annual Rev. James M. Lawson Lecture on Sept. 24. This year's event, held in Langford Auditorium, convened a unique group of athletics pioneers to discuss resilience and bring the themes of the Commons Reading to life.
The conversation featured acclaimed sports journalist and author Sally Jenkins, Vanderbilt Head Women's Basketball Coach Stephanie White and Vanderbilt Senior Associate Athletic Director Candice Lee. The event focused closely on the role of gender in athletics, both nationally and at Vanderbilt.
The Lawson Lecture spoke specifically to the concept of resilience, as it displayed all of the obstacles that female athletes have overcome
"The Lawson Lecture spoke specifically to the concept of resilience, as it displayed all of the obstacles that female athletes have overcome," first-year student Ben Saba said. "All the hurdles that have been jumped over the years have not been the result of one person. Each trailblazer was resilient enough to push the boundary a little bit for the next person to be able to push a little further.
"The movement of women athletes, as well as every movement in human history, is not accomplished by one person being a hero—it is accomplished by several people being resilient enough to make a small difference for the next person," Saba said.
'Who Are We?' and 'Resilient Souls'
In addition to conversations within their Vanderbilt Visions groups, students have viewed a pair of campus art exhibitions that have challenged them to explore the dimensions of resilience further.
Who Are We? Identity and the Contemporary Photographic Portrait is on view through Dec. 7 at the Vanderbilt Fine Arts Gallery. The contemporary photographic portrait, as explored in this exhibition, is diverse yet tends to incorporate a common thread: the desire to say something about us as people. The increasing reliance on photography in contemporary culture presents questions about representation and identity that the featured artists navigate in surprising ways.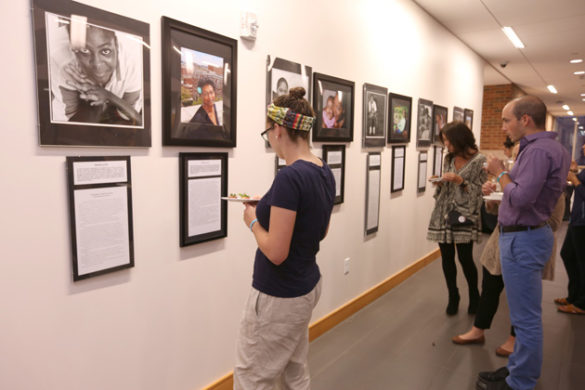 The Resilient Souls Project, closing Oct. 6 in the Kissam Center at Warren and Moore Colleges, is a follow-up to photographer Cathy Lander-Goldberg's 1996 work Resilient Souls: Young Women's Portraits and Words. The new exhibition follows approximately 20 diverse women from their teens and 20s into middle age. The result is a collection of black-and-white past portraits and current color images accompanied by texts, which reflect the subjects' struggles, losses and mistakes as well as their successes, strengths and triumphs as they navigate their lives.
Resource Orientation Sessions
During the final weeks of Vanderbilt Visions programming, students will have the opportunity to engage in several Resource Orientation Sessions, interactive sessions offered by campus partners and designed to engage first-year students in exercises that expose them to resources for success at Vanderbilt. Many of these sessions will focus on resilience.
Resilience is also a consistent theme in programming smaller events on The Ingram Commons. Resilience has been discussed when sharing personal stories during dinners at the Dean's Residence and the faculty heads' apartments, as well as in messaging at Founders Walk and the annual Crawford Lecture.
"During my time and conversations at Vanderbilt, I have learned to regard resilience as a state of mind, rather than a state of being," Shin said. "No one is naturally resilient, and it is OK to be sad—what matters is how we recover from it. Whether it be failing a chemistry test, fighting for equal pay as a female athlete, or facing social prejudice as the first African American in the SEC, people overcome challenges by willing themselves to move forward. It is a choice, rather than an action, to see things with light and face the future with courage."