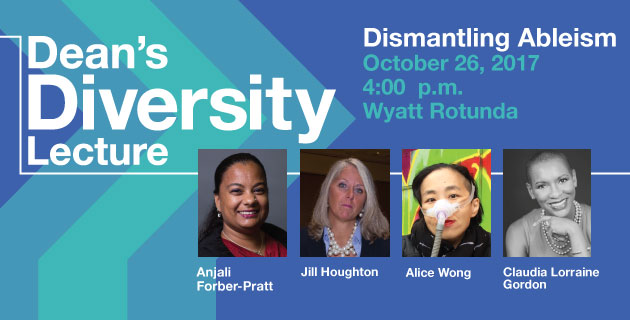 "Dismantling Ableism" is the theme of the first installment of the 2017-18 Dean's Diversity Lecture Series at Vanderbilt's Peabody College of education and human development. At 4 p.m. Thursday, Oct. 26, a panel of disability experts will share their personal and professional journeys at the Wyatt Center Rotunda (1930 South Drive, Nashville, TN 37212).
"Ableism" is generally used to describe discrimination in favor of able-bodied people. The event is intended to spread awareness about disability and stimulate a critical conversation on ways to dismantle systemic ableism. The event is free and open to the Vanderbilt community.
Panelists include:
Claudia Gordon, the first African American deaf female attorney in the United States. She was the public engagement adviser to the disability community under the Obama administration and now is in senior management at Sprint.
Jill Houghton, disability activist and president/CEO of U.S. Business Leadership Network, which provides guidance on global disability inclusion in the workforce
Alice Wong, disability activist and founder of the Disability Visibility Project and former appointee to the National Council on Disability
The moderator will be Anjali Forber-Pratt, assistant professor of human and organizational development at Peabody and a Vanderbilt Kennedy Center investigator. An elite wheelchair racer, Forber-Pratt was a member of Team USA at the 2008 and 2012 Paralympic Games, winning two medals.
An American Sign Language interpreter will be present for the panel. Additional accessible parking spots have been reserved in Lot 90; extra general guest parking has been reserved in Lot 84.
The Dean's Diversity Lecture Series is a forum designed to host frank and open discussions about race, diversity and inclusion. It is hosted by Camilla P. Benbow, Patricia and Rodes Hart Dean of Education and Human Development at Peabody College.
For questions, contact Monique Robinson-Nichols, associate dean for students and equity, diversity and inclusion at Peabody College.