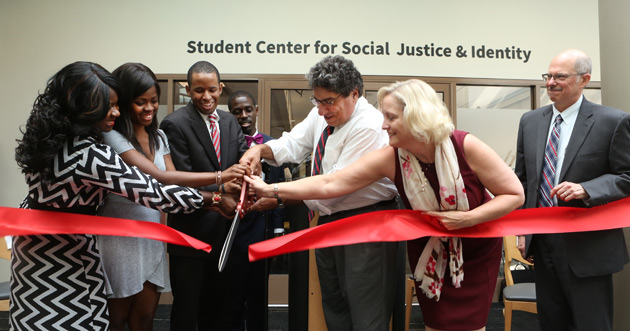 Students, staff and even some administrators could not resist moving to the beat of the Latin music that filled the third floor of Sarratt Student Center Sept. 19, as guests gathered to celebrate the grand opening of Vanderbilt's new Student Center for Social Justice and Identity.
The new space is representative of Vanderbilt's continued investment in advancing diversity, equity and inclusion across the institution. From launching Opportunity Vanderbilt and making efforts to recruit students from diverse populations to recent campuswide work promoting social justice, identity and intersectionality, the university maintains its dedication to welcoming faculty, students and staff from all backgrounds.
"One of the things I am most proud of is our commitment to inclusive excellence. We need to be more inclusive. This is the way forward—going into the world with healing, justice, empathy, passion, knowledge and insight—and we can do it," Chancellor Nicholas S. Zeppos said during a brief program that was followed by a ribbon-cutting ceremony in front of the student center's Multicultural Lounge in Sarratt.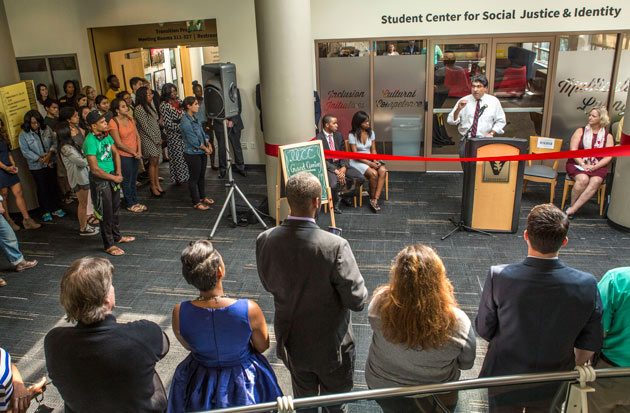 "We are at our strongest when we say there is room in my heart to love more and learn more about diverse communities. These are the things that should happen at a great university—and they will happen here," he said.
Provost and Vice Chancellor for Academic Affairs Susan R. Wente, Vanderbilt Student Government President Jami Cox and Multicultural Leadership Council President Jacob Pierce joined the chancellor in making remarks on the importance of the student center providing a sense of community and how efforts to be inclusive should not stop there.
"It is a thrill to see Vanderbilt's commitment and values come to life with the opening of this center," Wente said. "I look forward to seeing efforts and ideas incubated here spread across our campus. We are all here to learn together and learn from one another."
Pierce said, "This is not just a lounge to the MLC community, it is so much more—a place where identities are celebrated. This sends a message that Vanderbilt is welcoming us, too. We can memorialize this as another step in creating a welcoming community, but it should not be a capstone."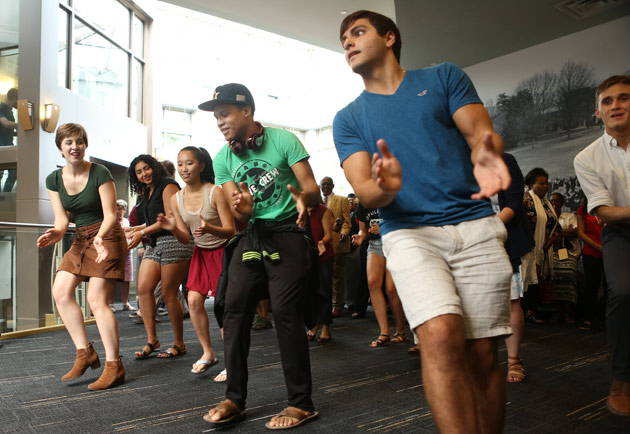 "We need more than just a room and a building—we need work from all of you across the campus to make this an inclusive community," he said.
In addition to being the home of the Multicultural Lounge, the new SJI student center integrates the university's identity centers—the Bishop Joseph Johnson Black Cultural Center, KC Potter Center, and Margaret Cuninggim Women's Center—as well as the offices of Inclusion Initiatives and Cultural Competence (IICC), Transition Programs, University Chaplain and Religious Life (UCRL) and International Student and Scholar Services (ISSS).
IICC Assistant Director Greg Fontus, who welcomed attendees to the event, called the SJI student center the "physical embodiment of a beloved community" and noted the work and support of Associate Provost and Dean of Students Mark Bandas and Associate Dean of Students Frank Dobson, who leads the Social Justice and Identity area within the Office of the Dean of Students, in making the center a reality.