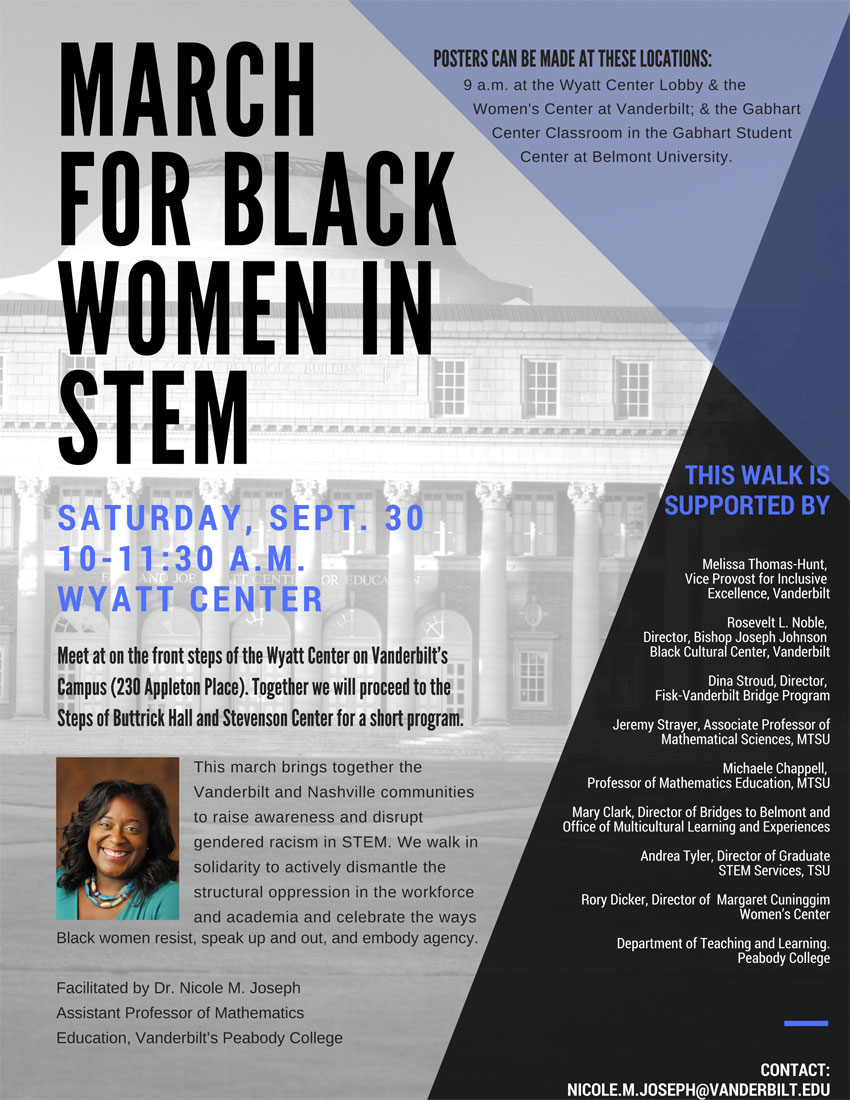 In solidarity with the Black Women's March in Washington, D.C., Vanderbilt's Peabody College of education and human development will host a march for Black Women in STEM at Vanderbilt from 10 to 11:30 a.m. Saturday, Sept. 30.
Marchers are invited to gather to make posters at 9 a.m. at the Wyatt Center lobby and the Margaret Cuninggim Women's Center at Vanderbilt as well as the Gabhart Student Center at Belmont University.
The march begins at 10 a.m. at the steps of Wyatt Center (230 Appleton Drive) on the Vanderbilt Peabody campus. The march will proceed to Buttrick Hall where a short program will take place outdoors.
The march for Black Women in STEM is facilitated by Nicole M. Joseph, assistant professor of mathematics education at Peabody.
"This march brings together the Vanderbilt and Nashville communities to raise awareness and disrupt gendered racism in STEM," Joseph said. "We walk in solidarity to actively dismantle the structural oppression in the workforce and academia and celebrate the ways black women resist, speak up and out, and embody agency."
The event is supported by Melissa Thomas-Hunt, vice provost for inclusive excellence at Vanderbilt; Rosevelt L. Noble, director, Bishop Joseph Johnson Black Cultural Center at Vanderbilt; Dina Stroud, director, Fisk-Vanderbilt Bridge Program; Rory Dicker, Director of the Margaret Cuninggim Women's Center, Vanderbilt; Jeremy Strayer, associate professor of mathematical sciences, Middle Tennessee State University; Michaele Chappell, professor of mathematics education, MTSU; Mary Clark, director of Bridges to Belmont and Office of Multicultural Learning and Experiences at Belmont; Andrea Tyler, director of graduate STEM services, Tennessee State University; and Peabody College's Department of Teaching and Learning.
For more information, contact nicole.m.joseph@vanderbilt.edu.