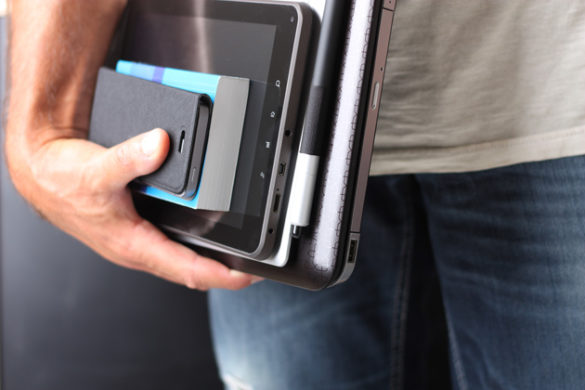 Today's university students have never known a time without the internet. They came of age on social media. Using digital devices—such as smartphones, laptops and tablets—is as natural to them as walking or talking.
But how do you enable these avid consumers of digital media to think critically about what they encounter online? How do you empower them to be savvy producers of digital content in their own right?
Enhancing Vanderbilt students' digital literacy and providing resources to help them become thoughtful contributors to digital discourse is the aim of a new university committee as well as a number of efforts currently underway on campus.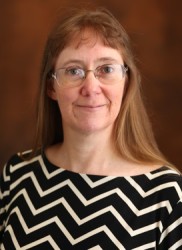 "Today's students must be able to communicate, collaborate and express themselves effectively using digital media if they are to be productive participants in a knowledge-based society," Vice Provost for Learning and Residential Affairs Cynthia Cyrus said. "Vanderbilt is assembling a toolkit of student-facing technologies across campus that students can access to help them bolster their digital literacy." Embracing educational technologies that foster innovation in learning, teaching and discovery is a key pillar of Vanderbilt's Academic Strategic Plan, she noted.
John Sloop, associate provost for digital learning, heads a committee looking at Vanderbilt's digital literacy priorities and resources.
"We assume that students already know how to consume digital content, but that's like saying they know how to read," he said. "We're trying to teach them how to be critical readers. They know how to watch video, but how do we teach them to be thoughtful about how ideas are communicated visually, through sound and through varied media?"
Digital literacy
Digital literacy is loosely defined as possessing the set of skills necessary to participate fully in contemporary culture—be it socially, politically or in the workforce.
"In addition to computational skills, a digitally literate person has the ability to critically consume and synthesize information and to produce, curate and share it in a variety of digital and nondigital forms," Sloop explained.
Key to this effort is teaching students not only to be critical consumers, but also to become masterful producers of digital content.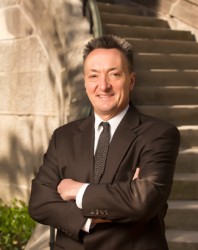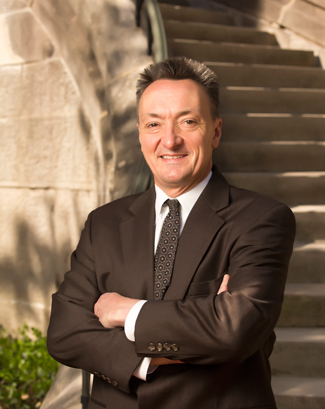 "That's where the bottleneck seems to be," Sloop said. "Students know how to post things online, but we want them to be able to recraft images in new ways. Many of them listen to podcasts, but they don't know how to produce a podcast of their own."
Giving students the knowledge and resources to sharpen their skills enables them to navigate the line between consumer and producer more adeptly. In turn, "learning how to produce digital content will make them better consumers," Sloop said.
In consulting with undergraduate program directors across campus, Sloop learned there is widespread interest in helping Vanderbilt students boost their digital literacy.
"Everyone—from scientists to faculty in the humanities—wants their students to come out of college able to process information and present it differently," Sloop said. That could mean updating the traditional poster session, a staple of conveying scientific research, with multimedia presentations, he said, or having graduate students pioneer a new model for digital dissertations.
Creative Media Practice Maymester
Digital literacy efforts are taking place inside the Vanderbilt classroom and beyond. In May, Lutz Koepnick, Gertrude Conaway Vanderbilt Professor of German and director of the Program in Comparative Media Analysis and Practice, taught the inaugural Creative Media Practice seminar. This four-week, graduate-level course had more than a dozen students using Adobe Creative Cloud software to produce multimedia presentations on a variety of subjects.
"The students were encouraged to develop and communicate various research agendas with the help of compelling multimedia tools," Koepnick said. "Addressing the potential academic and public humanities ambitions of the class deepened their understanding and knowledge of creative digital practices being used in today's world."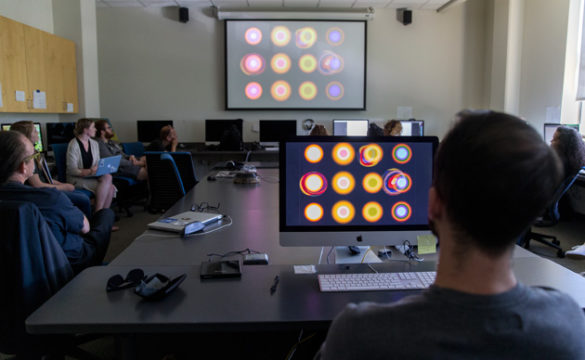 In addition to working with Vanderbilt media faculty, the students were mentored by visiting media artist Gustavo Vazquez, a scholar-in-residence and professor of film and digital media at the University of California–Santa Cruz. Vazquez coached the students in image, sound and multimedia design over the last two weeks of the course.
The projects produced included a film about the journey of produce back to the farm, a computer program visualizing different sound frequencies corresponding to the color theories of famed Russian artist Wassily Kandinsky, and a photographic documentation of public art on Vanderbilt's Medical Center campus, among others.
Students from the Creative Media Practice seminar will showcase their projects from 1:30 to 3 p.m. Sept. 29 at the Digital Humanities Center in Buttrick Hall. In addition, Vazquez will return to campus for an artist's talk at 6 p.m. Sept. 28 at the E. Bronson Ingram Studio Arts Center, as well as participate in a roundtable discussion from 3:30 to 5 p.m. Sept. 29 at the Digital Humanities Center.
Digital Imaging Lab
A number of digital literacy resources are available across campus to faculty, staff and students. Vanderbilt Libraries opened a new digital imaging lab in May. The lab emerged from a report presented to University Librarian Valerie Hotchkiss in fall 2016.
This collection-building tool is equipped with state-of-the-art overhead scanners that allow library staff to digitize content and add it to Islandora, an open-source digital preservation software. During this early phase, library staff members are submitting digitization requests to the libraries' Digital Projects Steering Committee for consideration.
Most scanning projects to date have been related to library exhibitions, with several projects already completed. These projects have included materials for an exhibition on the history of medicine, a digital version of the report "Women at Vanderbilt" for the Margaret Cuninggim Women's Center's upcoming anniversary, and digitized manuscript materials for a library course on documentary editing using the Text Encoding Initiative.
Virtual Reality Lab at the Wond'ry
Vanderbilt students, faculty and staff will soon be able to explore virtual reality and artificial intelligence technology in a new emerging technology makerspace at the Wond'ry. The new lab will focus not only on instruction in how to use and develop the technology, but also explore the ways in which it can be used across disciplines.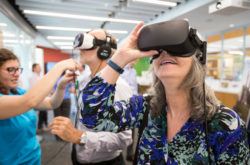 The lab will operate like the two other makerspaces currently open at the Wond'ry, with faculty and community members offering office hours and hosting workshops relevant to the work that can be done in the space. The lab also can be used to enhance curriculum and provide faculty with resources for incorporating VR into their classes.
Ole Molvig, assistant director of the Vanderbilt Institute for Digital Learning, was part of the cross-campus team that created the new lab. He said the space was designed to be accessible and open to all, regardless of prior knowledge.
"I'm hoping to have it aimed for those who've never touched the equipment at all and for those who want to make and develop in that space," Molvig told the Vanderbilt Hustler in August. "One (way) is first contact—'this is what it looks like'—and those will be as easy to use as possible, probably focusing on gaming. Then there will be displays for user-generated content, things that people have made themselves."
VIDL Self-Service Studio and Lending Library
The Vanderbilt Institute for Digital Learning hosts a self-service video studio located at Warren College. The studio is designed so that anyone, alone or with collaborators, can produce a high-quality video with a custom background in a single visit.
The studio space is designed to be flexible and to accommodate a wide variety of formats. A required initial training session will demonstrate how to make videos of a speaker in front of a custom background, with or without a Powerpoint presentation, or through screen capture with voice-over.
The studio is available as a CORES facility to Vanderbilt University and Medical Center faculty, staff and students after they participate in the training session. The studio is designed for producing videos intended for educational purposes only. In addition to the training sessions, VIDL offers biweekly office hours during which a VIDL staffer is available to answer questions, demonstrate specific features, or help create a short video. (To reserve a spot in a training session or for other inquiries, contact vidl-studio@vanderbilt.edu.)
VIDL also has a robust library of production equipment, including a variety of cameras capable of green screen capture, mobile work, highly portable work and more. Sophisticated lighting, teleprompters and microphones also are available. This equipment can be used in the studio as well as on location. VIDL's editing suite is equipped with an eight-core high-memory system capable of handling extremely large files and includes substantial editing and capture software, including Adobe Creative Cloud.
VIDL is committed to a philosophy of resource sharing across the university and, schedule permitting, can loan equipment to campus professionals trained in its use. VIDL also has personal video production kits that can be loaned out to individual faculty members, staff and students. Contact vidl@vanderbilt.edu for a complete list of available equipment.
The Pāṇini Project
Vanderbilt's Writing Studio and Tutoring Services were combined this academic year under the direction of Gary Jaeger, senior lecturer in philosophy. The group is launching a new initiative aimed at promoting multiple literacies, including digital literacy.
"Because I am responsible for training both sets of staff, I wanted to emphasize the ways that the writing consultants' work with argumentative structure and syntax is similar to the tutors' work in the STEM disciplines and also to formal systems like mathematics, computer languages and formal logic." Jaeger said. "I also thought about where these two services needed to be in the near future. My research indicated that we should be aiming to promote multiple literacies—computer literacy including coding, and capacity to meet the grammatical needs of students whose first language is not English. To meet all of these ends, we are in the process of rolling out The Pāṇini Project."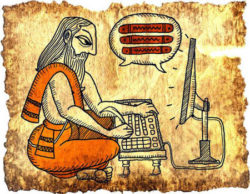 Pāṇini was an Indian grammarian from approximately the fifth century B.C.E. who formalized Sanskrit with what might have been the world's first formal language. He has been called the Indian Euclid, and his work is credited with setting the stage for algebra, mathematical logic, computer languages and more. Vanderbilt's writing consultants and tutors have been encouraged to pursue their own learning initiatives that connect either to Pāṇini's work or to his legacy.
For example, Vanderbilt writing consultant Zach Gospe and Jaeger have begun to examine the ways in which Pāṇini's grammatical rules function like the rules of a computer language. Gospe is interested to see if there are lessons that can be applied to research on the interface between natural and formal languages, similar to the way iPhone's Siri uses voice queries to answer questions, make recommendations and perform actions by delegating requests to a set of internet services. Another writing consultant, Kylie Korsnack, wants to explore publishing her work in new formats and is interested in the semantic web. Korsnack is working with Heard Libraries Systems Librarian Suellen Stringer-Hye on using Scalar, an open-source authoring and publishing platform, and has even launched a Scalar working group.
"At this point, the possibilities of learning about and using digital tools seem endless," Jaeger reflected. "The best way to get students to learn is to encourage their curiosity, and the curiosity of this generation of students will shape the next generation."
All of these resources are designed to help students, faculty and staff improve their ability to communicate ideas through multiple means of digital design and to better decipher and reflect upon the messages they consume, Sloop said.
"If the environment's changing, how do we help people think and articulate in a changing digital environment?" he said. "We urge Vanderbilt to take seriously the need to train all students—and faculty—to be critical consumers and crafty producers of digital culture. "
Alexandra Valnoski and Samantha Zern contributed to this story.