Media Inquiries
Latest Stories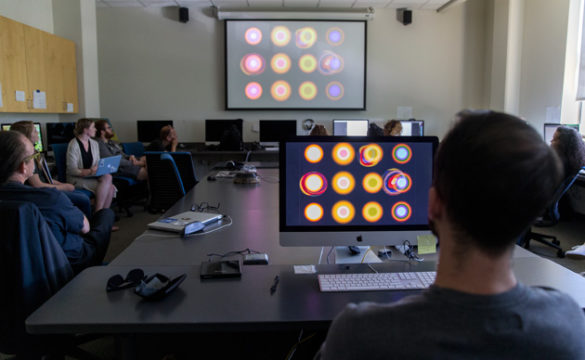 by Alexandra Valnoski
A film about the journey of produce back to its farm. A computer program visualizing different sound frequencies to show the color theories of Wassily Kandinsky. A photographic documentation of public art on Vanderbilt's medical campus. A digital "poster" tracing police brutality in Native American communities. A virtual reality project offering 360-degree images of a lakeside location near Nashville.
One by one, the 14 Ph.D. candidates presented their multimedia projects showing the progress each had made three weeks into the four-week Creative Media Practice Maymester seminar. The state-of-the-art program is organized by and part of the pioneering joint Ph.D. program in Comparative Media Analysis and Practice and has been supported by the Vanderbilt Center for Digital Humanities and a grant from the Andrew W. Mellon Foundation.
The students have been enhancing their digital analysis and data visualization skills and refining their projects throughout the course, sometimes working all day and night on one aspect of a project. The constructive critiques they receive from their peers and their instructors offer guidance on how to improve their projects and apply advanced skills more dynamically.
Lutz Koepnick, Gertrude Conaway Vanderbilt Professor of German, Cinema and Media Arts and director of the Program in Comparative Media Analysis and Practice, explained the importance of students pushing themselves and moving beyond traditional forms of academic inquiry and communication.
"The students have been encouraged to develop and communicate various research agendas with the help of compelling multimedia tools," Koepnick said. "Addressing the potential academic and public humanities ambitions of the class has deepened the understanding and knowledge of creative digital practices that are used in today's world."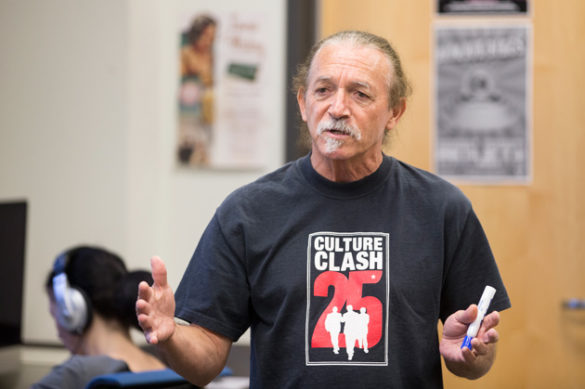 In addition to working with various Vanderbilt media faculty, students were mentored by visiting media artist Gustavo Vazquez, scholar-in-residence and professor of film and digital media at the University of California, Santa Cruz. Vazquez coached the students in image, sound and multimedia design over the last two weeks of the course.
Technical and creative dimensions were not the only emphases of the course, which also stressed collaborative work as it takes place in various professional settings. The students engaged in collective research, design, editing and feedback, drawing on and improving one another's strengths in certain areas. As each student presented, peers provided real-time feedback through a group Google document.
"Collaboration is based on a system of trust. It comes with surprises and ideas that evolve from different perspectives," Vazquez said. "The collaborative process can lead into deeper questions of authorship and creative critical practice. It can be messy, and yet it can be an intuitive adventure. The uncertain outcome puts more value in the process of experimentation and discovery."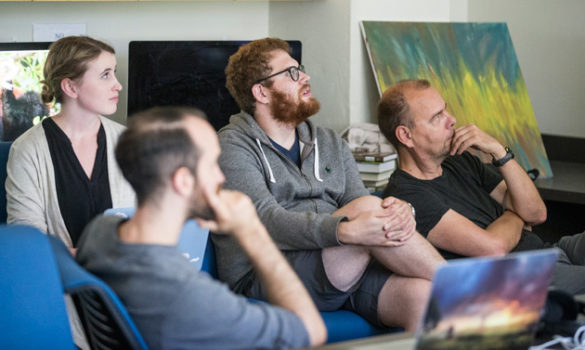 Students took away more than a new understanding of media practice. They expressed a deep, newfound appreciation of the complexity of media objects encountered in everyday settings and an appreciation for advanced analysis of media forms and objects in their respective disciplines.
"Now they are able to dissect, to analyze and to question what decisions went into the making of the final product you are seeing," Vazquez said.
Students presented their final projects on June 1 and will offer a showcase of their work this fall at the Center for Digital Humanities.