Vanderbilt's most prestigious faculty award for accomplishments in research, scholarship or creative expression was given to Larry Bartels during Fall Faculty Assembly.
Bartels, the May Werthan Shayne Professor of Public Policy and Social Science and co-director of the Center for the Study of Democratic Institutions at Vanderbilt, received the Earl Sutherland Prize for Achievement in Research.
"Larry is highly regarded as one of the world's foremost scholars of American democracy," said Chancellor Nicholas S. Zeppos Aug. 24 at the Student Life Center.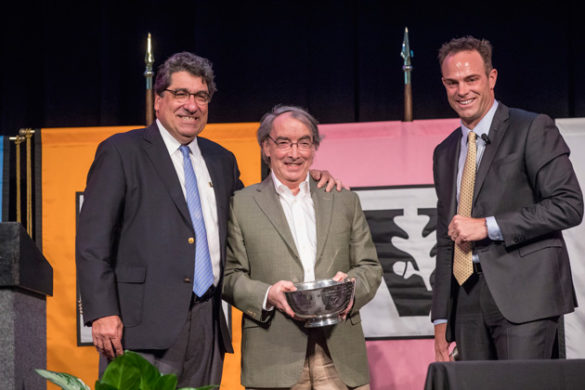 Zeppos cited two books Bartels has published since his arrival at the political science department in 2011, Unequal Democracy: The Political Economy of the New Gilded Age and Democracy for Realists: Why Elections Do Not Produce Responsive Government. The award was accompanied by a cash prize of $10,000 and an engraved pewter julep cup. His name will also be engraved with the other Sutherland Award winners on a silver bowl that Bartels will possess for one year.
[lquote]Bartels was one of nine award recipients during Fall Faculty Assembly.[/lquote] The others were Tony Capra, René Gifford, Jason Grissom, Evelyn Patterson, Ganesh Sitaraman, Jason Valentine, Morgan Ricks and Richard Willis. Members of the faculty with 25 consecutive years of service also were recognized and will receive a chair with the Vanderbilt logo and a brass plate engraved with their name.
Thomas Jefferson Award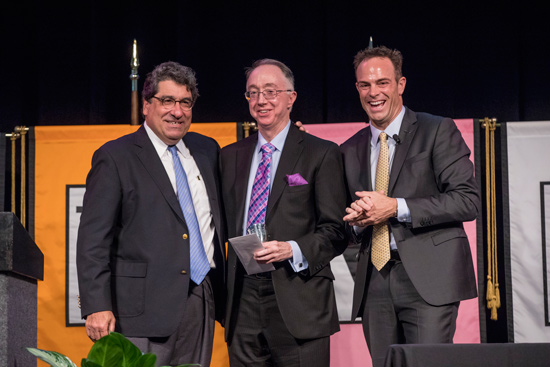 Richard Willis received the Thomas Jefferson Award for distinguished service to Vanderbilt through contributions as a member of the faculty in the councils and governance of the university.
Willis holds the Anne Marie and Thomas B. Walker Jr. Chair of Accounting at Vanderbilt's Owen Graduate School of Management.
"Richard's service on senior-level search committees, on the University Benefits Committee and his current service on the Chancellor's Committee on Shared Governance has propelled Vanderbilt forward and provided a steady hand along the way," Zeppos said. "At the school level, he has propelled Owen's progress, strengthening its curriculum and its bylaws."
The Thomas Jefferson Award is accompanied by $5,000 and an engraved pewter goblet.
Chancellor's Award for Research on Equity, Diversity and Inclusion
Two faculty members received the Chancellor's Award for Research on Equity, Diversity and Inclusion to mark work from the last three calendar years that advances Vanderbilt's institutional dedication to promote diversity. The winners received $2,000 and an engraved pewter julep cup. They are: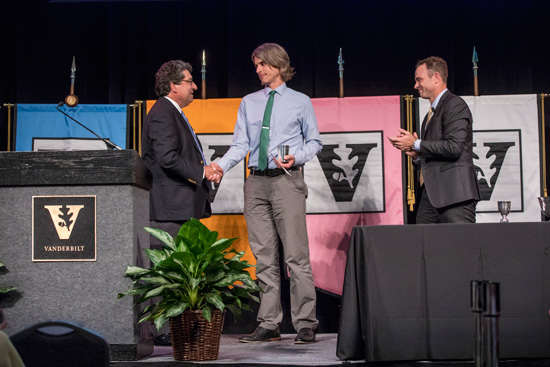 Jason Grissom, associate professor of public policy and education, for his research showing that black students taught by non-black teachers are significantly less likely to be referred to gifted programs. The Atlantic published a prominent article based on Grissom's research.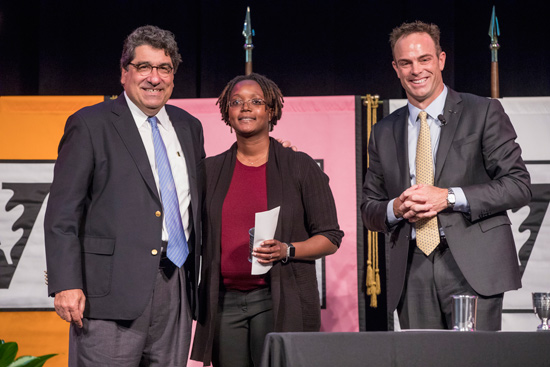 Evelyn Patterson, professor of sociology, for her work on the unrecognized ways in which racial disparities affect incarcerated African Americans. Patterson's research was published in a series of articles in 2015 and 2016.
Chancellor's Award for Research

Five Vanderbilt professors won a Chancellor's Award for Research, which recognizes excellence in works published or presented in the last three calendar years. They also received $2,000 and an engraved pewter julep cup. They are: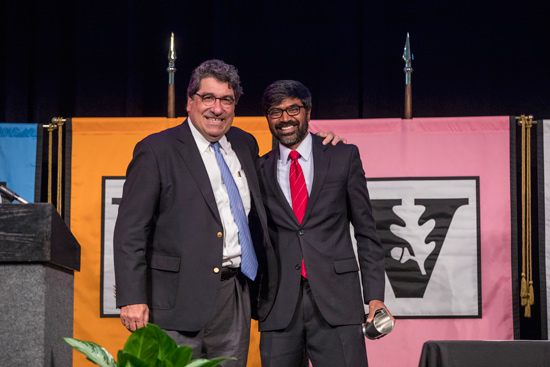 Ganesh Sitaraman, professor of law, for his book The Crisis of the Middle Class Constitution, in which he argues that income inequality is a constitutional issue and that the Constitution assumes relative income equality among Americans.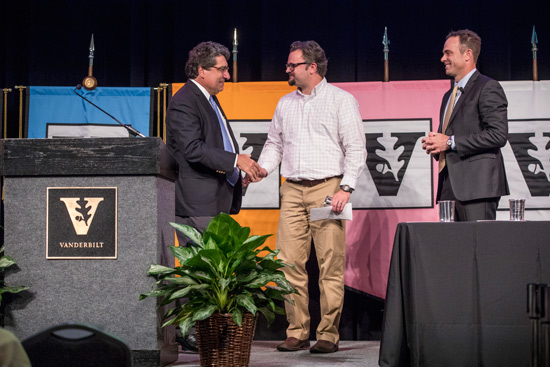 Jason Valentine, associate professor of mechanical engineering, for his work as published in Nano Letters in which he made a major advance in the design of optical metamaterials.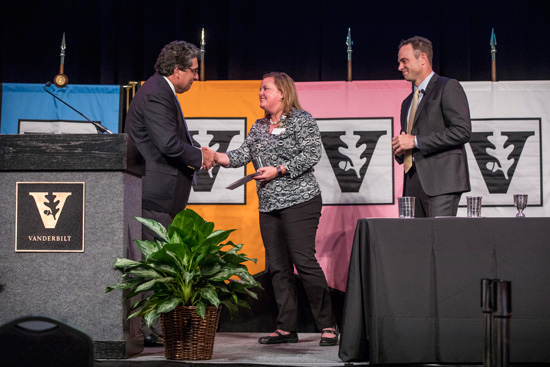 René Gifford, professor of hearing and speech sciences, for innovative research on the design of cochlear implants that demonstrated that implant recipients with low-frequency hearing preservation have access to inter-aural time difference cues. Gifford's work has been recognized by the American Speech-Language-Hearing Association, and she was featured on the first episode of NPR's Breakthrough: Portraits of Women in Science.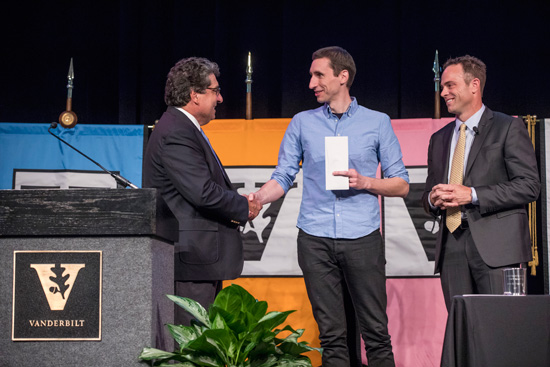 Tony Capra, assistant professor of biological sciences, for his article in Science that illuminates the differences in Homo sapiens' genomes that biologically differentiate humans from other primates.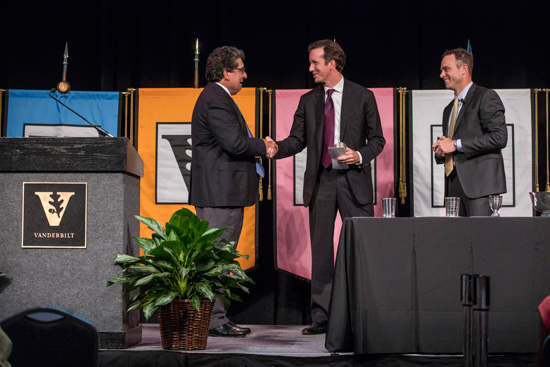 Morgan Ricks, professor of law, for his book The Money Problem: Rethinking Financial Regulation, in which he explores the causes of the 2007–2009 financial collapse and suggests measures that can guard from it happening again in the future.
25 Years of Service
Faculty members who have achieved 25 years of continuous service to Vanderbilt were recognized. Each will receive a chair with the Vanderbilt logo and a brass plate engraved with their name. They are:
From the College of Arts and Science
Robert Driskill
David Ernst
Todd Graham
Jane Landers
Mike Neamtu
Carmelo Rizzo
From the Divinity School
Victor Anderson
From Owen Graduate School of Management
Nancy Lea Hyer
From Peabody College of education and human development
Mark Lipsey
Marcy Singer-Gabella
From the School of Engineering
Cynthia Paschal
From the School of Medicine
Ronald Arildsen
Joseph Awad
Joey Barnett
Daniel Beauchamp
Richard Belcher Jr.
Mark Boothby
Nancy Brown
Igor Feoktistov
Joyce Johnson
Ann Kavanaugh-McHugh
Sekhar Konjetl
Steven Meranze
Thomas Naslund
Donald Rubin
H. Earl Ruley
Charles Seamens
Mo Sika
Corey Slovis
James Thomas
William Walsh
Gregory Wilson
Keith Wrenn
From the School of Nursing
Nancy Wells