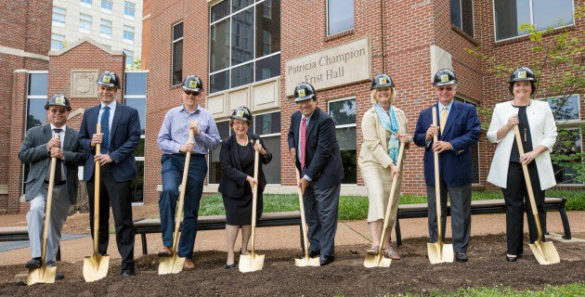 Students, alumni, faculty, staff and friends of the Vanderbilt University School of Nursing gathered June 20 for a groundbreaking ceremony officially starting construction on the nursing school's new $26.3 million expansion.
Vanderbilt Chancellor Nicholas S. Zeppos, Provost and Vice Chancellor for Academic Affairs Susan R. Wente, Board of Trust Trustee Emeritus Dennis Bottorff and School of Nursing Dean Linda Norman spoke at the ceremony, which was held in front of the School of Nursing's Godchaux and Patricia Champion Frist Halls at 461 21st Ave. S. The new structure will be built on the land where the two buildings intersect.
The five-floor structure will house technologically advanced classrooms, conference and seminar rooms, student services offices, faculty offices and a state-of-the-art simulation teaching lab that will allow complex skills development and real-time feedback on students' clinical nursing skills.
Zeppos spoke about how the new building has been designed to benefit students by centralizing services, enhancing learning with new technology and helping them engage with faculty and peers. "[rquote]This building is essential to our vision and our mission," he said. "Our students deserve this. Our community deserves this. Our faculty have been waiting for this."[/rquote]
"We have incredible students who go on to be incredible alumni," he continued. "This building will, in so many ways, give them all the tools they need to succeed in their programs and their lives beyond Vanderbilt."
Wente said that in addition to its role in enriching student experiences, the building will make possible the advancement of nursing research and the university's overall research mission by increasing space in Godchaux Hall for use by research faculty.
"The number of nursing faculty actively engaged in research has grown significantly over the past five years," she said. "Nursing faculty are advancing their own discipline, as well as contributing to groundbreaking work across campus through collaborations with Vanderbilt University Medical Center, the School of Engineering and the Divinity School, to name a few."
"By supporting the trans-institutional culture that permeates our campus and encouraging the advancement of the One Vanderbilt initiative, these School of Nursing facility upgrades fully align with our mission to promote discovery and learning," Wente said.
Bottorff brought greetings and congratulations on behalf of the Board of Trust. "I have seen this school go from its infancy [as a graduate school only] to make tremendous progress," the longtime BOT member said. "Today's a testament to that progress, but more than that, it is also a platform for future growth."
With nearly 900 students, the School of Nursing is one of the largest graduate nursing programs in the country. "In the past 10 years, our student enrollment has increased by nearly 50 percent. Applications to the school have shot up by 110 percent," said Norman, who also holds the Valere Potter Menefee Chair in Nursing. "The new building will accommodate the increased number of students, faculty and staff and ensure the school continues to attract and recruit the best students and faculty."
Construction of the 29,947-square-foot facility is expected to be completed in August 2018.
Others participating in the groundbreaking ceremony were Tiffany Street, School of Nursing alumni board president; Associate Principal Mark Zook of Hastings Architecture Associates; President Dennis Gregory of D.F. Chase Inc.; and Keith Loiseau, Vanderbilt University architect.
Hastings Architecture Associates is the project's architect, and D.F. Chase is the general contractor. Barge Cauthen & Associates will handle the project's civil engineering needs. Mechanical and electrical engineering work will be done by Smith Seckman Reid, and landscape architecture will be provided by Vanderbilt University.