When Facebook's founding engineer and Vanderbilt alumnus Jeff Rothschild first visited the fledgling company in 2005 at the behest of a venture capital firm, he was wary of the social media space in general and didn't expect to stay more than two weeks.
But then "I got to meet Mark (Zuckerberg) and Dustin Moskovitz and the other early members of the team and really fell in love with the vision they had for Facebook," Rothschild told Vanderbilt University Chancellor Nicholas S. Zeppos in an interview for his latest podcast, The Zeppos Report.
Rothschild, who earned a bachelor's degree in psychology in 1977 and a master's in computer science in 1979, told Zeppos that the Facebook of today closely resembles the original vision of connecting families and friends that the team laid out when it first started.
"All of the people who joined Facebook in the early days cared about the mission of the company," said Rothschild, who served as vice president of Infrastructure Software at Facebook from 2005 until 2015. "Very few of them thought, 'I'm joining a hot startup.'"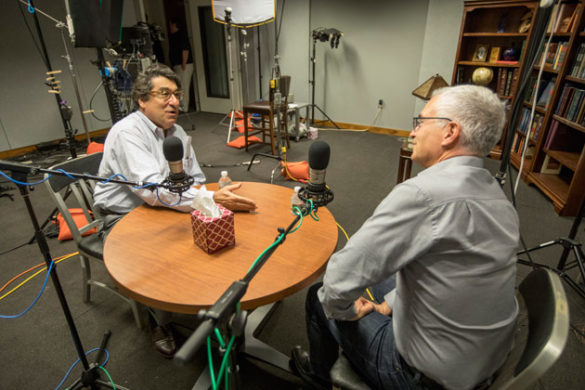 In addition to sharing his perspective on what made Facebook successful where other competitors failed, Rothschild talks to Zeppos about the benefits of "collateral knowledge," as well as data analytics and automation coming together to usher in a new era of augmented intelligence.
Before Facebook, Rothschild co-founded Veritas Software. He continues to serve as a consulting partner at the venture capital firm Accel Partners. As of July 1, 2017, he will begin a term as vice chairman of the Vanderbilt Board of Trust.
In December 2016, Rothschild and his wife, Marieke, made a $20 million gift through a donor-advised fund to support the development of Vanderbilt's residential colleges program, College Halls.
Rothschild joined Zeppos on campus for the interview, which took place on April 21, 2017.
The podcast is available on SoundCloud, Stitcher, Google Play, iTunes, YouTube and The Zeppos Report website.