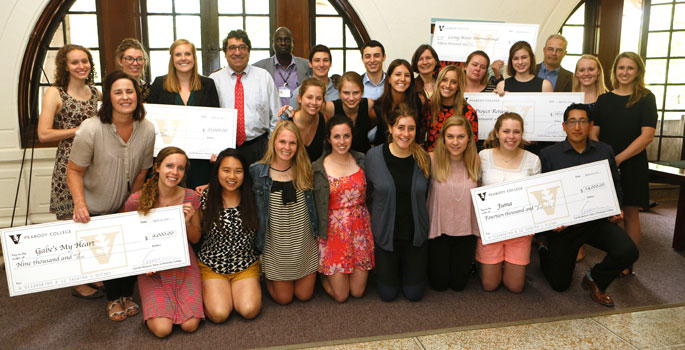 The U.S. encourages philanthropy, building it right into the tax code. Anyone making regular charitable donations appreciates this at tax time. But not everyone comes naturally by a spirit of giving. Education about charitable giving can instill knowledge of the value of philanthropy to the American civic fabric and the role of non-profit organizations in strengthening communities.
Nearly 30 Vanderbilt University students received such an education this spring when they enrolled in Philanthropy and Social Problem Solving, a course offered by Vanderbilt's Peabody College of education and human development as part of its human and organizational development (HOD) major.
Students in the class learned to identify social needs and evaluate various approaches to meeting those needs. Teams worked independently to conduct research, with each group identifying one 501(c)(3) organization to receive funding. Near the end of the process, the class met as a whole to deliberate the merits of the various organizations and how to divide a pool of $75,000 between them.
Vanderbilt Chancellor Nicholas S. Zeppos participated in the presentations. He commended the students for their growth as a result of the class. Noting that much is at stake for people who want a voice in civic democracy, he told the students, "People in this world are going to count on you, and you will make good partners."
"Philanthropy is difficult," said participant Alex Varnhagen, a senior HOD major. "Creating change requires a multifaceted process that includes dialogue with community members, an understanding of the systems that leave people underprivileged, and the discipline to stick to long-term plans and objectives. The organizations that are successful in philanthropy do incredible work."
Annie Carforo, also a senior HOD major, noted that not all organizations are equally worthy, regardless of the merit of their missions. "Intentions are not the same as impact," she said. "This class taught me how to critically engage as a philanthropist to make research-based decisions on emotionally driven issues. This class has provided us with the necessary skills to make decisions that have value."
On April 28, the class met in a final celebration to give away $75,000 to five organizations working to address pressing social problems in Nashville and beyond.
Grants were made to the following groups:
Nashville International Center for Empowerment received $21,000 to assist its mission of helping with the resettlement of refugees. This is the second year NICE received funding from the class.
Project Return received $16,000 to help Tennesseans leaving incarceration to reintegrate with communities and gain employment.
Living Water International received $15,000, which will be used to provide wells and support sustainable development in three communities in India.
Juma is a youth development organization in nine cities that helps disadvantaged young people get their first part-time jobs and matches their contributions to savings accounts for education. The organization received $14,000, which the students hope will enable Juma to expand its work to Nashville.
Gabe's My Heart provides pediatric cancer patients with Chemo Ducks. These are stuffed animal companions with chemotherapy ports that children, families, and health care workers can use to educate patients and loved ones and alleviate stress. The organization received $9,000.
"We are super thankful to be a recipient for the second year in a row," said Carre Coy, director of development and communications for NICE. "As a service provider for Nashville's refugee community, we will use the funds to purchase or lease vehicles to transport clients to job opportunities and interviews."
Funding for the grants made by the class comes from The Philanthropy Lab, of Ft. Worth, Texas. Since 2011, the Lab has partnered with 22 schools nationwide to offer classes to more than 1,700 college students. Collectively, classes have made grants exceeding $5.6 million.
Marybeth Shinn, professor of human, organizational and community development, taught the course, which is now in its second year at Vanderbilt and seeking ongoing funding.
"Students in the class think strategically about approaches to social problems and carefully vet organizations for their management and effectiveness. If you want your donations to make a real difference in people's lives, you could do much worse than to entrust your money to students in this class," Shinn said.
—Kurt Brobeck