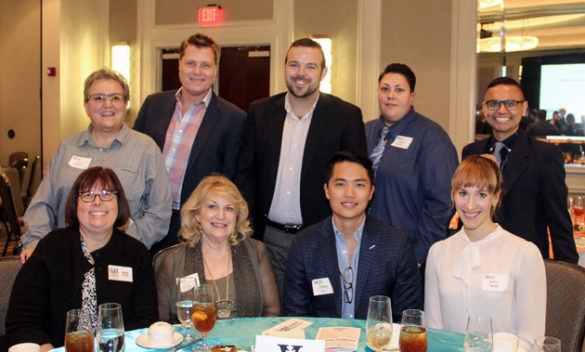 More than 450 business and community leaders attended the 2017 LGBT Chamber of Commerce Excellence in Business Awards. The event celebrated and recognized leaders for their contributions to Nashville's inclusive business and nonprofit communities. Vanderbilt University was proud to continue its table sponsorship at the annual event, which took place at the downtown Hilton.
Attendees at this year's awards included Mayor Megan Barry and Dr. George C. Hill, Vanderbilt vice chancellor for equity, diversity and Inclusion and chief diversity officer.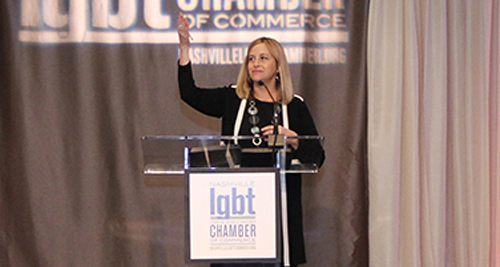 "The contributions of the LGBTQI community here at Vanderbilt, in Nashville and in our country are outstanding," Hill said. "Hearing the recognition of our colleagues in Nashville stimulates renewed energies for equality for all. It was highly rewarding to attend this year's Excellence in Business Awards."
The event underscores Chancellor Nicholas S. Zeppos' commitment to promoting equity and inclusion on the Vanderbilt campus. Vanderbilt also has made tremendous strides in terms of outreach to the Nashville community, connecting with organizations and institutions that bring diversity to the city. Zeppos' leadership has spurred a great deal of movement that has allowed Vanderbilt to evolve and become a community of diversity, inclusion and excellence.
As part of Vanderbilt University's overall equity, diversity and inclusion efforts, the HR department will attend a career fair May 15 sponsored by the LGBT Chamber of Commerce. Employers with LGBT-inclusive policies will have the opportunity to meet more than 100 qualified candidates and benchmark their LGBT-inclusive policies and culture with one another. Visit the Career Fair homepage for more information.