by Amy Wolf
Alarms are the often the jarring, yet necessary soundtrack of hospitals. But too many conflicting sounds could lead to problems for patients and staff in critical situations.
Vanderbilt University Medical Center anesthesiologist and intensive care physician Joseph Schlesinger is teaming up with students in neuroscience and biomedical engineering to come up with innovative ways to inform staff of their patient's varying emergency levels without creating too large a sensory distraction.
Schlesinger has a unique approach to making sounds smarter.
"I'm most enthusiastic about using music perception and cognition to inform alarm design," said Schlesinger, assistant professor in the department of anesthesiology and the division of critical care medicine.
Three alarm problems
Schlesinger and his team of graduate students and undergrads are tackling three alarm issues:
volume of alarms
alarm information
alleviating sounds to decrease patient stress
Too loud!
The first issue is tied to how alarms sound, especially in relation to all the other noises going on in a medical setting.
"[rquote]Why do alarms have to have a shrill, terrible sound quality to them and also be loud?[/rquote]" said Schlesinger.
Anesthesiologists specifically always have to be able to hear the rhythm of the pulse oximeter, which makes a certain pitch based on the patient's oxygen saturation. All medical personnel must hear the patient monitor alarm, the ventilator alarm, and any other extra device that might be in the operating room.
Schlesinger and his team created an experiment looking at the volume of alarms relative to background noise to see if it's safe to have alarms sound softer than the background noise. In this, they also looked at the quality of the sound itself.
"I hope to basically unpack all the acoustic features of sound and analyze them individually to determine what works and what doesn't work because it's not simply a volume problem," said Schlesinger.
Anechoic sound chamber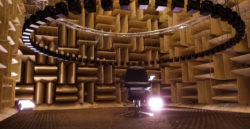 They did the experiment inside a three-story anechoic sound chamber within the department of hearing and speech sciences at the Vanderbilt University Medical Center.
Anechoic literally means "without echoes."
The three-story structure is surrounded by soundproofing material and the subjects stand on suspended wire mesh.
"We're surrounded by 64 speakers where we can study sound to the single decibel and get response time to paradigms to the single millisecond," said Schlesinger.
The study participants, who were all real medical staff, were asked to complete tasks in the chamber while the audio was being modified.
"It looks like the perception of alarms is not just about volume," said Schlesinger. "There are multiple aspects to the sound signal that could be modified."
Immersion research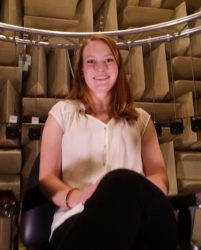 Schlesinger conducted this research with neuroscience undergrad Katherine Nash.
"I was able to immediately come up here and see the amazing anechoic chamber, which is probably the best convincing tool you ever need for an undergrad to do research because it's incredible," exclaimed Nash.
Nash, a Memphis, Tennessee native, used this immersion in her road to medical school.
"Being able to interact with real medical personnel and work on a study that I can see pretty direct effects with what I want to do in the next chapter of my life is wonderful," added Nash.
What do alarms tell us?
The second area of research being worked on is alarm information. Schlesinger and his team want alarms to do more than startle.
"When an alarm goes off I don't know if it's a problem with your blood pressure, with your heart rate, with your oxygen level and I don't know how severe the problem is," said Schlesinger.
The team's conjecture is to build in sounds within alarms themselves, so they could give information. Schlesinger gives examples such as providing a "lub dub" heartbeat sound within a cardiovascular line monitor.
"If we can build in sounds that signify generally what organ system is having a problem then the health care provider can at least have some idea of what's going on and could prepare accordingly to provide the appropriate therapeutic intervention."
Less stress
The third area of research focuses on patient stress. When a patient is in an ICU, repeated alarms raise stress and can impact healing and sleep.
Schlesinger and a team of biomedical engineering undergrads are working to eliminate alarm sounds from the patient perspective by digitally subtracting sound waves.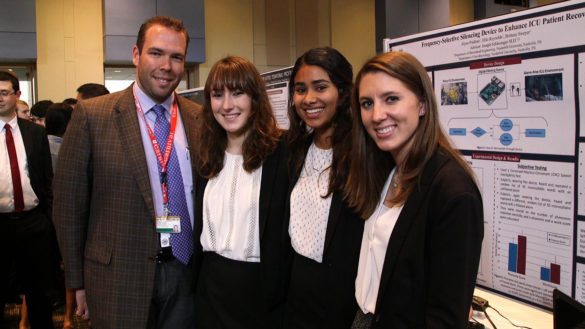 "We created different band stop filters that basically allow all other speech but those specific frequencies that you want to take out," Said Alyna Pradhan, a biomedical engineering senior from Miami, Florida. "Everything will sound the same for the patient, except for the elimination of the alarm."
Schlesinger and the students are working on a device that a patient would wear, similar to ear buds.
Immersion leading to jobs
For these engineering students, this immersion helped lead all three to jobs in the biomedical field.
"It's really cool to be able to visit Dr. Schlesinger in the ICU and see that environment because I'll be working there next year," said Pradhan, "So it's just been really good exposure."
Music, Mind and Society
Schlesinger is doing this research as part of a new collaboration between Vanderbilt University Medical Center, the School of Engineering, the Blair School of Music and other parts of the university called Music, Mind and Society, directed by Reyna Gordon, assistant professor of otolaryngology and psychology.
"I think the trans-institutional research aspect of Vanderbilt is extremely special because there are multiple layers of collaboration and expertise," adds Schlesinger. "My department sees the promise in the work I'm doing."
The research is ongoing and is being funded in part by a Trans-Institutional Programs, or TIPS, grant through Vanderbilt University which focuses specifically on interdisciplinary efforts.
Musical history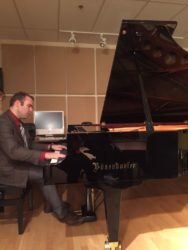 Music is close to Schlesinger's heart. He's been playing piano since he was 5 years old and has a degree in jazz piano performance. But medicine was always his true calling.
"I had always planned on being a physician, but playing piano is literally how I put myself through medical school. I played jazz clubs in New Orleans," said Schlesinger. "I knew I could combine my two passions and make my background in music an integral part of my medical practice and research."
Schlesinger says he is dedicated to combining his skills in music and medicine.
"I want to be known for being that weird music guy who broke down barriers between different areas of music and medicine and improved patient safety."