Vanderbilt's international scholars exchange ideas at Lipscomb literacy event
by
Joan Brasher
May. 1, 2017, 2:57 PM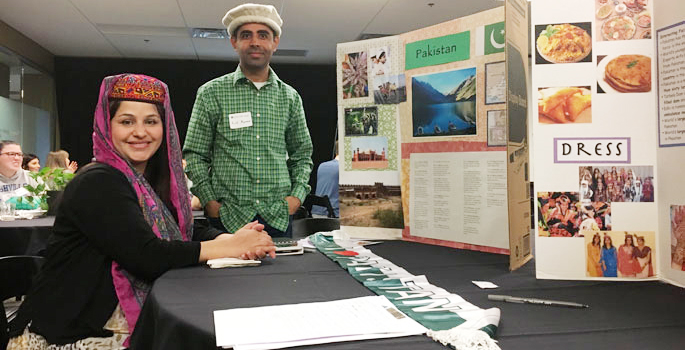 Vanderbilt University's eighth cohort of Hubert H. Humphrey Fellows recently shared ideas and experiences at "Global Voices: An Initiative of Abriendo Puertas," an inclusive gathering for current and future classroom teachers, professors and youth programming leaders. "Abriendo Puertas" ("Opening Doors") works to ensure every child is prepared for and has access to education beyond high school.
The day-long conference was hosted by Lipscomb University's College of Education and Office of Intercultural Development. A showcase and celebration of global voices, the event included a writer's workshop, panel discussions and research presentations.
The fellows interacted with Lipscomb students, community members, local teachers and Teach for America representatives as they shared ideas and discussed best practices, local programs and international literacy initiatives.
This mutual exchange is at the heart of the Hubert H. Humphrey Fellowship, which brings educational leaders from around the globe to the United States for a year of professional development. Lipscomb University is an associate campus for the Humphrey program and the epicenter of numerous collaborations between Vanderbilt's Fellows and Lipscomb faculty.
"I have learned from my colleagues at Lipscomb that I need to widen and enhance my expertise in teaching English as a second language," said Humphrey Fellow Rolando Guzman, who is from El Salvador. "I also have learned how to help English for Academic Purpose (EAP) students by providing them tutoring and assistance, and by sharing one of the most wonderful things in life: friendship."
Sponsored by the U.S. Department of State's Bureau of Educational and Cultural Affairs, the Hubert H. Humphrey Fellowship Program focuses on leadership development, professional development and mutual exchange for mid-career professionals. Vanderbilt's 2016-17 cohort is comprised of classroom teachers, professors, policy makers and department heads of educational initiatives hailing from Pakistan, South Sudan, Morocco, Jamaica, Lesotho, Malawi, Botswana, Venezuela, El Salvador and Russia.
They came to Vanderbilt's Peabody College of education and human development in August 2016 and will be depart June 2017 to continue their work and implement new educational initiatives in their home countries.
For program information, contact Nancy D. Dickson (615) 390-0812
nancy.j.dinunzio@vanderbilt.edu