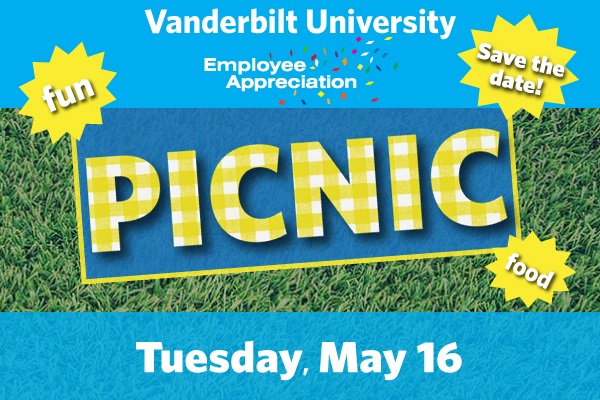 Vanderbilt University's Employee Appreciation Picnic gets better every year! In case you haven't had the chance to attend, be sure to save the date — Tuesday, May 16 — and come out to Library Lawn from 11 a.m. to 2 p.m. to enjoy the activities and delicious food. You can also check out photos from last year's picnic here.
Health Plus will have a booth set up with fresh fruit, and Famous Dave's will grill chicken breasts, veggie burgers, and all-beef hot dogs. Pairing the main course will be side options of creamy coleslaw, potato salad, and freshly baked chocolate chunk cookies for dessert. Beverages will include Dasani Water, diet lemonade and Fuse Tea.
Be sure to share your news and photos on Facebook, Instagram, Tumblr and Twitter using #vupicnic to add it to our online collection! Download the flier to post in your area and save the event to your calendar.
Questions? Email employeeappreciation@vanderbilt.edu or visit the Employee Appreciation website.