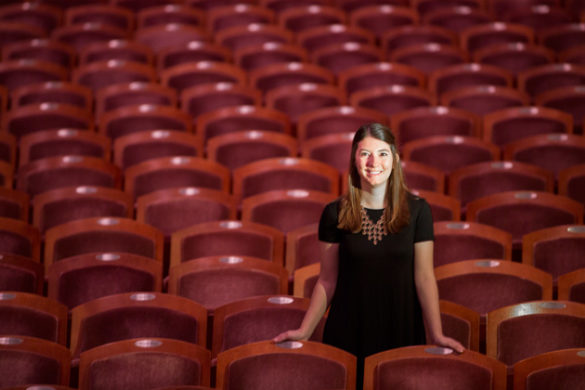 Even in middle school, Blair School of Music senior Nicole Long was attracted to the big picture.
"My band director gave us a choice of woodwind, brass or percussion to choose from," she said. "He had instruments listed under the first two headings, but under 'percussion' there was an asterisk. He was looking for someone with good grades and some piano experience—not just boys who wanted to play drums—who could tackle the variety of percussion instruments, and I thought, 'That's me!'"
The combination of music, high academic standards and an openness to explore is what brought the Las Vegas native to Vanderbilt. She knew from the beginning she wanted to double major in percussion and something academic, though she wasn't sure what her second subject might be.
"I wanted to take classes to see what there was outside of music at Vanderbilt," Long said. "I knew early on that I didn't want to pursue music professionally, but I also knew I wanted to do something with this thing I had been living with since elementary school. [rquote]I realized with arts administration, I could be in the music world without being on stage."[/rquote]
Adding Peabody College's human and organizational development major to her percussion performance major has given Long a leg up on internships in arts administration. In summer 2015, after becoming the first and only percussionist to go to the Vanderbilt Music Académie in Aix-en-Provence, France, she spent six weeks as an intern with the Rockford (Illinois) Symphony. Last summer, Long was awarded an internship with the prestigious Cleveland Orchestra.
"I rotated among the six people in the education and community engagement office doing all kinds of things," she said, "including working with the youth orchestra, where I proctored auditions and got to know that process from start to finish."
Long's biggest challenge was working with the Cleveland Orchestra's "At Home" neighborhood residency program, in which the orchestra adopts a local neighborhood to engage with in arts and cultural activities. "We knew it was good, we just didn't know exactly in what way," she said. "So I helped create a set of evaluation tools to analyze what the orchestra was doing and how it helped the neighborhood."
Her work there led this year to a part-time position with the Nashville Philharmonic, an all-volunteer orchestra founded in 2004. She enjoys doing a wide variety of tasks, including being asked to look at the organization's future goals.
"I love thinking big picture," Long said, "especially about the kinds of things we need to do in order to grow."