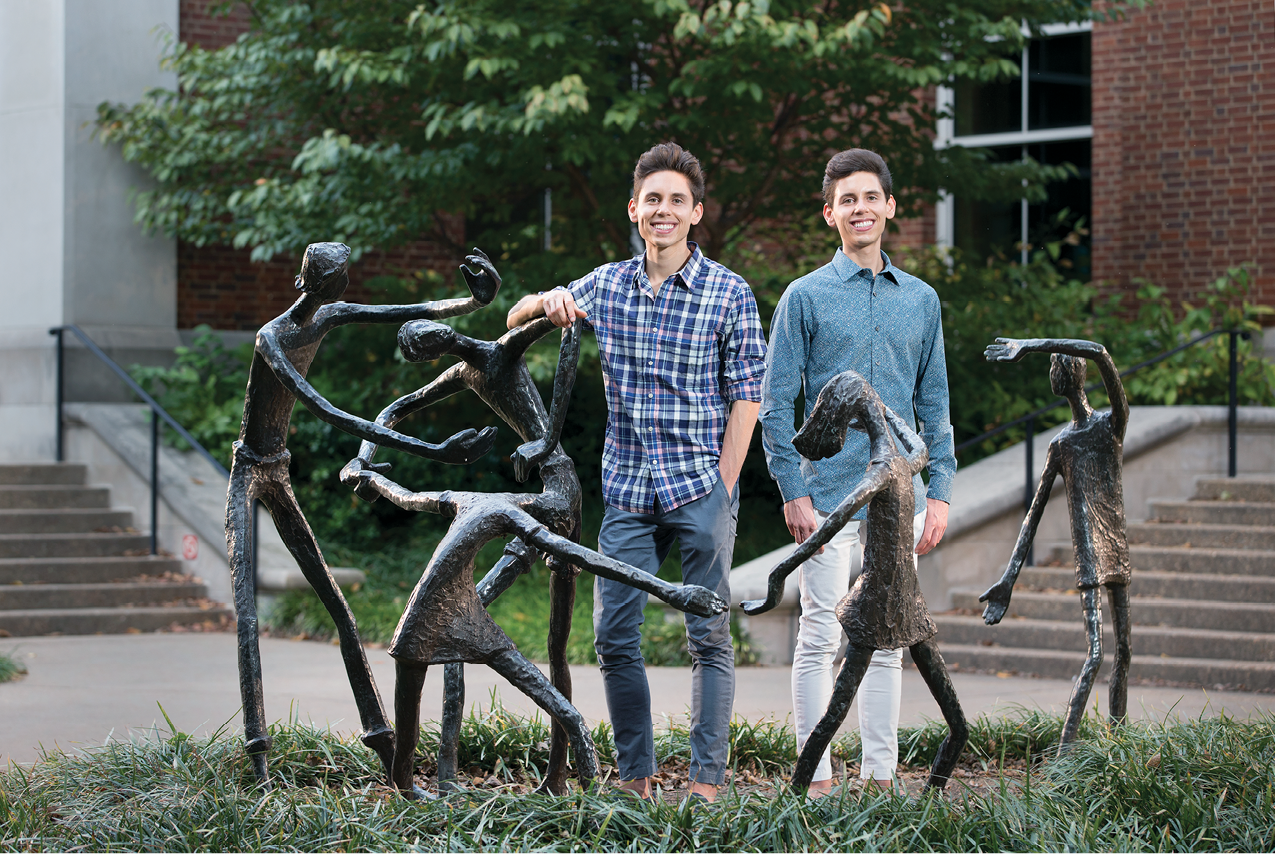 Sophomore special education majors Aaron and Nicholas Ainsworth are giving back to their hometown of San Bernardino, California, in a unique way.
Though they are roughly 2,000 miles from home, the identical twins are actively involved in mentoring a class of third-graders and a class of sixth-graders in San Bernardino via video chat. Keenly aware of the lack of resources for many area youth to attend college, they began the effort the day they graduated from high school.
"While these students still have a while before they have to start applying to colleges, we wanted to get the idea into their heads that college is a possibility for them," Aaron said. "We wanted them to realize that not only can they go to college, but that their options for college are vast."
Last year, sixth-graders at Cypress Elementary School made Vanderbilt their "spotlight" university, and have been learning about the programs Vanderbilt provides. Recently the brothers set up a Skype chat between the class and Vanderbilt Chancellor Nicholas S. Zeppos, who answered the students' questions and encouraged them to consider Vanderbilt in their future.
"The real celebration began when we received our financial aid awards and realized that a Vanderbilt education was not a dream but a reality."
—Nicholas Ainsworth
For many San Bernardino students, the cost of college is their biggest hurdle. The Ainsworth brothers shared with the students how Opportunity Vanderbilt, the university's pioneering financial aid initiative, made it possible for them to attend Vanderbilt. The initiative meets 100 percent of a family's demonstrated financial need by replacing loans with grants and scholarships.
"The real celebration began when we received our financial aid awards and realized that a Vanderbilt education was not a dream but a reality," Nicholas said. "The beauty of Opportunity Vanderbilt is that it allows people from all different backgrounds and experiences to converge in one special place. None of this would be possible without the generosity of the scholarship donors and Opportunity Vanderbilt, and for each of those, we are extremely grateful."