A classroom of elementary students, who live in one of the poorest large cities in the United States, is dreaming big about college, thanks to hometown twins Aaron and Nicholas Ainsworth and Vanderbilt Chancellor Nicholas S. Zeppos.
The Ainsworths, both special education majors in Vanderbilt's Peabody College of education and human development, use their personal time to video chat with a sixth-grade class from Cypress Elementary School in San Bernardino, California.
"In our city, San Bernardino, there's not that many people who go away to school, and we want to let them know that that opportunity is out there," Nicholas Ainsworth said.
"We want to reassure them that someone like me from my community did this, maybe I can too," added Aaron Ainsworth.
The brothers gave the students an extra boost of inspiration by partnering with Vanderbilt's chancellor.
"What better use of my time than to team up with Vanderbilt students to connect to young people who want to know more about Vanderbilt," Zeppos said. "We're thrilled to be their spotlight school, and I want to inspire these youngsters to come to Vanderbilt someday."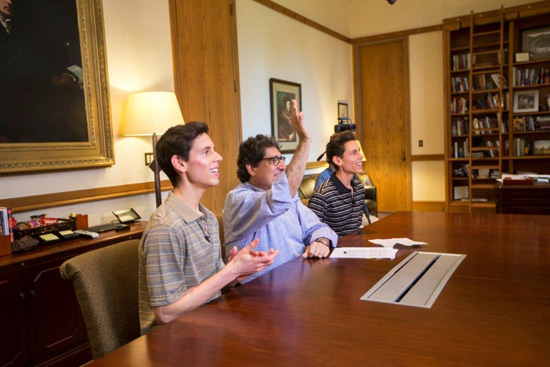 On this day, the three visit the class via Skype.
With a video connection from California to Nashville, the elementary students were ready with questions on everything from the majors available at Vanderbilt to the food served on campus to why Zeppos loves his job.
"In some ways, the students are like my children," the chancellor told the class. "[rquote]So, every day I think, are they happy? Are they successful? Are they included? Are they not stressed out? Supporting the students is the most important thing I do. And, of course, making sure the food is great!"[/rquote]
But many of the San Bernardino schoolchildren feel college is out of reach. The chancellor and the Ainsworth brothers passionately reassured them.
"I want to see every hand up saying they want to go to college, because you can all go to college," Zeppos said. "Don't ever listen to anyone who says you're not good enough to go to college, because we believe in you."
"We want you to know that not only are you welcomed here, but you're wanted here," Aaron added.
Zeppos shared personal stories about his family to connect with the young people who may be nervous even considering higher education.
"Even if your parents didn't go to college, it's OK. My father didn't go to college, and my grandparents couldn't speak English when they came here to the U.S. and they weren't able to attend college," Zeppos said. "But they encouraged my dreams."
The biggest hurdle in the students' minds — price.
That's when the chancellor talked about Opportunity Vanderbilt and how Vanderbilt does not look at a family's ability to pay when making admissions decisions. He also stressed that financial aid awards do not include loans students have to pay back.
"We have a program that pays scholarships for kids all over the country to make it affordable, and we are dedicated to helping Vanderbilt students graduate debt-free," Zeppos said.
Aaron and Nicholas shared their financial aid journey as well.
"Opportunity Vanderbilt is the reason we're here, too," Aaron said.
Both brothers are receiving scholarships that were established through bequest gifts. Nicholas is receiving the J. Howard and Sara Fay Schwam Scholarship, and Aaron is receiving the Flowers and Stanton Scholarship.
"That was one of the most amazing feelings ever. Not only getting into Vanderbilt, but a few days later getting our financial aid package knowing that attending Vanderbilt can actually be a reality. It's not going to be this big struggle where we're going to have to take out all of these loans and set us back for the rest of our lives," Aaron said.
Zeppos said the Ainsworth brothers' outreach typifies the compassionate, overachieving Vanderbilt student.
"I'm just inspired and in awe and very proud," Zeppos said. "It's a privilege to be a part of the project and a part of these students' lives as they continue to do great things on and off campus."