Researchers spotlight best practices in early childhood special education
Nov. 1, 2016, 2:48 PM
Scholars from multiple disciplines, including some from Vanderbilt University's Peabody College of education and human development, contributed to the recently published research volume, Handbook of Early Childhood Special Education (Springer International Publishing). In the first five years of life, a child's linguistic, conceptual, and social competence grow enormously. The practices outlined in the handbook aim to ensure that children with disabilities received the high-quality education so crucial in these years. The volume offers researchers, professors, undergraduate and graduate students, clinicians, and practitioners strategies for planning, carrying out, modifying, and adapting interventions to help young learners extend their benefits to the higher grades.
"We wanted to develop a comprehensive handbook of early childhood special education because nothing like it had existed," says Erin Barton (Ph.D.'07), assistant professor of special education at Peabody, who is one of the volumes editors. "We cover disciplines as diverse as child and school psychology, early childhood education, clinical social work, speech and physical therapy, developmental psychology, behavior therapy, and public health."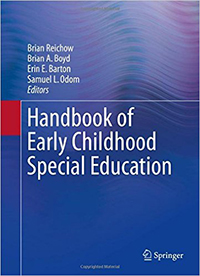 For example, in her chapter on the importance of promoting play, especially for young children with disabilities, Barton stresses how it contributes to their cognitive, physical, social, and emotional well-being. Although simply providing time for unstructured play ensures most children play and benefit from it, some children with or at risk for disabilities will require more-focused instruction to learn appropriate play skills. Because playful interactions with caregivers, peers, and teachers are crucial for learning new skills, particularly social skills, lack of play can affect a child's development and learning. Play also affords an ideal context for practicing and generalizing skills and provides important information about how a child is developing and interprets the world.
A chapter on instituting tiered models of behavior support points out how challenging behavior in young children can affect their social-emotional development, learning, and, ultimately, level of success.
"It is critical for children to receive early intervention to address challenging behavior," said Peabody Professor of Special Education Mary Louise Hemmeter (M.Ed.'87, Ph.D.'91), one of the chapter's authors. "The Pyramid Modelconsiders the full range of support young children might need. The capacity of programs and practitioners to carry out these approaches with fidelity is crucial, and we can build that capacity through coaching and collaboration."
The handbook—which Barton edited with Brian A. Boyd and Samuel L. Odom of the University of North Carolina-Chapel Hill and Brian Reichow (M.S.'06, Ph.D.'08) of the University of Florida—covers interventions in areas such as literacy, motor skills, and social development, as well as services like speech-language pathology, physical therapy, and pediatrics. Concluding chapters emphasize the importance of research in developing evidence-based practices.
Other topics featured include:
Family-centered practices in early childhood intervention.
The application of Response to Intervention in young children with identified disabilities.
Motor skills acquisition for young children with disabilities.
Instituting evidence-based practices in classrooms.
Cultural, ethnic, and linguistic implications for early childhood special education.